Google Street View cars to be outfitted with pollution sensors to measure US, Europe air quality
A San Francisco environmental sensor company is partnering with Google to turn the tech giant's roving Street View fleet into mobile pollution detectors -- a move critics fear ultimately will be used to justify more regulations.
Google announced it was teaming up with Aclima to install the air quality sensors in 50 Street View vehicles. The detectors can provide breakdowns of how much carbon dioxide, carbon monoxide, nitric oxide, nitrogen dioxide, ozone and particulate matter are in the environment.
The data from this fall's initial roll-out in the U.S. and Europe is set to be made available as part of the public dataset on Google BigQuery and "will be available upon request to advance air quality science and research," according to a news release.
"These measurements can provide cities with new neighborhood-level insights to help cities accelerate efforts in their transition to smarter, healthier cities," Google Earth Outreach Program Manager Karin Tuxen-Bettman said in the statement.
Those "insights" have some warning the technology will "come back with a bite" against average Americans.
"It won't be long before do-goody governments take the data from these Street View vehicles and use it to justify more crackdowns on, say, carbon dioxide, or on whatever other gaseous emissions they deem worthy of cutting," Washington Times' opinion editor Cheryl K. Chumley wrote.
CALIFORNIA ANGERS SOME ZERO-EMISSION DRIVERS BY TAKING AWAY DECALS THAT ALLOW THEM TO USE CARPOOL LANE
Earlier this year, sensor-equipped Google Street View cars hit London's roadways with the goal of gathering hyperlocal pollution data in order to help craft policy, TechCrunch reported at the time. London mayor and noted Trump-critic Sadiq Khan billed the air quality monitoring network, which also used fixed sensors on buildings, as "the most sophisticated in the world."
Since 2015, Google has been using the Aclima-equipped Google Street View cars, which have driven more than 100,000 miles in California to collect data in Los Angeles, the San Francisco Bay Area and the Central Valley.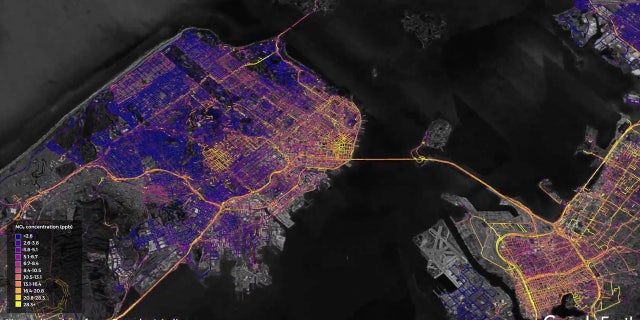 Data from the vehicles was used to produce a peer reviewed, scientific study on air pollution levels in Oakland. That report found pollution levels can vary from five to eight times along a single city street. Officials are now looking to take the technology worldwide.
"As air pollution and climate emissions pose an urgent challenge to human and planetary health, partnering with Google to scale Aclima's environmental intelligence platform in Street View cars will activate awareness about local air quality in communities around the world where this information doesn't currently exist," Aclima CEO Davida Herzl said in a statement.