Gold locket tells story of love and loss on the Titanic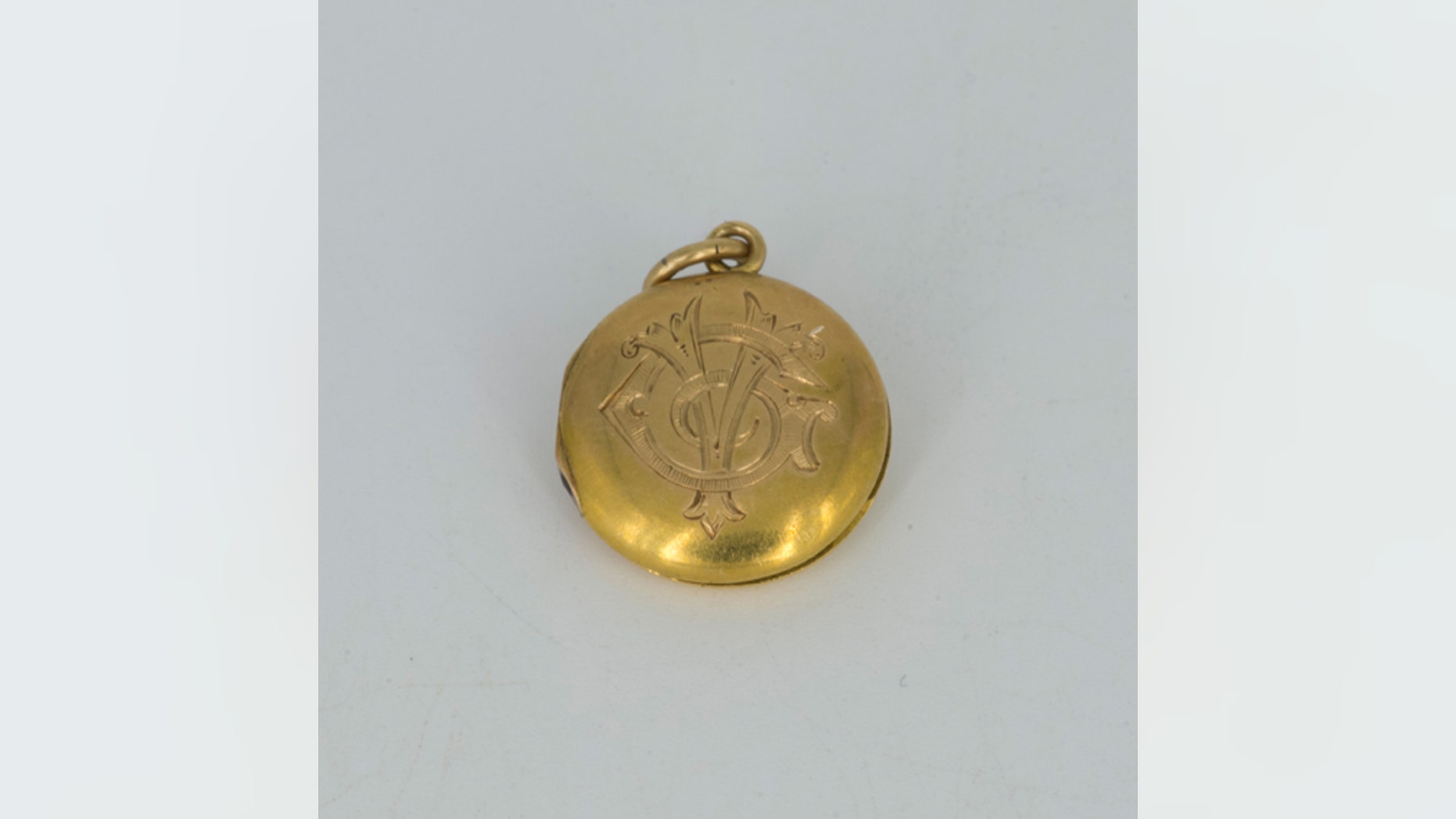 An 18-carat gold locket recovered from the Titanic wreck -- and soon going on display for the first time -- tells a story of love and loss that could rival the blockbuster Hollywood movie.
Virginia Estelle McDowell Clark was a first-class passenger with her husband, Walter Miller Clark, on the transatlantic liner as part of a belated honeymoon trip.
RARE TITANIC PHOTO UP FOR AUCTION, OFFERS GLIMPSE INTO DOOMED LINER'S FINAL DAYS
When the "Ship of Dreams" sunk nearly 105 years ago in the cold waters of the north Atlantic Ocean, Virginia was lowered in a lifeboat, while her husband stayed behind. He died.
During an expedition to the wreck in 1994, a small travel bag belonging to Virginia and her husband was found. Inside was the gold locket engraved the initials "VC" along with gambling chips, cuff links and a toiletry item.
They're set to go on display in time for the anniversary of the sinking – April 15.
"The artifacts were found in a small travel bag, which is a very fragile and in permanent residence at the Titanic Conservation Laboratory," said Alexandra Klingelhofer, vice president of collections for Premier Exhibitions, Inc. "It's especially exciting when we can link specific artifacts to passengers of the Titanic as it is extremely rare, and we're thrilled to be able to help tell the Clarks' story through this special display."
DID THIS ICEBERG SINK THE TITANIC?
Walter and his brother, U.S. Sen. William Andrews Clark, were mining magnates who built the San Pedro, Los Angeles and Salt Lake Railroads. The midway point of the route was in Nevada, creating Las Vegas and later resulted in the naming of Clark County.
Klingelhofer told CBS News the couple met while he was visiting his home state of Montana and they were on their way to the United States for their 2-year-old son's birthday.
"Sadly, Walter did not make it, but Virginia did," she said.
According to Klingelhofer, after the ship hit the iceberg, Virginia ran to find her husband, who was playing poker with friends at the smoking lounge.
"When we found those poker chips, everything kind of looked right," she said.
The gold-plated toiletry item found with the locket had the initials "S.M." engraved. Klingelhofer said the "M" likely stood for "McDowell" and believes it was meant to be a present for a relative.
An online database about the Titanic passengers showed that Virginia died on December 21, 1958.
The database also showed Virginia was aboard the No. 4 lifeboat, which also had Madeline Talmage Astor, the wife of billionaire John Jacob Astor, who was referenced in James Cameron's "Titanic."
The items belonging to the Clarks and others from the Titanic will be on display on April 12 at "Titanic: The Artifact Exhibition" at the Luxor Hotel and Casino in Las Vegas.