Georgia teen indicted in baby murder, second unrelated shooting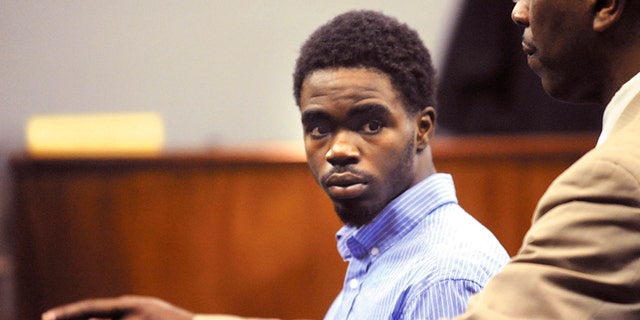 NEWYou can now listen to Fox News articles!
SAVANNAH, Ga. – Investigators told reporters Wednesday they believe the case of a baby who was fatally shot in his stroller during an alleged robbery attempt by a teenager was random -- something they hadn't said previously.
The comments came as an indictment by a Glynn County grand jury was served up charging 17-year-old De'Marquise Elkins on nine counts, including malice murder, in the slaying last Thursday of young Antonio Santiago a few blocks from his home in coastal Brunswick.
According to the indictment, the teenager shot the 13-month-old baby in the face while trying to rob the child's mother. The indictment also charges the suspect with shooting another person in an unrelated robbery attempt earlier this month.
Another suspect, 15-year-old Dominique Lang, was indicted on seven counts including felony murder. But the indictment specifies that authorities believe it was Elkins who shot the child and wounded his mother with a .22-caliber revolver as the boys tried to steal money from her.
District Attorney Jackie Johnson of the Brunswick Judicial Circuit said in a statement Thursday she would not seek the death penalty against either suspect because Georgia law doesn't allow capital punishment for defendants charged with crimes committed before they were 18. Both teens are charged as adults.
Glynn County Police Chief Matt Doering told reporters before the indictment was returned that investigators believe the crime was random.
"We're comfortable now, six days into it, to say the location of the incident and the victim were random," Doering said. "I don't have any information that shows otherwise."