Georgia home nightmare: Bees by the hundreds of thousands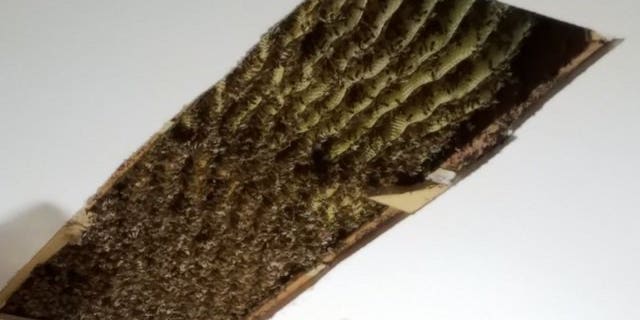 A 6-foot long beehive with hundreds of thousands of bees inside was found in the ceiling of a Georgia home.
Lisa Ohrmundt of DeKalb County called a bee removal specialist after she saw a few bees flying in her home, according to Fox 5 Atlanta.
Bobby Chaisson, a Georgia Bee Removal employee, operated a heat sensing camera to find the location of the bees and discovered the hive in the ceiling. The expert believes the hive may have been there for a couple of years.
GEORGIA BURGLARS ON THE RUN ARE KILLED AFTER CAR CRASHES INTO POND
A video of the removal process showed the size of the hive and amount of bees.
"You can hear it as he is pulling the sheetrock down like a buzz and then all of a sudden these bees just fall out into the room and they start flying all around the room," Ohrmundt said. "It was incredible just a blanket of bees, I have never seen anything like it."
Chaisson did not expect the hive to be that massive until he began taking down the ceiling.
"Did the first hole in the ceiling and it was a little bigger and a little bit bigger and a little bit bigger and it ended up being about 6 feet long," he said.
GEORGIA EXECUTES MAN WHO KILLED ELDERLY NEIGHBOR IN 1992
The whole bee removal process took Chaisson about six hours to complete. He extracted around 150 pounds of honey and honeycomb from the ceiling.