Georgia high school shooting leaves 1 dead, 1 hurt, police say
At least one person was killed and another injured Friday night in a shooting that followed a graduation ceremony in Jonesboro, Ga., authorities told Fox News.
The shots were fired after an argument broke out in a parking lot near the Clayton County Schools Performing Arts Center, the Clayton County Police Department said. The lot provided overflow parking for those attending a commencement for graduates of the Perry Learning Center, an alternative high school that prepares students for careers.
"Everyone was stumbling over each other," Latrallo Presley, a family member attending the graduation, told FOX5 Atlanta. "It was caps and gowns everywhere. People just running."
Although held on the campus of Mount Zion High School, the event was not for Mount Zion students, authorities said.
Police said during a news conference that the injured had been transported to a hospital.
The number of suspects could not be confirmed, but anyone who could have been involved was being sought, police said. Three cars were towed away from the scene as part of the investigation, but officers said they could not release additional information.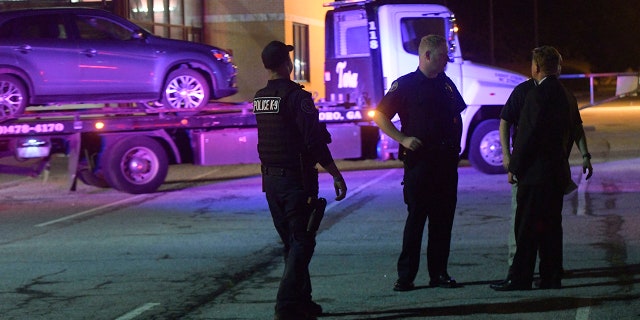 "The last thing you want to do is have a situation at a graduation that results in anyone being injured, and definitely not being shot," Clayton County schools' safety chief Thomas Trawick said.
Jonesboro is about 20 miles south of Atlanta.
This is a developing story. Please check back for updates.
Fox News' Elizabeth Zwirz and the Associated Press contributed to this report.