Georgia declares state of emergency in all counties ahead of Irma
Georgia officials declared a state of emergency in all counties on Sunday in preparation for Hurricane Irma after the National Weather Service issued a tropical storm warning in Atlanta – for the first time in the city's history.
Gov. Nathan Deal declared the state of emergency in 159 counties after Irma's forecasted path threatened to unleash deadly wind gusts, heavy rain and possible flooding as early as Sunday night, Fox 5 Atlanta reported.
"I want to caution all Georgians that just because the weather appears calm now, do not take that for granted," Deal said in an earlier news conference.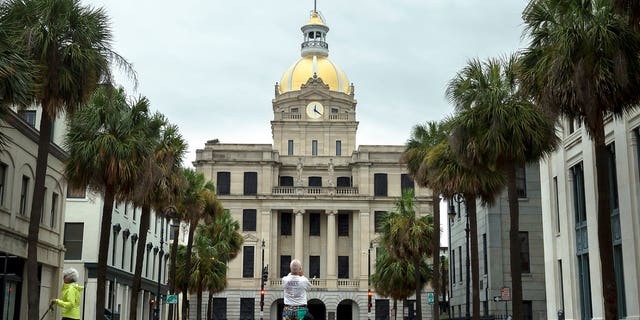 The National Weather Service issued a Tropical Storm Warning in Dodge County. Wind gusts up to 60 mph with tropical storm-force winds could whip through starting Monday morning and into Tuesday, forecasters said. Peak winds were expected to reach 30 to 40 mph. Officials said Irma, a Category 3 storm as of Sunday afternoon, can damage porches, carports, sheds and unanchored mobile homes.
State government offices will be closed Monday and Tuesday along with several schools. Parts of south Georgia are under a Hurricane Warning.
Atlanta hotels and shelters filled with evacuees by Sunday morning. At the luxury Georgian Terrace Hotel, staff were flexible with rules to accommodate evacuees. Guests walked pit bulls through the lobby. Large families pulled roller bags and clutched blankets as they squeezed into small rooms without enough beds.
A block away, a church offered free hugs for evacuees.
Irma made landfall in the Florida Keys as a Category 4 hurricane just after 9 a.m. Sunday, bringing 130 mph winds and inches of rain within hours. In Miami, a crane – one of the two dozen in the city – collapsed due to gusty winds.
The storm threatens to wreak havoc in Georgia, Alabama, South Carolina and Tennessee has it heads north. President Trump spoke to the governors in the states from the Camp David presidential retreat.
The Associated Press contributed to this report.