George HW Bush apologizes to 'anyone he has offended' following 'sexual assault' allegation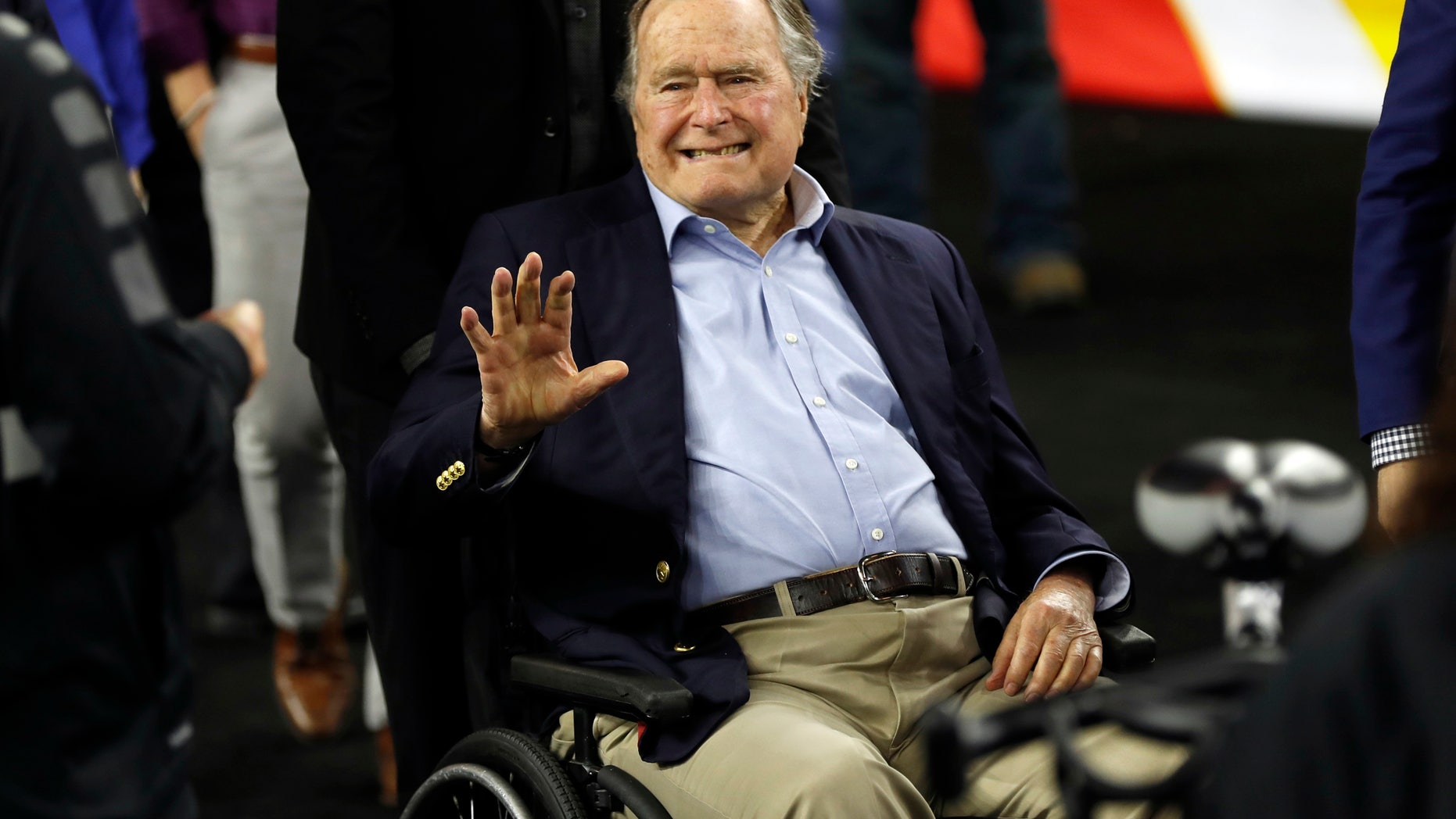 Former President George H.W. Bush's office released an apology statement Wednesday night, saying that on occasion he "patted women's rears" but that he did not intend to offend anyone.
The statement was released in response to a claim made by actress Heather Lind on Tuesday, who accused the elder Bush of touching her inappropriately from behind during a photo op four years ago.
Due to being restricted to a wheelchair, the statement said, the former president often makes the same joke to make people more comfortable in the situation.
GEORGE HW BUSH APOLOGIZES AFTER 'SEXUAL ASSAULT' ALLEGATION
"At age 93, President Bush has been confined to a wheelchair for roughly five years, so his arm falls on the lower waist of people with whom he takes pictures," the statement said. "To try to put people at ease, the president routinely tells the same joke — and on occasion, he has patted women's rears in what he intended to be a good-natured manner.
"Some have seen it as innocent; others clearly view it as inappropriate," the statement went on to say. "To anyone he has offended, President Bush apologizes most sincerely."
The alleged incident was first brought to light in a now-deleted Instagram post by Lind, who said Bush senior "sexually assaulted" her while they were taking a picture at a promotional event for AMC's show, "Turn: Washington's spies." Lind was featured on the program.
In the post, she said he touched her "from behind from his wheelchair with his wife Barbara Bush by his side," told her a "dirty joke," and then touched her again.
BUSH SISTERS ON GROWING UP IN THE POLITICAL SPOTLIGHT
Lind claimed that Barbara Bush "rolled her eyes" at Bush, "as if to say 'not again.'"
She also said that a security guard nearby told her that she "shouldn't have stood next to him for the photo."
In an earlier comment to Fox News, a representative for Bush said that the former president might have erred in his "attempt at humor."
"President Bush would never — under any circumstance — intentionally cause anyone distress, and he most sincerely apologizes if his attempt at humor offended Ms. Lind," the Bush spokesman said in a statement to Fox News.
Fox News' Brooke Singman contributed to this report.