Fundraiser Scheduled for Slain Border Patrol Agent's Family to Attend Court Dates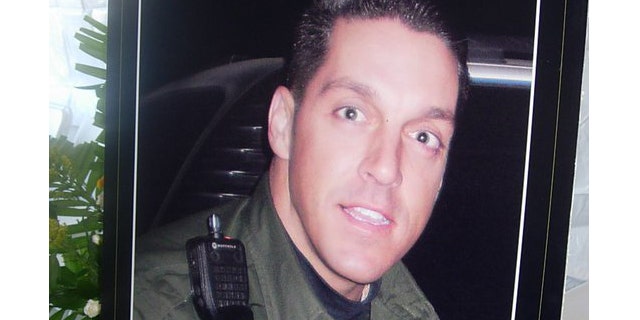 NEWYou can now listen to Fox News articles!
Friends and family say that he was everybody's hero.
U.S. Border Patrol agent Brian Terry is the public face of the deadly and disastrous results of "Operation Fast and Furious" -- the federal gun trafficking sting that allowed hundreds of high-powered weapons to get into the hands of Mexican drug cartels.
Terry was murdered almost one year ago in a remote area of the Arizona desert while on patrol. Two guns traced to the operation were found at the crime scene.
And while members of Congress and his family are seeking justice for his death, friends also want to make sure the former Marine, police officer and elite Border Patrol agent is remembered as an American hero.
On Saturday, Nov. 12, a fundraiser will be held in Scottsdale, Ariz., for the fallen agent. Two local businesswomen are organizing the event that will raise money for Terry's mother, Josephine.
The proceeds will allow Terry to travel to any hearings and court dates involving her son's death. The Terry family is planning to file a wrongful death lawsuit against the U.S. government over the operation.
Event organizer Lana Domino was a friend of Brian Terry. Domino says the fundraiser is very personal to her and she hopes the community will come together to honor and say thank you to Brian.
"He dedicated his entire life to serving his country and thank you will never be enough for those that had the privilege of knowing him," said Domino.
"He had an amazing dynamic about him that people just loved him. He had a zest for life like no other. He would give anyone the shirt off his back or the last dollar in his pocket."
Saturday's event, emceed by ATF Special Agent Jay Dobyns, will include a live and silent auction as well a raffle. It will also act as a memorial, giving attendees a chance to know Brian Terry by playing videos from his childhood through his adult life.
"In addition to his service to America as a Marine, a police officer and a Border Patrol Agent, Brian represented everything good about our country," Dobyns said.
"His ultimate sacrifice is going to lead to a change in the way American government conducts their business of law enforcement both strategically and politically."
Dobyns is referring to the ongoing investigation into Operation Fast and Furious. Rep. Darrell Issa , R-Calif, head of the House Oversight and Government Reform Committee, and Sen. Chuck Grassley, R-Iowa, ranking member on the Senate Judiciary Committee, are leading the charge.
On Tuesday, Grassley and other members of the Senate Judiciary Committee quizzed Attorney General Eric Holder on his and the Justice Department's knowledge of the program.
"I certainly regret what happened to Agent Brian Terry," Holder said at the time. "It is not fair, however, to assume that the mistakes that happened in Fast and Furious directly led to the death of Agent Terry."
During the failed operation that ran in 2009-2010, an estimated 2,000 guns were sold at Arizona gun stores to straw buyers. The stated purpose was to allow the transfer of those weapons to Mexican drug trafficking operations in hopes of exposing the entire arms smuggling network and lead to the "bigger fish" or leaders of the cartels.
Also speaking at the event will be Arizona Gov. Jan Brewer and Pinal County, Ariz., Sheriff Paul Babeu. Babeu says members of the law enforcement community will be turning out to pay tribute to their fallen brother.
"Brian Terry will never be forgotten by his extended family in law enforcement," Babeu said. "I personally have promised the Terry family we will not let up in our pursuit for justice against all of those responsible for his death."
Members of the Terry family including Brian's mother, sisters Michelle and Kelly and brother Kent. All will be attending the event.
Domino says they are humbled by the outpouring of support.
"The family is very thankful for the support of the American people and they say it has truly been amazing and we feel blessed to have so many that did or didn't know Brian come together to Honor him as the American hero he is," Domino said.
The event will be held at the Scottsdale International Auto Museum from 6-11 p.m., local time. A website has been created for more information on the fundraiser and to make a donation.