Frustrated Michigan man attempts to pay $270 fine with pennies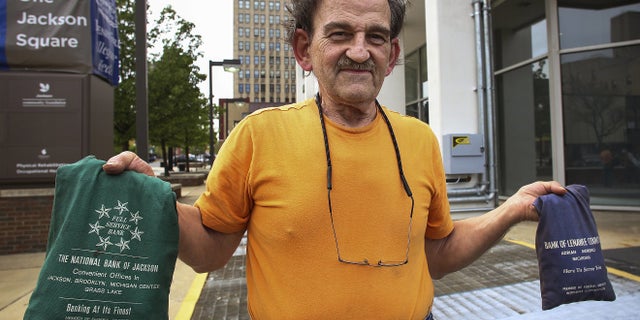 NEWYou can now listen to Fox News articles!
A frustrated citizen of Michigan attempted to pay a $270 fine with pennies at Jackson City Hall but was rejected.
Brian McGonegal was issued the fine last year for having trash in his yard, according to MLive. McGonegal claimed he got rid of most of the garbage but was angry after he had to pay $200 to hire workers to remove scrap metal, a job he said only took minutes to complete.
MICHIGAN STATE FOOTBALL PLAYERS CHARGED WITH SEXUAL ASSAULT
McGonegal tried to pay off his debt by making a series of $27 payments with 2,700 pennies. Randy Wrozek, the Jackson city treasurer, rejected the coins and told McGonegal to put them in rolls.
"It's not practical," Wrozek told The Associated Press. "This guy would come in every time at five minutes to five – we close at five – with a big sack full of change. We're not authorized for overtime down here."
McGonegal said the penny payments are his way of protesting the fine.
"This city is so full of themselves about: 'Well, we have to have everything picture perfect, and it's got to look like an ideal little community that we're going to make you pay,'" McGonegal told MLive. "And I think that attitude is wrong. We are the servants of the city government; the city government is the servant to us."
COMEY TO TESTIFY THAT TRUMP SOUGHT 'LOYALTY,' ASKED TO LIFT RUSSIA CLOUD
McGonegal argued in favor of his unorthodox payment method to the city council on May 16, but Wrozek said the bill would be sent to Jackson County and attached as a lien on McGonegal's property.
McGonegal said he is ready to go to court, if needed, and believes the city will watch him closely for now on.
"They'll be on me," McGonegal said. "They'll look for any scrap piece of paper. If they think the paint is weathered just a little too much on my building, they'll be all over me. Like white on rice. Get over yourself."
The Associated Press contributed to this report.