From the ashes of a historic fire, a musician finds her voice in 'One Girl Town'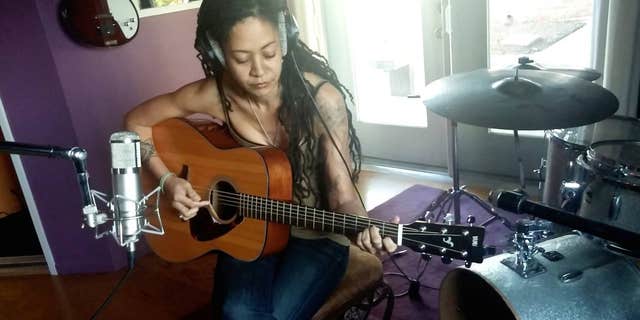 As her neighbors were fleeing the Thomas Fire back in December, musician Licity Collins was multitasking. The Thomas Fire was ravaging almost 282,000 acres in becoming California's largest fire in modern history, but Collins was interested in reaching her own milestone. She gathered some of her most cherished belongings as she fled her home in Ojai with one goal: To finish mixing her first album, the culmination of three years of work. And Collins was not going to let an evacuation stop her.
"I said, 'Let's work.' As everyone was evacuating, I was in my car plugging in and we went to work," Collins said.
Collins never doubted that the album would be completed, despite being evacuated to three different locations. "The pathways may have been burning behind me but who cares? This is my future," she said.
For Collins, the future is now. "One Girl Town," her debut album, will be released on April 25. It is the fulfillment of a lifelong dream for the singer-guitarist-songwriter, whose challenges in making "One Girl Town" didn't start with a historic wildfire.
Most recording artists don't begin their careers and release their debut albums in their 40s. But after years as a performance artist, author, public speaker and social activist, she decided to pursue a career in music and started work on the album in 2015.
"There was always this internal motivation. Music was always this - presence - that was reaching out to me," Collins said. "I spent a lifetime imagining this place and trying to get to it."
Collins grew up in Washington, D.C. playing cello, recorder, saxophone, and piano. She was exposed to - and loved - classical music and remembers having a Russian cello teacher who threatened to whack her knuckles with a ruler if she made a mistake. Collins sang in chorus from third grade through high school.
"Music was always a constant in our household," Collins said. "My mother was always humming off-key."
However, the music that gave Collins so much joy growing up became a center of strife between her and her parents. As a teenager in high school, Collins wanted branch out beyond the choir and be part of a band, an idea her parents shut down. But the music was just one of many ways her strict parents tried to control her, Collins said, as they eventually did not allow her to go out and that fueled years of tension into her adult life.
"They did not like me being involved in things they didn't control," Collins said. "My mother didn't want to allow me to spread my wings and fly on my own. She was always afraid of losing the people she cared about, losing the people around her. And you know, the more you try to hold on to something, -- the tighter you hold your grip -- the more you push people away."
Still, music ultimately brought Collins and her mother back together. Collins' mother, who battled Alzheimer's disease for eight years, died in January while she was in the final week of mastering the album. Collins sang to her mother over the phone in her last days to give her comfort. One of the songs she sang was "Que Sera, Sera (Whatever Will Be, Will Be)," a favorite of her mother's.
"That was one of the last things I said to my mother," Collins said. "She died that afternoon."
And perhaps, Collins hopes, "One Girl Town" can be a source of comfort - a connection - for its audience. She describes her album as "slow food" - something that listeners should get to know, spend time with and hang out with. It's a blend of rock and folk. It's lyrical, intense, intimate and relatable, a diary into Collins' mind that some listeners may see as a mirror into their own lives.
"There are some artists whose albums saved my life," Collins said. "This is kind of a thank you."
Collins does not speak of commercial success or critical acclaim when she talks about "One Girl Town." In some ways, she's just happy - and terrified - it's a reality. And she has hardly been a one-town girl - she was raised in D.C., went to college in Rhode Island and lived outside Chicago, in Portland and Los Angeles before settling in Ojai. Collins hasn't decided what her true physical home is yet, but she feels most at home as a musician. While making the album, Collins had to work at a cashier in a local grocery store, and an unexpected encounter with a rock legend gave her hope.
"While I was checking people out one day, Robert Plant came to my line," she said. "Robert Plant. There he was in his pink jogging suit. He looked just like himself. Of all the cashiers he could have gone to, he came to my line. And the thing was, the other cashiers were like, 'Robert Who? Who's Robert Plant?' So I was the one who appreciated him to most. ... So, I will take that as a sign that maybe I'm on the right path. I'll take all the signs I can get."