Frigid weather menaces Dakota Access pipeline protesters digging in for standoff
Hundreds of protesters fighting the Dakota Access pipeline were facing a blast of brutal weather on Tuesday, digging in their heels despite temperatures sinking well below freezing with winds gusting to 50 mph.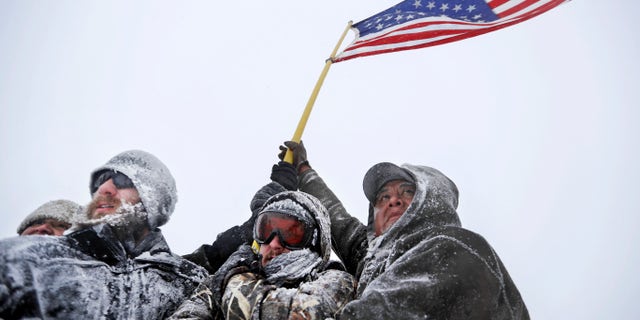 A blizzard warning in Cannon Ball, N.D., remained in effect through Tuesday evening. The wind chill was set to drop to minus-30, which forecasters warn could leave people with frostbite in just 15 minutes.
FEDS BLOCK CONTROVERSIAL DAKOTA ACCESS PIPELINE ROUTE
The government had ordered protesters to leave federal land by Monday, though officials made no noticeable effort to enforce that mandate as the deadline passed. Many demonstrators insisted they would stay for as long as it takes to permanently divert the $3.8 billion pipeline, which the Standing Rock Sioux tribe believed threatens sacred sites and a river providing drinking water for millions of people.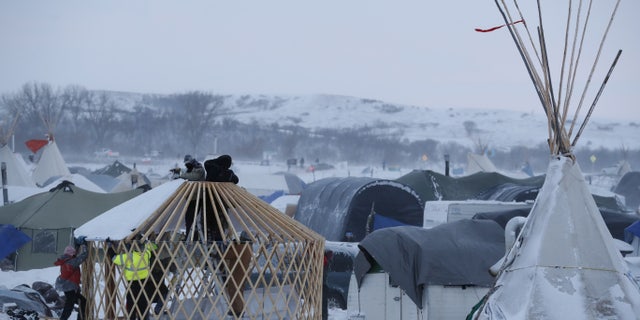 Many law enforcement officers signaled they would not budge until protesters pulled back, setting the stage for a standoff that could drag on for months. Police officers told Fox News they were "drained, tired and spent."
HUNDREDS OF VETERANS ARRIVE TO SUPPORT PIPELINE PROTESTERS
"I'm scared. I'm a California girl, you know?" activist Loretta Reddog of Placerville, Calif., said. She told reporters she arrived several months ago with her two dogs and had serious trouble adjusting to the harsher climate.
The pipeline is largely complete, except for a short segment planned to pass beneath a Missouri River reservoir, and opponents scored a victory during the weekend when the Army said it would not approve a permit for the crossing while further assessing potential changes. The company doing the building says it is unwilling to reroute the project.
For several months, the government permitted the gathering, allowing its population to swell. The Seven Council Fires camp began growing in August as it took in the overflow crowd from smaller protest sites nearby. It now covers a half square mile, with living quarters that include old school buses, fancy motorhomes and domelike yurts. Hale bales are piled around some teepees to keep out the wind. There's even a crude corral for horses.
The number of inhabitants has ranged from several hundred to several thousand. It has been called the largest gathering of Native American tribes in a century.
Activists have built more permanent wooden structures, even though the Army Corps of Engineers considers them illegal on government property. The Standing Rock Sioux insist the land still belongs to their tribe under a nearly 150-year-old treaty.
Camp dwellers were stockpiling donated food and water, as well as firewood, much of which has come from outside of North Dakota, the least-forested state in the nation. Army surplus tents with heating stoves serve as kitchen, dining hall, medical clinic and a camp-run school. Many of the smaller tents have become tattered by the wind.
Nate Bison, a member of South Dakota's Cheyenne River Sioux, came to the camp after quitting his job in Las Vegas. He said last week that he intended to stay indefinitely, a prospect that may cause him to lose his house in Nevada.
"But since I've lived in these conditions before, to me it's not all that bad," he said.
Camp morale is high, he added, despite the onset of winter.
"Everybody I've talked to, you hear laughter and people just having a good time, enjoying the camaraderie and the support from each other," Bison said. "And the love. People are taking the shirts off their own backs for other people. No one is left out that I've seen."
Fox News' William La Jeunesse and The Associated Press contributed to this report.