Fresno State hears from students, public about Bush-bashing professor
Hundreds of students and angry protesters flocked to California State University at Fresno this week to criticize the school's decision to not fire Randa Jarrar, a professor who called the late Barbara Bush "an amazing racist," and slammed farmers who support President Donald Trump as being "f---ing stupid."
University President Joseph Castro scheduled two separate forums -- Wednesday for students, Thursday for the public – in response to the controversy over Jarrar's tweets about the former first lady, which appeared April 17, just hours after Bush died at age 92.
Soon after, a video montage appeared online, showing Jarrar making comments about Trump voters and other topics.
"The last couple of weeks have proven to be challenging for many colleagues," Castro wrote in an invitation to the forums. "I look forward to seeing you there and hearing from you directly.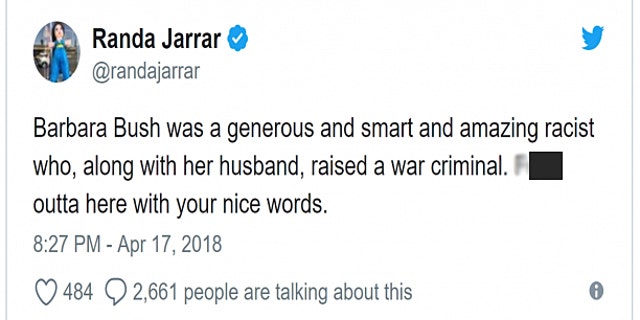 Last week, Castro said Jarrar won't be disciplined because her remarks were "protected free speech under the First Amendment of the U.S. Constitution," though he added they were also "insensitive, inappropriate and an embarrassment to the university."
But Bailey Cook, 23, a student at Fresno State, spoke out Wednesday against the school's radical academics, saying they put the university's reputation at risk and endanger the career prospects of the graduates.
In addition to Jarrar, Fresno State was the subject of another controversy in 2017, after history professor Lars Maischak tweeted that Trump "must hang" in order to "save American democracy." Maischak has since left the university.
"The problem for me is that [Jarrar] made those comments and then associated herself with Fresno State," said Cook, who got teary as she spoke in front of roughly 250 students, according to the Visalia Times-Delta. "She's entitled to those comments, but now she's messing with my education. Donors are pulling out from the Jordan College of Agriculture.
"I'm now afraid to graduate in December and to walk out into the world with a degree from Fresno State," she added. "All people are going to see is that woman and not me. Not the hard work that I put into my degree."
"I'm now afraid to graduate in December and to walk out into the world with a degree from Fresno State. All people are going to see is that woman and not me. Not the hard work that I put into my degree."
Another student said Jarrar's remarks caused such embarrassment for him that he considered attending another university.
Some have also expressed dismay that the university gives additional protections for tenured professors.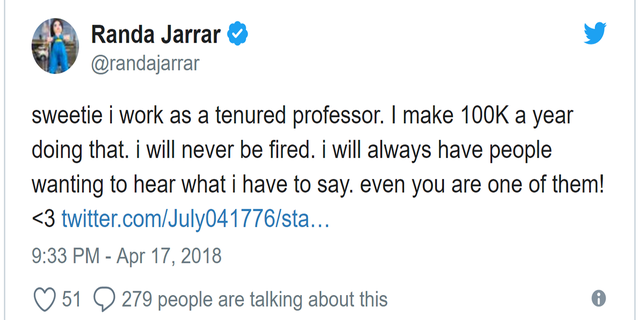 "If I know that teachers with tenure can say whatever they want to me as long as it doesn't pertain to academics, then that is not right," one student said.
Jarrar infamously boasted amid the controversy that she wouldn't be fired because she's a tenured professor and "I will always have people wanting to hear what I have to say."
During Thursday's forum, which was open to the public, the vocal crowd cheered speakers who criticized Jarrar and booed Castro, with some calling the university president's handling of the controversy "pathetic."
Fresno City Councilman Steve Brandau asked school officials to explain the Fresno State's hiring process, according to the Fresno Bee.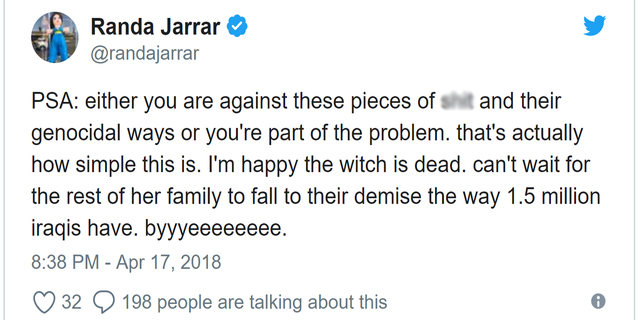 "She advocates violence and there's an element of racism in there," the councilman said. "If that's not hate speech, I don't know what's hate speech."
Brandau suggested the professor should teach an empty classroom when she returns next semester.
Kelly Kirschner, described as the wife of a farmer, said the situation forced her family to reconsider support for the university or its athletic program.
But while most speakers were criticizing Jarrar, some came out to defend the embattled professor, saying the treatment of people of color at the university is a bigger issue.
"Are we questioning the ethical character of Professor Jararr because of her opinion?" a student asked during Wednesday's forum, the Times-Delta reported. "It seems like there's a blatant double standard when it comes to free speech and academic freedom on this campus, especially for Middle Eastern professors and especially for Palestinian professors.
"There's a part of your campus that is suppressed and silenced and this issue is bigger than Professor Jarrar. This issue is bigger than her comments," the student added. "As a Palestinian myself, I identify with part of her comments when she talked about the Bush's being war criminals."
Jarrar is currently on leave, but will resume teaching this fall.