Freshman guard Jordan Poole hits 3 at buzzer to give Michigan win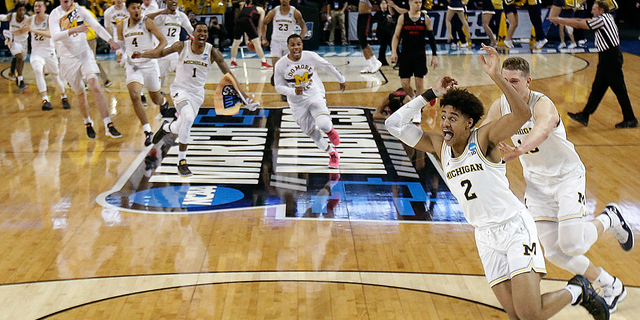 Freshman guard Jordan Poole squared up and drained a long 3-pointer at the buzzer, giving third-seeded Michigan a heart-stopping 64-63 victory over No. 6 seed Houston in the second round of the NCAA Tournament on Saturday night.
Devin Davis had a chance to seal the win for the Cougars, but he missed a pair of foul shots with 3.6 seconds left. The Wolverines (30-7) called timeout to set up a final play, and Muhammad-Ali Abdur Rahkman found Poole on the wing, and the youngster's shot hit nothing but net.
The officials reviewed it to make sure, but Poole had clearly gotten the shot away.
Abdur-Rahkman and Moe Wagner scored 12 points apiece to lead Michigan, but it was the unheralded freshman the stole the show. His flair for the dramatic sent coach John Beilein's team to Los Angeles for a West Regional semifinal against North Carolina or Texas A&M next week.
Earlier in the night, Zach Norvell Jr. helped Gonzaga stay in touch, then pull away from Ohio State for a 90-84 victory that puts the Bulldogs two wins away from a repeat trip to the Final Four.
Norvell made a 3-pointer to trim Ohio State's biggest lead of five down to two with 6:56 left. He then had an assist, a 3-pointer and two free throws as part of a 16-2 run that put the Zags ahead by nine with less than two minutes left.
The redshirt freshman, who made the go-ahead 3 late in Gonzaga's win over UNC Greensboro on Thursday, finished with 28 points and 12 rebounds, both career bests.
The fourth-seeded Bulldogs are in the Sweet 16 for the fourth straight year. They'll play Xavier or Florida State next Thursday in the West Region semifinals in Los Angeles.
Keita Bates-Diop led Ohio State with 28 points.
The Associated Press contributed to this report.