Frat member told 911: 'We have a friend who's unconscious'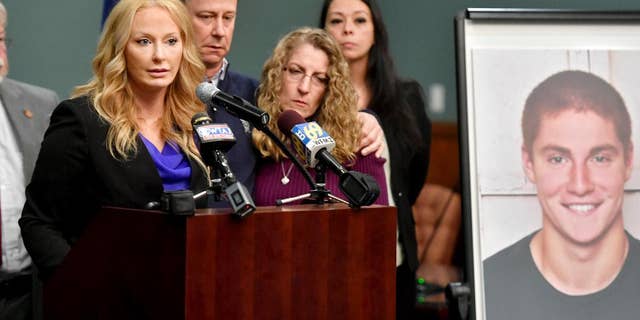 HARRISBURG, Pa. – A Penn State University fraternity member calling 911 for help in a case that has led to charges against 18 students following an alcohol-fueled party calmly told a dispatcher "we have a friend who's unconscious."
The call from Beta Theta Pi member Ryan McCann wasn't made for nearly 12 hours after Timothy Piazza fell face-first down a basement stairway Feb. 2. Piazza died two days later. He was from Lebanon, New Jersey.
Eight of the charged frat brothers are accused of involuntary manslaughter.
A recording of the 911 call was made public Monday. On it, McCann tells the dispatcher his 19-year-old friend was breathing but hadn't moved and was "probably going to need an ambulance." He acknowledges alcohol was involved.
Surveillance video showed Piazza falling multiple times at the alcohol-fueled pledge acceptance party. Piazza died of a traumatic brain injury.