FoxNews.com reporter faces 'indefinite' jail time for protecting sources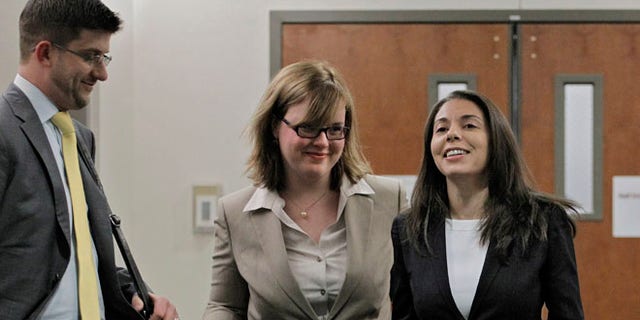 NEWYou can now listen to Fox News articles!
DENVER – A Colorado judge has postponed a hearing at which FoxNews.com reporter Jana Winter could be ordered to reveal her sources for an exclusive story about theater shooting suspect James Holmes, noting the journalist could face "indefinite" jail time.
The delay came as Winter's attorneys await a New York appeals court decision on her request to reject a Colorado subpoena seeking the names. Arapahoe County District Court Judge Carlos A. Samour Jr. granted the delay from Sept. 30 to Jan. 2, noting that Winter faces possible time in jail if she does not reveal her sources.
"[There is] the real possibility that Winter may face indefinite jail time," he said.
Winter broke a story about Holmes having sent a notebook to his onetime psychiatrist prior to his shooting rampage, which left 12 dead and 58 injured. Winter cited unidentified law officers in her story, which was then picked up by media outlets around the nation.
Holmes' attorneys say the officers violated a gag order and should be punished. They also say officers might have lied when they denied being Winter's sources, undermining their credibility as trial witnesses.
Several media and First Amendment advocates have decried the jail threat against Winter, saying such moves imperil freedom of the press.
"The subpoena of Ms. Winter is absolutely troubling," University of Colorado at Boulder Journalism Professor Len Ackland told FoxNews.com in April. "An important way that journalists inform the public – their obligation as self-appointed, self-anointed public servants – is to have sources tell them what is really happening on matters of public interest. Such subpoenas clearly can keep journalists from doing their work as well as intimidating potential sources."
Holmes has pleaded not guilty by reason of insanity to multiple charges of murder and attempted murder in the attack that killed 12 people and injured 70 others in a suburban Denver movie theater in July 2012.
Prosecutors are seeking the death penalty. The trial is scheduled to start in February.
The Associated Press contributed to this report.