FOX NEWS FIRST: Trump to meet with Putin in highly anticipated summit; France wins 2018 World Cup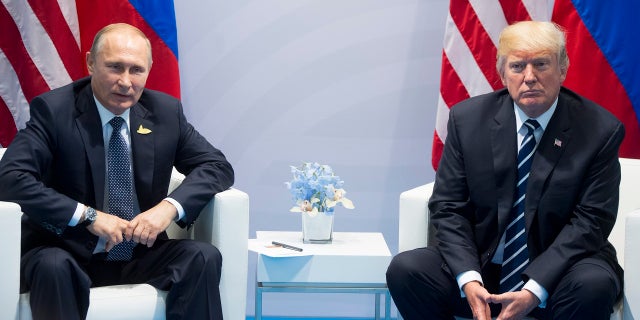 Welcome to FOX News First. Not signed up yet? Click here.
Developing now, Tuesday, July 16, 2018
Trump praises results of NATO summit before highly anticipated meeting with Putin
British diver doesn't rule out legal action against Musk over tweets
Hillary Clinton hits Trump over Putin summit, with a World Cup reference
France's World Cup victory celebrated in US and around the world
THE LEAD STORY – WINNING STREAK?: President Donald Trump on Monday touted his success for making NATO "strong and rich again" at a summit last week just hours before he is set to meet Russian President Vladimir Putin … "Received many calls from leaders of NATO countries thanking me for helping to bring them together and to get them focused on financial obligations, both present & future," Trump tweeted. "We had a truly great Summit that was inaccurately covered by much of the media.
The tweet came just hours before the president will be attending a highly-anticipated summit with Putin in Helsinki, Finland. Last week, Trump raised concerns about other NATO countries not meeting the established obligations to spend two percent of the gross domestic product (GDP) on the military.
HE SAID WHAT?: The British diver who played an instrumental role in rescuing the 12 boys from a Thailand cave last week on Monday fired back at tech billionaire Elon Musk who apparently accused him of being a pedophile … Vern Unsworth told a reporter at 7 News Sydney that he cannot put to words what he feels about Musk, but is not ruling out legal action. Musk, the CEO of Tesla, visited the Thai cave where the soccer team and their coach were trapped and left a mini-submarine there in the event it could benefit rescuers. Musk called it a "kid-sized" sub, named Wild Boar—in honor of the soccer team—and posted pictures of the vessel being tested in a swimming pool in California.
Unsworth essentially called the submarine useless.
Musk fired back in a series of now-deleted tweets that complemented the Thai navy SEALs, but crushed Unsworth, where he questioned water levels in the cave and whether or not "you could literally have swum there."
"We will make one of the mini-sub/pod going all the way to Cave 5 no problemo. Sorry pedo guy, you really did ask for it.
SMACK TALK: Hillary Clinton hit President Trump on Sunday night over his planned summit with Russian President Vladimir Putin -- as she fit in a reference to the World Cup final … Clinton tweeted: "Great World Cup. Question for President Trump as he meets Putin: Do you know which team you play for?" Trump arrived in Helsinki, Finland, earlier Sunday. His Monday meeting with Putin is set to be the first Russian-U.S. presidential summit since 2010. The summit is expected to touch on a variety of issues, including Russian election meddling, Syria, arms control, Putin's 2014 takeover of Crimea from Ukraine and sanctions.
Trump is under heavy pressure to tell Putin to stay out of U.S. elections when they meet, and he said Friday that he would. But many state lawmakers and members of Congress say it's taken far too long, and that Trump's refusal to condemn Russia's interference in the 2016 election complicates efforts to combat future attacks.
WORLD CUP FINALE: Celebrations went global for France's World Cup victory on Sunday … France clinched its second FIFA World Cup title after beating Croatia 4-2 in the finals on Sunday, as Fox News reported — in the highest-scoring final since 1966. The win marked the second time in 20 years that France has.
"We're happy. It took 20 years ... It's the pride of the nation. It unites everyone. It federates," Frederique Pourquet said as she and her friend left the Champs-Elysees, the world-famous avenue in Paris. Fans in the U.S. even enjoyed the win, as bars overflowed with crowds, captured, of course, virally on social media, and public big-screen TVs showed the triumph to overjoyed fans. Even the losers lost in good faith. From New York City, Eric Explores tweeted: "Tough break today. But that doesn't stop Croatian's from partying. My kind of people."
In Paris, fans flooded the Champs-Elysees by the tens of thousands to celebrate with cheers, stomping and song in an explosion of joy.
AS SEEN ON FOX NEWS
STRZOK'S TESTIMONY 'LIKE PULLING TEETH:' "Why is he still getting a paycheck from the American taxpayer? He should not be there anymore. He doesn't have credibility and he needs to move on." -- Rep. Ron DeSantis (R-Fla.), on "Fox & Friends," blasted embattled FBI agent Peter Strzok following Strzok's hearing Thursday before the House. WATCH.
TRUMP'S SUPREME COURT PICK: "They see that Brett Kavanaugh is truly an outstanding candidate who deserves confirmation overwhelmingly." -- Kenneth Starr, former solicitor general, on "Cavuto Live," explaining the praise President Donald Trump's Supreme Court nominee has received from liberal law professors. WATCH.
#PROUDAMERICAN
New York boy, 3, sings national anthem at baseball game in adorable video.
Texas sheriff's deputy with 'heart of gold' to donate kidney to man in need.
Custom Ford Mustang honoring America's WW II Eagle Squadrons to be auctioned for charity.
TRENDING
Air Force paid about $10G for toilet seat cover: report.
Prince Louis' official royal christening photos unveiled.
France's World Cup victory celebrated in US and around the world
THE SWAMP
California Dems snub Sen. Dianne Feinstein for long shot rival, in 'clear-eyed rejection' of party establishment.
HHS departures signal new secretary's 'no-nonsense' approach: report.
Defeated Rep. Crowley tries easing tensions with Ocasio-Cortez, won't endorse Pelosi.
ACROSS THE NATION
California judge forces LA Times to alter story about detective with alleged ties to Mexican mafia.
Chicago man shot, killed by officers appeared to have gun, police say.
Colorado cops arrest man with head tattoo who was sought in deadly shooting of woman he knew.
MINDING YOUR BUSINESS
Boeing starts air show with order for jets worth $4.7B.
LeBron's $1M investment in pizza chain is now worth $35M, report says.
Trump, Putin summit: Top economic issues.
FOX NEWS OPINION
Abigail Marone: Raise a glass to GOP tax cuts! You can literally drink up the benefits.
Amit Agarwal: I was Supreme Court nominee Kavanaugh's law clerk -- Let me tell you about the man I know.
Dan Gainor: Media revel in London anti-Trump protests as obsession with Russia continues.
HOLLYWOOD SQUARED
Dennis Rodman reportedly booed at Bruce Willis roast over Kim Jong Un joke.
James Woods threatened over '#MeToo issues' by Stormy Daniels lawyer Michael Avenatti.
Lena Dunham shares topless hospital selfie to celebrate progress in her battle with endometriosis.
DID YOU HEAR ABOUT THIS?
McLaren 720S sports car 'destroyed' in crash day after it was bought.
More than 500 fall ill after visiting Tennessee zipline attraction.
Man, woman steal fire truck, lead police on hours-long chase in California.
STAY TUNED
FACEBOOK WATCH LAUNCHES
'Fox News Update' on Facebook Watch Launches This Monday
On FOX News:
FOX & Friends, 6 a.m. ET: Bill Richardson, Former US ambassador to the UN shares insight on Trump-Putin summit; Nigel Farage, former UK independence party leader reacts to President Donald Trump's meeting with Russian Preisdent Vladimir Putin; Jason Chaffetz, former Utah congressman weighs in on the morning's biggest headlines.
Want the FOX News Rundown sent straight to your mobile device? Subscribe through Apple Podcasts, Google Play, and Stitcher.
#OnThisDay
1969: Apollo 11 blasted off from Cape Kennedy on the first manned mission to the surface of the moon.
1945: The United States exploded its first experimental atomic bomb in the desert of Alamogordo, New Mexico.
1790: A site along the Potomac River was designated the permanent seat of the United States government; the area became Washington, D.C.