FOX NEWS FIRST: Trump says he'll leave Kim summit if talks aren't productive; Cuomo's 'power grab' in NY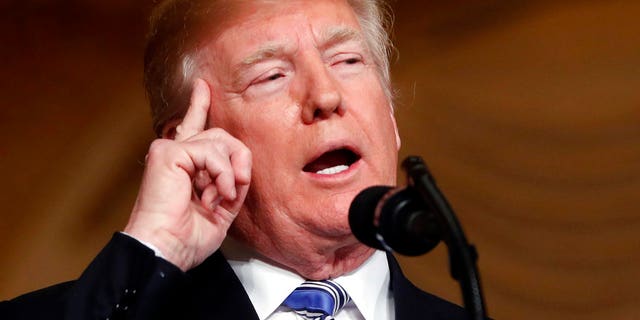 NEWYou can now listen to Fox News articles!
Welcome to Fox News First. Not signed up yet? Click here.
Developing now, Thursday, April 19, 2018
President Trump says he would walk away from a historic summit with North Korean dictator Kim Jong Un if he felt the talks were not going to be successful
Trump says the U.S. will punish Russia with new sanctions 'as soon as they very much deserve it'
The hero Southwest Airlines pilot and first officer who safely landed a jet after an engine blew out say they were only doing their jobs
Calif. Gov. Jerry Brown says he'll deploy up to 400 members of the state's National Guard to combat crime at the U.S.-Mexico border -- but not enforce immigration laws or help build a border wall
New York Gov. Andrew Cuomo grants voting rights to 35,000 paroled felons, sparking outrage from Republicans who accuse him of a 'power grab' 
THE LEAD STORY - TRUMP'S GREAT EXPECTATIONS: President Donald Trump told reporters he would not hesitate to walk out of a planned summit meeting with North Korean dictator Kim Jong Un "if I think it's a meeting that is not going to be fruitful." ... "I hope to have a very successful meeting," Trump said at a joint news conference alongside Japanese Prime Minister Shinzo Abe. "If we don't think it's going to be successful, we won't have it. If I think it's a meeting that is not going to be fruitful, we're not going to go. If the meeting when I'm there is not fruitful, I will respectfully leave the meeting." Trump said that he planned to discuss the denuclearization of North Korea when he meets with Kim, possibly by early June, vowing: "We will not repeat the mistakes of previous administrations [and] our campaign of maximum pressure will continue until North Korea denuclearizes."
'NOBODY TOUGHER THAN TRUMP': President Trump told reporters Wednesday evening that the U.S. would levy new sanctions against the Russian government "as soon as they very much deserve it" ... Trump was responding to a shouted question as he posed for photos with Japanese Prime Minister Shinzo Abe following a joint news conference. The president then returned to the microphone to restate his claim that "there has been nobody tougher on Russia than President Donald Trump." "With the media, no matter what I did, it's never tough enough because that's their narrative," Trump lamented. "But Russia will tell you there has been nobody tougher than Donald Trump." The president spoke one day after an intra-administration quarrel over sanctions erupted in public.
'SIMPLY DOING OUR JOBS': The Southwest Airlines pilot and first officer who safely made an emergency landing in Philadelphia on Tuesday after one of the plane's engines blew mid-flight downplayed their heroism, saying they were "simply doing our jobs" ... "As Captain and First Officer of the Crew of five who worked to serve our Customers aboard Flight 1380 yesterday, we all feel we were simply doing our jobs," Capt. Tammie Jo Shults and First Officer Darren Ellisor wrote in a statement. "Our hearts are heavy. On behalf of the entire Crew, we appreciate the outpouring of support from the public and our coworkers as we all reflect on one family's profound loss." Shults and Ellisor said they had talked with federal safety investigators. However, they won't be giving any interviews to reporters and "ask that the public and the media respect our focus."
CALIFORNIA COMPLIES – WITH CONDITIONS: California Gov. Jerry Brown announced he will deploy "up to 400" members of the state's National Guard "to combat" criminal activity — after President Trump slammed him for "trying to back out" of an earlier pledge ... Brown issued an order that the National Guard be sent to help "combat criminal gangs, human traffickers and illegal firearm and drug smugglers within the state, along the coast and at the U.S.-Mexico border." However, the governor sent military personnel on the condition that "the California National Guard will not enforce immigration laws or participate in the construction of any new border barrier."
'OUTRAGEOUS POWER GRAB': In an executive order signed Wednesday, New York Gov. Andrew Cuomo granted some 35,000 paroled felons the right to vote ... The move by the second-term Democrat came after state Republicans blocked a bill in the state Senate. "I'm unwilling to take no for an answer," Cuomo said at the annual convention of the Rev. Al Sharpton's National Action Network in New York City. "I'm going to make it law by executive order." Outraged Republicans immediately blasted Cuomo's directive. Republican Senate Leader John Flanagan called the order bad public policy that could potentially be illegal because the governor ignored the Legislature.
Ed Cox, chairman of the state Republican Party, in a statement, called the directive an "outrageous power grab" in a bid to appeal to "radical primary voters," according to the New York Times.
AS SEEN ON FOX NEWS
FIRST LADY'S CHARM AND WIT: "She and I were needling each other. The doctor came in and she turned to the doctor and said, 'You want to know why George W. is the way he is?' The doctor looked somewhat surprised and she said, 'Because I drank and smoked while I was pregnant with him.' ... She's funny." – Former President George W. Bush on "Mornings with Maria," revealing that his mother Barbara Bush flashed her trademark sense of humor until her death on Tuesday. WATCH
COMEY THE 'KARDASHIAN': "Many career people at the Justice Department must really find this [situation] quite repulsive." – Jonathan Turley, Georgetown University law professor, on "The Story with Martha MacCallum," explaining why he believes fired FBI Director James Comey is "selling himself with the vigor of a Kardashian and the viciousness of a Trump." WATCH
TRENDING
Death of H.R. McMaster's father reportedly under investigation over 'suspicious' circumstances.
GOP lawmakers refer Comey, Clinton, McCabe for criminal investigation.
Poll: Hillary Clinton's popularity has plunged since election.
Ex-Playboy model settles National Enquirer suit that had silenced her on alleged Trump affair.
THE SWAMP
Homeland Security reveals dozens of MS-13, other gang members released by 'sanctuary' policies.
Comey says McCabe lied, confirms he kick-started probe that led to his firing.
Eric Holder hints at 2020 presidential run with important New Hampshire appearance.
ACROSS THE NATION
Fresno State says Barbara Bush-bashing professor can be fired despite tenure.
Florida sheriff ordered by judge to release additional Parkland response video, report says.
911 operator who hung up on emergency calls is sentenced to jail.
MINDING YOUR BUSINESS
Starbucks CEO apologizes for unfair treatment of black customers | Ingraham: Starbucks in black and white
P&G acquires German Merck's consumer health business for about $4.21 billion.
Nike's executive exodus continues.
Surging gas prices unlikely to dent SUV boom.
Elon Musk: Tesla 'delivering power' in Puerto Rico amid blackout.
FOX NEWS OPINION
Judge Andrew Napolitano: Trump and the attorney-client privilege.
Todd Starnes: Army chaplain faces punishment for following religious beliefs.
Sen. David Perdue: Trump's North Korea policy is succeeding.
HOLLYWOOD SQUARED
'The Simpsons' showrunner shares Barbara Bush's 1990 letter to Marge Simpson.
Robert De Niro says he'd return to 'SNL' as Robert Mueller, hopes to throw Trump in jail.
Bernie Sanders says rapper Cardi B is 'right' on Social Security.
DID YOU HEAR ABOUT THIS?
Google Maps is using fast food chains for directions.
WWII wreck USS Helena discovered by Microsoft co-founder Paul Allen's crew.
Giant group of octopus 'moms' discovered during deep sea expedition: 'It's suicide.'
STAY TUNED
On Fox News:
Fox & Friends, 6 a.m. ET: Jamiel Shaw Sr., whose son was killed by an illegal immigrant, responds to California Gov. Jerry Brown's comments about Americans killed by illegal immigrants; Judge Andrew Napolitano on James Comey's potential legal jeopardy; Kevin Jackson, executive director of the Blacksphere, weighs in on Starbucks' plan to provide race discrimination training to employees; this week's "Cooking with Friends" segment features Melissa Francis and her spiced chicken
Hannity, 9 p.m. ET: Guests include: Mark Levin, Alan Dershowitz, Kellyanne Conway and more!
On Fox Business:
Mornings with Maria, 6 a.m. ET: Guests include: Former President George W. Bush and former first lady Laura Bush; RNC Chair Ronna Romney McDaniel; Rep. Lee Zelden; former U.S. Sen. Jim DeMint; Andy Cunningham, former Apple executive; Art Laffer, former economic adviser under President Reagan.
Cavuto: Coast to Coast, Noon ET: Sen. John Thune.
The Intelligence Report, 2 p.m. ET: Los Alamitos, Calif., Mayor Troy Edgar; Retired Navy Capt. Chuck Nash; Ari Fleischer
Countdown to the Closing Bell, 3 p.m. ET: U.S. Treasury Secretary Steven Mnuchin; Christine Lagarde, IMF managing director
Lou Dobbs Tonight, 7 p.m. ET: Rep. Claudia Tenney.
On Fox News Radio:
The Fox News Rundown podcast: Barbara Bush, who died Tuesday at age 92, will be remembered as an advocate for literacy. Doug Wead, a presidential historian and former special assistant to President George H.W. Bush, reflects on the late first lady's legacy. International inspectors are in Syria investigating the possible chemical attack. FOX's Jennifer Griffin provides details from the Pentagon. Plus, commentary by Fox News medical correspondent Dr. Marc Siegel.
Want the Fox News Rundown sent straight to your mobile device? Subscribe through Apple Podcasts, Google Play, and Stitcher.
#OnThisDay
1995: A truck bomb destroys the Alfred P. Murrah Federal Building in Oklahoma City, Okla., killing 168 people. (Bomber Timothy McVeigh, who prosecutors said planned the attack as revenge for the Waco, Texas, siege two years earlier, would be convicted of federal murder charges and executed in 2001.)
1993: The 51-day siege at the Branch Davidian compound near Waco, Texas, ends when a fire destroys the structure after federal agents begin smashing their way in; about 80 people, including two dozen children and sect leader David Koresh, are killed.
1775: The American Revolutionary War begins with the battles of Lexington and Concord.
Fox News First is compiled by Fox News' Bryan Robinson. Thank you for joining us! Enjoy your day! We'll see you in your inbox first thing Friday morning.