FOX NEWS FIRST: Trump outlines new Iran strategy, strikes major blow to ObamaCare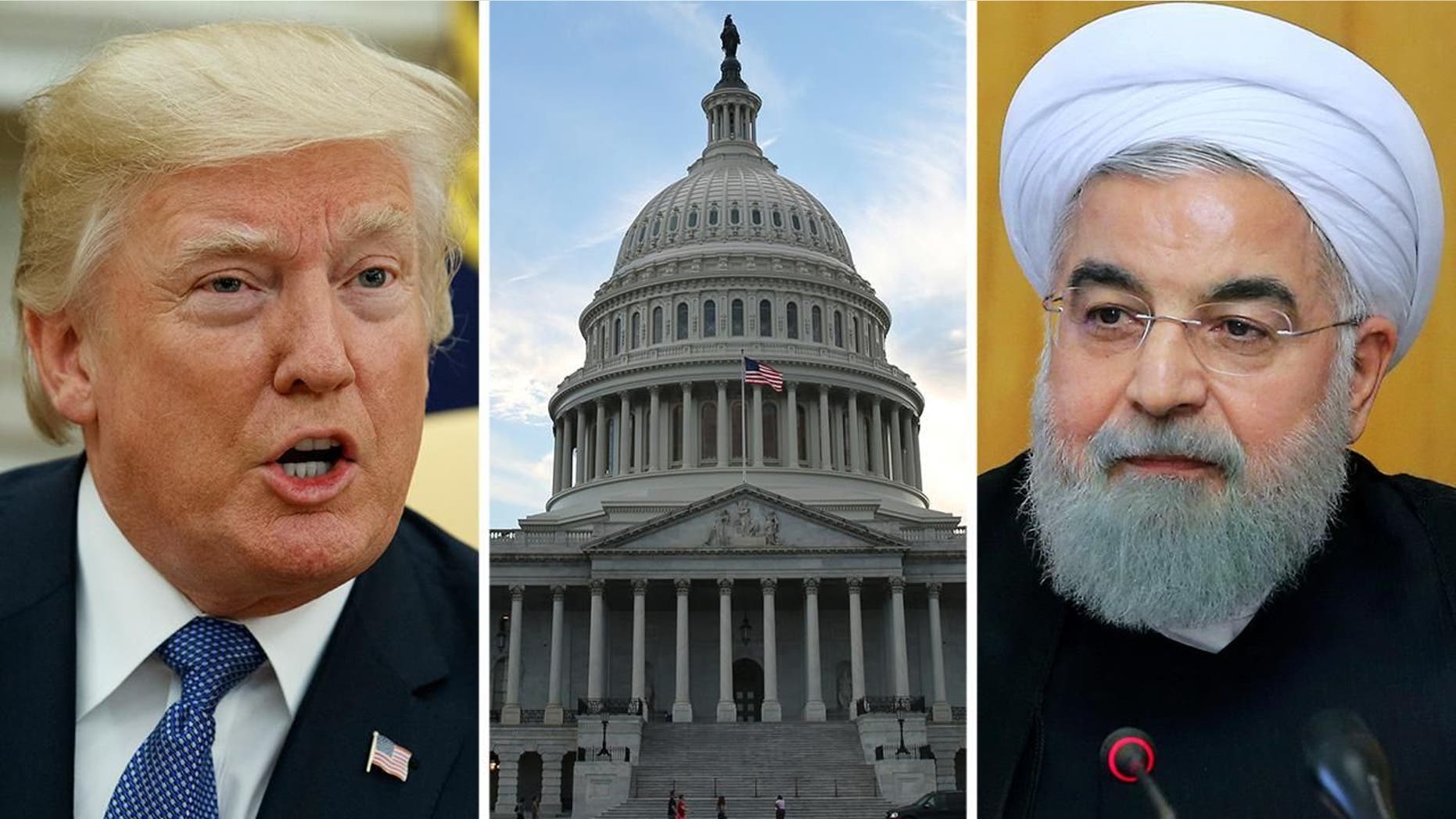 TOP OF THE MORNING
It's Friday, Oct. 13, 2017 - Friday the 13th. Welcome to Fox News First, your first stop for today's news. To get your early morning news emailed directly to your inbox, click here.
Here's your Fox News First 5 - the first five things you need to know today:
President Trump targets two hallmarks of the Obama era: He'll likely decertify the 2015 Iran nuclear deal and halt ObamaCare subsidies to health insurers
The Weinstein Company feels backlash from the Hollywood sex scandal
Death toll mounts: California wildfires have killed at least 31 people this week
The Las Vegas massacre timeline is disputed once again
Let's dive deeper into these stories ...
THE LEAD STORY: President Trump will outline a new strategy on Iran designed to block "all paths to a nuclear weapon." ... In a rebuke of the 2015 agreement from the Obama era, Trump was expected to declare today that a nuclear Iran is not in America's national security interest. Trump will outline specific faults he finds in the 2015 accord but will also focus on an array of Iran's troubling non-nuclear activities. Those include Tehran's ballistic missile program, support for Syrian President Bashar Assad, Lebanon's Hezbollah movement and other groups that destabilize the region. Tune in to Fox News for live coverage and analysis of Trump's speech at 12:45 p.m. ET and throughout the day.
BLOW TO OBAMACARE: President Trump plans to halt federal subsidies to insurers under the Affordable Care Act, also known as ObamaCare ... This is Trump's bid to ultimately "repeal and replace" President Obama's signature legislation. Trump's decision was expected to rattle already unsteady insurance marketplaces. The president has previously threatened to end the payments, which help reduce health insurance copays and deductibles for people with modest incomes, but the plan remains under a legal cloud.
Will there be blowback? Almost certainly. Trump's move will likely trigger lawsuits from state attorneys general, who contend the subsidies to insurers are fully authorized by federal law, and the president's position is reckless. Xavier Becerra, California's attorney general, has already called the decision "sabotage," and promised a lawsuit.
Trump's executive order on health care: What you should know
From Fox News Opinion: Trump's right: Less regulation and more incentives are the right path for health care reform
WEINSTEIN STIGMA: Talent agencies have reportedly started refusing to work with the Weinstein Company in wake of the Harvey Weinstein sex scandal ... Deadline.com reports that these agencies are worried the Weinstein Company is a tarnished brand -- and would remain so even under a different name – because clients don't want Harvey Weinstein profiting in any way from ongoing and future projects. In addition, In The Heights book writer Quiara Alegria Hudes and composer Lin-Manuel Miranda want the Weinstein Company to give up the movie rights to the pre-"Hamilton" musical.
SCORCHED EARTH: Raging wildfires across Northern California have now killed at least 31 people, marking the deadliest week of blazes in state history ...  The fires, many of them in wine country, broke out almost simultaneously Sunday night and now cover more than 300 square miles, an area as large as New York City. State officials have not yet officially said what caused the blazes, which have destroyed at least 3,500 homes and businesses. Downed power lines and blown transformers are one theory. Dispatch audio obtained by KTVU Fox 2 News reveals firefighters in Napa and Sonoma counties called in more than a dozen reports of downed power lines, live wires, and blown transformers late Sunday in the first hours of the wildfire outbreak.
CARNAGE AND CONFUSION: Amid timeline discrepancies, investigators in Las Vegas still have not determined the motive for the deadliest mass shooting in modern U.S. history ... MGM Resorts International said Thursday that shots were fired into a music festival crowd "at the same time as, or within 40 seconds after" a security guard first reported by hotel dispatch radio that shots were fired. The casino company says Las Vegas police accounts are inaccurate. Police have said the shooter, Stephen Paddock, fired a barrage into the hallway toward the guard and a casino maintenance worker, and fired assault-style weapons out the casino windows for about 10 minutes before killing himself with a gunshot to the head.
ABOUT LAST NIGHT
HOLLYWOOD QUID PRO QUO: "If you make me feel good, I'll make you rich and famous ... It was straight up prostitution." – Singer Joy Villa, on "Tucker Carlson Tonight," recalling her own encounter with sexual harassment early in her career, when she met privately with an entertainment executive. WATCH
THE HARVEY CLAUSE: "He has to pay the company back what it paid the victim... and pay a fine ... The company structured a contract that essentially allowed for sexual harassment if you're willing to pay a monetary price." – Harvey Levin, TMZ founder and host of OBJECTified, on "The Story with Martha MacCallum," detailing how Harvey Weinstein's contract allowed continued employment in wake of sexual harassment suits. WATCH
MINDING YOUR BUSINESS
White House steps up review of Federal Reserve chairman candidates.
Source: Disney to cut about 200 jobs at its TV networks.
Uber set to appeal London license loss.
BASF to buy seeds, herbicide businesses from Bayer for $7 billion.
NEW IN FOX NEWS OPINION
Eagle Scout: RIP, Boy Scouts of America. You were great for 100 years.
Tomi Lahren: Hollywood liberals are anti-Trump, not pro-woman.
Is Harvard racist? If you're Asian-American, their admission policies just might be.
NFL and its owners salute one flag: The dollar.
HOLLYWOOD SQUARED
Jeopardy! champion's 12-day winning streak comes to an end.
Demi Lovato reveals she's open to dating men and women.
OBJECTified preview: Tyler Perry on prized possessions.
The untold story of Steve McQueen's spiritual journey.
DID YOU HEAR ABOUT THIS?
Yellowstone supervolcano could blow faster than thought, destroy all of mankind.
California fires: How the smoke can affect the taste of wine.
Energy drinks cost new father part of his skull, brain.
3,200-year-old stone inscription tells of Trojan prince, sea people.
STAY TUNED
On Fox News:
Fox & Friends, 6 a.m. ET: Attorney General Jeff Sessions discusses the measures he's taking against for sanctuary cities and why he believes there's a "crisis" in the surge of asylum claims. Plus, former Iran hostage Don Cooke gives insight on U.S. attempts to bring Caitlan Coleman and her family home from Afghanistan, where they were held captive since 2012.
Tucker Carlson Tonight, 8 p.m. ET: A reporter will give the inside story on how NBC tried to cover up the Harvey Weinstein sex harassment scandal.
On Fox Business:
Mornings with Maria, 6 a.m. ET: Commerce Secretary Wilbur Ross explains his request for an additional $3.3 billion from Congress to complete the 2020 census; Sen. Rand Paul takes on President Trump's executive action on health care.
Varney & Co., 9 a.m. ET: House Ways and Means Committee Chairman Kevin Brady talks tax reform chances.
Cavuto: Coast to Coast, Noon ET: Former Director of National Intelligence, John Negroponte, dissects President Trump's new strategy on Iran.
Lou Dobbs Tonight, 7 p.m. ET: John Hannah, senior counselor at Foundation for Defense of Democracies, gives his take on Trump's new approach to Iran
The Brian Kilmeade Show, 9 a.m. ET to 12 noon ET: Former Deputy Campaign Manager David Bossie looks back on White House Chief of Staff John Kelly taking on rumors directly with the White House press corps; Former State Department Deputy Spokesperson Marie Harf breaks down Trump's Iran strategy.
The Tom Shillue Show, 3 p.m. ET to 6 p.m. ET: Rep. Steve King discusses Trump's latest action on health care and how the White House should address "Dreamers."
#OnThisDay
2010: Rescuers in Chile use a missile-like escape capsule to rescue 33 men, one-by-one,  who were trapped for 69 days in a collapsed mine a half-mile underground.
1999: The JonBenet Ramsey grand jury is dismissed after 13 months of work, with prosecutors saying there wasn't enough evidence to charge anyone in the 1996 slaying.
1962: Edward Albee's four-character drama "Who's Afraid of Virginia Woolf?" opens on Broadway.
1775: U.S. Navy has its origins as the Continental Congress orders the construction of a naval fleet.
Thank you for joining us on Fox News First! Enjoy your Friday and weekend! We'll see you in your inbox first thing Monday morning.