FOX NEWS FIRST: Trump dossier funded by Clinton campaign, DNC; Close Hillary allies at center of Russia probe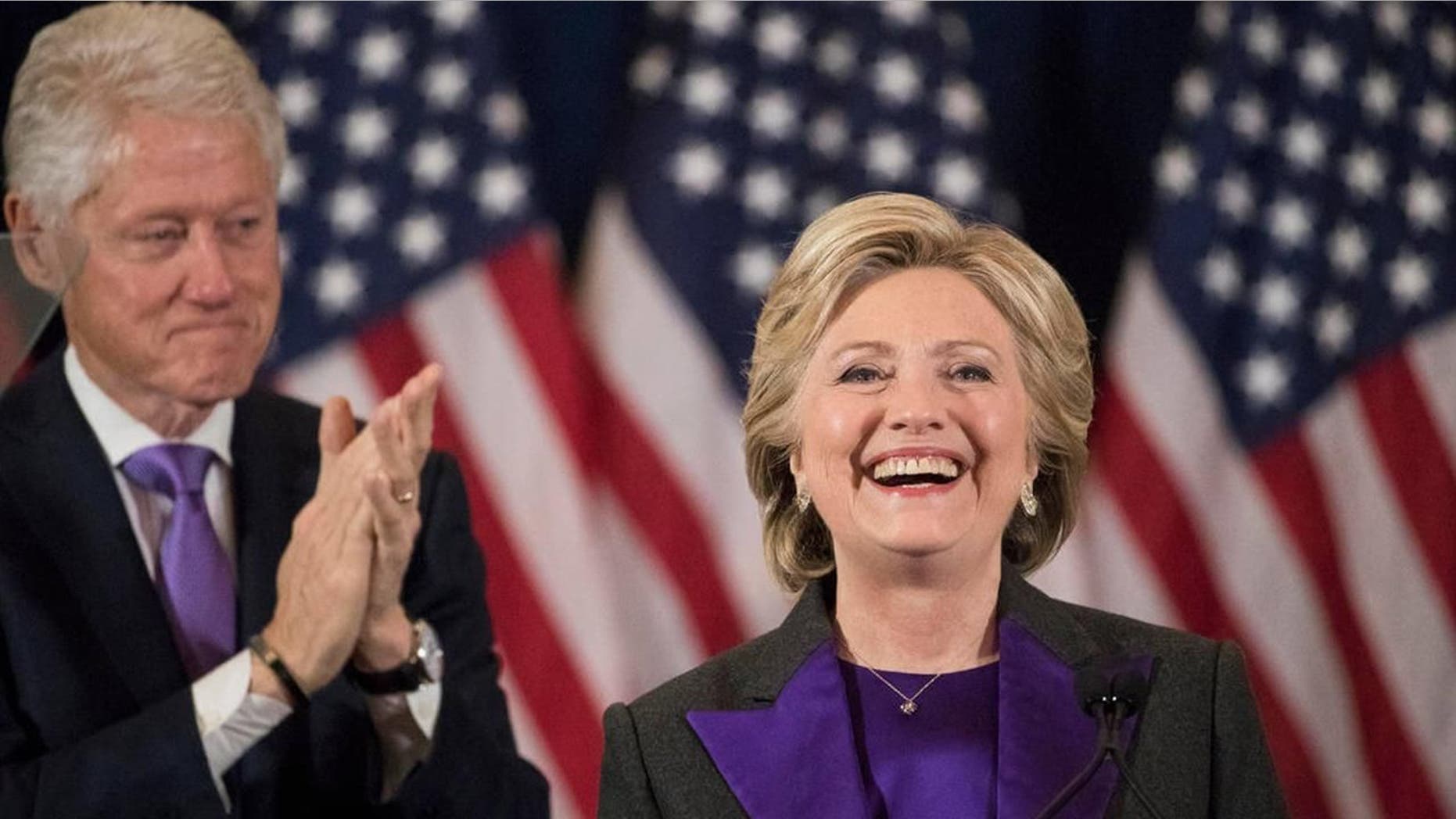 TOP OF THE MORNING
Welcome to Fox News First. Not signed up yet? Click here.
Developing now, Wednesday, Oct. 25, 2017:
Salacious Trump dossier funded by DNC, Hillary Clinton's presidential campaign
Two close Clinton allies are central figures in Russia probe, source says
Sen. Jeff Flake's retirement a victory for Steve Bannon and "Trumpism"
Email shows Obama's Justice Dept. blocked conservative groups from settlement payments
TUNE IN: Don't miss "Lou Dobbs Tonight" at 7 p.m. ET on Fox Business as President Trump sounds off on tax reform, his war of words with Sens. Jeff Flake and Bob Corker and much more!
THE LEAD STORY: A controversial dossier containing salacious allegations about President Donald Trump and his possible connections to Russia was funded by Hillary Clinton's presidential campaign and the Democratic National Committee, a source confirmed to Fox News ... Fusion GPS, the firm behind the dossier, was retained in April 2016 by Marc E. Elias, an attorney representing the DNC and the Clinton campaign, the Washington Post reported. The firm then reportedly hired former British intelligence officer Christopher Steele to write the infamous dossier. Steele had ties both to the U.S. intelligence community and the FBI. Prior to the firm being retained by Elias and his law firm, Perkins Coie, Fusion GPS's research had been subsidized by an unidentified Republican during the GOP primary. However the Clinton campaign and the DNC saw the research through, funding the firm through the end of October 2016, just days before Trump defeated Clinton in the general election.
THE REAL RUSSIA SCANDAL? In addition to former Trump campaign manager Paul Manafort, close Clinton allies John and Tony Podesta have become central figures in special counsel Robert Mueller's Russia probe, a source told Fox News' Tucker Carlson ... The source, a former employee of the Podesta Group who has been interviewed by Mueller's investigators, says Manafort worked extensively with the Podestas as far back as 2011 on behalf of Russian government and business interests. Russia sought influence in Capitol Hill and focused on the Podesta Group because of Tony and John's close ties to then-Secretary of State Hillary Clinton, Carlson reported. The source, Carlson said, alleged that Tony Podesta and a member of the Clinton Foundation had a meeting about how to assist Uranium One, the Russia-owned company that controls 20 percent of U.S. uranium production capacity and whose board members gave more than $100 million to the Clinton Foundation.
BANNON CLAIMS VICTORY: Former White House strategist Steve Bannon quickly claimed victory for his anti-GOP establishment movement after Sen. Jeff Flake's surprise retirement announcement. ...  Bannon warned incumbents that his recruited candidates "will defeat you in primaries or force you to retire," according to Breitbart News Network Editor-in-Chief Alex Marlow, who tweeted the reaction. "The days of establishment Republicans who oppose the people's America First agenda are numbered," Bannon added. Flake announced his retirement with a scathing attack on Trump from the Senate floor, calling the commander-in-chief's behavior "reckless, outrageous, and undignified." But his retirement may only fuel the ongoing civil war within the GOP.
'SMOKING GUN': The chairman of the House Judiciary Committee says he obtained a "smoking gun" email that proves President Obama's Justice Department prevented settlement payouts from going to conservative-leaning organizations, even as liberal groups were awarded money ...  While Eric Holder was U.S. attorney general, the Justice Department allowed prosecutors to strike agreements compelling big companies to give money to outside groups not connected to their cases to meet settlement burdens. Republican lawmakers decried those payments as a "slush fund" that boosted liberal groups, and the Trump DOJ ended the practice earlier this year. DOJ officials had denied picking and choosing the recipients of settlements. But internal Justice Department emails released Tuesday by House Judiciary Committee Chair Bob Goodlatte indicated that settlements didn't go to conservative groups.
ABOUT LAST NIGHT
FLAKING OUT: "In listening to what we heard today from Jeff Flake, if you didn't hear his voice and just read it, this could be a speech that was delivered by Nancy Pelosi. This could have been a speech that was delivered by Chuck Schumer. Almost everything that the press is focusing on, not that he's that conscience of the conservative movement. It's the tone, the vitriol. He lost. His view of conservatism is receding." – Laura Ingraham, on "Special Report," breaking down Sen. Jeff Flake's surprise retirement announcement and fiery attack on Trump. WATCH
IVANKA TAKES ATTACKS IN STRIDE: "If we have to take a few body blows in advocating for those men and women, I think everyone in my family... is honored to do it." – Ivanka Trump, on "Hannity," reflecting on media attacks on her father and her family. WATCH
MINDING YOUR BUSINESS
Republicans, Wall Street score victory in dismantling class-action rule.
Airlines prepare for new U.S. security rules going in effect Thursday.
How to maximize your Social Security benefits, retirement savings.
NEW IN FOX NEWS OPINION
John Stossel: After 16 years of warfare, a private military could help make progress in Afghanistan.
The Niger ambush is nothing like 'Trump's Benghazi.'
Judith Miller: It's not too late for Trump to apologize to Myeshia Johnson.
HOLLYWOOD SQUARED
Eminem song was ripped off by political party, court rules.
Global warming flick Geostorm could lose $100 million.
Kathy Griffin calls Donald Trump a 'moron' and 'Nazi.'
DID YOU HEAR ABOUT THIS?
Police catch bear out for a stroll in California town.
Trove of lost Jewish artifacts, thought to have been destroyed in the Holocaust, discovered.
Southwest's dancing employee is a social media sensation.
STAY TUNED
On Fox News:
Fox & Friends, 6 a.m. ET: President of Americans for Tax Reform Grover Norquist on the potential impact of tax reform on the 2018 midterm elections; House Oversight Committee member Rep. Ron DeSantis on the new investigations on the Obama-era Uranium One deal; Army Capt. Gary Rose opens up about being a Medal of Honor recipient.
The Daily Briefing with Dana Perino, 2 p.m. ET: An intimate and wide-ranging interview with former first daughters Jenna Bush Hager and Barbara Bush.
On Fox Business:
Mornings with Maria, 6 a.m. ET: Day 2 of Maria Bartiromo's live broadcast from the financial summit in Saudi Arabia. Her guests include:  U.S. Treasury Secretary Steven Mnuchin; Steve Schwarzman, CEO, Blackstone; Mark Weinberger, EY Global Chairman and CEO; Xavier Rolet, CEO, LSEC and Steve Case; Chairman and CEO of Revolution.
The Intelligence Report, 2 p.m. ET: House Majority Leader Kevin McCarthy talks tax reform prospects; attorney Robert A. Profusek on the latest revelations in the Obama-era Uranium One deal; presidential historian Doug Wead dissects the significance of the release of the JFK assassination files.
On Fox News Radio:
The Brian Kilmeade Show, 9 a.m. ET to Noon ET: Douglas Brinkley on the historical significance of Andrew Jackson and a pivotal battle in New Orleans; author Anne Applebaum gives us the back story behind "Red Famine: Stalin's War on Ukraine."
The Tom Shillue Show, 3 p.m. ET to 6 p.m. ET: Jackie "The Jokeman" Martling, comedian and former head writer for "The Howard Stern Show," discusses his life in comedy, working alongside Howard Stern and our increasingly politically correct culture.
#OnThisDay
1994: Susan Smith of Union, S.C., claims a carjacker drove off with her two young sons. (Smith later confesses to drowning the children.)
1983: President Ronald Reagan orders the U.S. invasion of Grenada, saying the action is needed to protect American citizens.
1939: The play "The Time of Your Life," by William Saroyan, opens in New York.
Thank you for joining us on Fox News First! Enjoy your Wednesday and we'll see you in your inbox first thing Thursday morning.