FOX NEWS FIRST: Surveillance memo could be declassified Friday; Trump warns Dems on DACA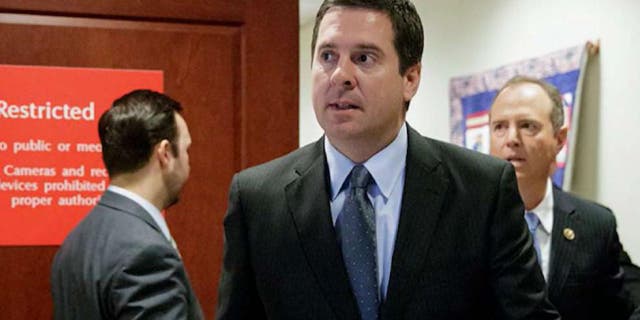 NEWYou can now listen to Fox News articles!
Welcome to Fox News First. Not signed up yet? Click here.
Developing now, Friday, Feb. 2, 2018
President Trump could declassify a GOP memo on alleged surveillance abuses as early as Friday -- amid objections from the FBI, the Justice Department and Democrats
Former FBI Director James Comey rips unnamed 'weasels and liars' before Trump's anticipated declassification of FISA memo
Trump urges Democrats to act on DACA before its March 5 deadline
ICE raids 77 businesses in Northern California suspected of employing illegal immigrants, officials say
It's Groundhog Day and all eyes are on Punxsutawney Phil and other critters to see what kind of weather will be predicted for the rest of winter
THE LEAD STORY - BRACING FOR THE SURVEILLANCE MEMO'S RELEASE: Amid strong objections from the FBI, President Trump on Friday could declassify and release to the public the controversial GOP memo that alleges government surveillance abuses ... The classified memo has rocked Congress for weeks as GOP lawmakers have said the contents of the memo indicate a scandal far worse than Watergate. Debate over the memo has further deepened the partisan divide in Washington as Democrats have objected to its declassification and claim edits were made to the document since it was approved for release by the House Intelligence Committee. Democratic House Minority Leader Nancy Pelosi fired off a letter to Speaker Paul Ryan demanding that Republican Devin Nunes be removed as chairman of the House Intel Committee. But the objections don't appear to be halting the publication plans. The release is likely to come Friday morning, Fox News is told.
COMEY'S TWITTER RANT: Former FBI Director James Comey lashed out at unnamed "weasels and liars" on social media late Thursday, hours before President Trump was expected to declassify a controversial memo about purported surveillance abuses over the objections of Democrats ... "All should appreciate the FBI speaking up. I wish more of our leaders would," Comey wrote on Twitter. "But take heart: American history shows that, in the long run, weasels and liars never hold the field, so long as good people stand up." Comey added, "Not a lot of schools or streets named for Joe McCarthy" - a reference to the Wisconsin senator who claimed in the 1950s that high-ranking government officials were Soviet spies. Comey appeared to be referencing an FBI statement released Wednesday that objected to the release of the memo, authored by House Intelligence Committee chairman Devin Nunes, R-Calif. That statement said the FBI had "grave concerns about material omissions of fact that fundamentally impact the memo's accuracy."
TRUMP WARNS DEMS ON DACA: President Trump late Thursday tweeted that top Democrats are "not calling"about DACA and indicated that Sen. Chuck Schumer and Rep. Nancy Pelosi, the two top-ranking Democrats, will be to blame if no deal is made by next month's March 5 deadline ... The president is turning up the heat on Democrats, who forced a government shutdown last month over the lack of deal on Deferred Action for Childhood Arrivals, or DACA recipients – illegal immigrants who came to the U.S. as children. "The Democrats just aren't calling about DACA. Nancy Pelosi and Chuck Schumer have to get moving fast, or they'll disappoint you again," Trump tweeted. "We have a great chance to make a deal or, blame the Dems! March 5th is coming up fast."
ICE TARGETS CALIFORNIA: Less than a month after federal immigration officials raided nearly 100 7-Eleven stores nationwide, U.S. Immigration and Customs Enforcement (ICE) agents conducted another sweep this week in Northern California, officials said Thursday ... This time, ICE agents searched 77 businesses in the San Francisco and Sacramento areas in what was believed to be the largest localized raid since President Donald Trump took office, the San Francisco Chronicle reported. The raid underscores ICE acting director Thomas Homan's call for a "400 percent increase" in agency operations focusing on workplaces, the paper reported.
WATCHING THE GROUNDHOG'S FORECAST: Pennsylvania's most famous groundhog will soon be back in the spotlight — or will it be the shadows? Punxsutawney Phil's handlers are set to announce at sunrise Friday what kind of weather they say the rodent is predicting for the rest of winter ... Legend has it if a furry rodent casts a shadow on Groundhog Day, Feb. 2, expect six more weeks of winter-like weather. If not, expect spring-like temperatures.
AS SEEN ON FOX NEWS
NO EXCUSES - RELEASE THE MEMO: "Like pretty much everyone else, we have not seen the document. But the charges are strong enough to shake public faith in some of our most important public institutions. And the only way to fix that is to release the memo, so the rest of us can see the evidence and decide for ourselves what it amounts to. That's how democracies work." – Tucker Carlson, on "Tucker Carlson Tonight," sharing his thoughts on the debate over whether the controversial GOP FISA memo should be released to the public. WATCH
'SHAME ON YOU': "Politicians stand and applaud for so-called Dreamers demanding rights. And if you disagree and you believe in immigration measures that are designed to benefit the American people, well, you're smeared." – Laura Ingraham, in her opening monologue on "The Ingraham Angle," blasting Democrats who refused to stand in support of grieving families of victims of criminal illegal immigrants at President Trump's State of the Union address. WATCH
ACROSS THE NATION
Oregon State student charged with hate crime over racist bumper stickers.
Disabled U.S. Army veteran's service dog found shot in head, dumped near railroad tracks.
Wisconsin girl, 15, sentenced in Slender Man stabbing case.
COUNTDOWN TO SUPER BOWL LII
Anthem kneelers among NFL's highest-paid players: study.
Before he performs at Super Bowl, Justin Timberlake says his son 'will never play football.'
How to win $25K while watching the Super Bowl.
MINDING YOUR BUSINESS
Atlanta Fed upgrades U.S. first-quarter GDP growth view to above 5 percent.
Initial jobless claim slip, underscoring labor market strength.
iPhone demand in question despite record sales.
NEW IN FOX NEWS OPINION
Marc Thiessen: Trump won over a lot of Americans this week. Let's see what he does now.
A Democrat's plea: Mr. Trump, show the American people your word is your bond.
The heroic message one company is sending about what really makes us beautiful.
HOLLYWOOD SQUARED
Stan Lee 'feeling great' after return from LA hospital.
'Dukes of Hazzard's' John Schneider facing jail time over unpaid spousal support, report says.
NBC's 'Law and Order: SVU' inflames conservatives with episode featuring right-wing pundit's rape.
DID YOU HEAR ABOUT THIS?
Michigan dog receives notice he's eligible for unemployment benefits.
Mysterious pool and fountain discovered at ancient Christian site in Israel.
Incredible dinosaur 'road' discovery: 'Mother lode' of dino tracks found at NASA site.
STAY TUNED
Stay with Fox News all day on all its platforms for team coverage and analysis of the anticipated release of the controversial FISA memo!
On Fox News:
Fox & Friends, 6 a.m. ET: Kellyanne Conway on President Trump's latest negotiations with Democrats on DACA and the FISA memo debate; Herschel Walker speaks out about potential Super Bowl anthem protests; and chefs compete in a Super Bowl cook-off.
Tucker Carlson Tonight, 8 p.m. ET: Wall Street Journal columnist Kimberley Strassel, Judicial Watch President Tom Fitton, former U.S. attorney Joe DiGenova will have the latest on the surveillance memo; Rep. Lee Zeldin explains why he wants more documents related to the FISA memo released.
Hannity, 9 p.m. ET: Guests include Jay Sekulow and Alan Dershowitz.
The Ingraham Angle, 10 p.m. ET: Michelle Malkin will be among the guests.
On Fox News Radio:
The Fox News Rundown podcast: The controversial memo about the Russia probe could raise questions about the FBI. Constitutional law attorney Byron Henry and investigative journalist and author Ronald Kessler weigh in. It may be Super Bowl Sunday, but many viewers won't be tuning in for the touchdowns. Judd Rubin, senior vice president of FreeWheel advertisers, discusses how social media is changing advertising at football's biggest event. Plus, commentary by Judge Andrew Napolitano.
Want the Fox News Rundown sent straight to your mobile device? Subscribe through Apple Podcasts, Google Play, and Stitcher.
The Brian Kilmeade Show, 9 a.m. ET: Geraldo, Sen. Rand Paul, Sara Carter and Chris Stirewalt will all weigh in on the latest in the anticipated release of the FISA memo. Ed Conard on what Trump's critics still don't understand about his election and support.
The Tom Shillue Show, 3 p.m. ET: Will Americans skip the Super Bowl over the national anthem protests? Iraq and Afghanistan war veteran Johnny "Joey" Jones joins Tom.
#OnThisDay
2013: Former Navy SEAL and "American Sniper" author Chris Kyle is fatally shot along with a friend, Chad Littlefield, at a gun range west of Glen Rose, Texas; suspect Eddie Ray Routh would be convicted and sentenced to life in prison without parole in 2015.
1990: In a dramatic concession to South Africa's black majority, President F.W. de Klerk lifts a ban on the African National Congress and promises to free Nelson Mandela.
1932: Duke Ellington and His Orchestra records "It Don't Mean a Thing (If It Ain't Got That Swing)" for Brunswick Records.
Fox News First is compiled by Fox News' Bryan Robinson. Thank you for joining us! Enjoy your Friday and weekend and the Super Bowl! We'll see you in your inbox first thing Monday morning.