FOX NEWS FIRST: Roy Moore refuses to concede after Doug Jones' upset win in Alabama; Anti-Trump texts revealed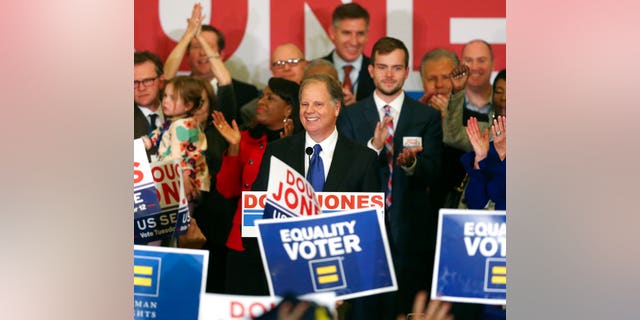 Welcome to Fox News First. Not signed up yet? Click here.
Developing now, Wednesday, Dec. 13, 2017:
"It's not over." Republican Roy Moore refuses to concede despite Democrat Doug Jones being declared winner of Alabama Senate election.
Mueller's team faces credibility questions after Fox News obtains texts of ex-team members calling President Trump an "idiot" and more
Deputy Attorney General Rod Rosenstein to testify today in Mueller's Russia investigation
The U.S. is ready to talk to North Korea, even if Pyongyang is unwilling to give up its nuclear program, Secretary of State Tillerson says
THE LEAD STORY: In a late-night speech to supporters, Alabama Republican Roy Moore refused to concede, telling the crowd when the "vote is this close…it's not over." Earlier, Democrat Doug Jones pulled off a major upset in Tuesday's special election, becoming the first Democrat since 1992 to be voted into the Senate from the deeply conservative state. ... With 100 percent of precincts reporting, Jones had 49.9 percent to Moore's 48.4 percent. Moore said the campaign was looking into the state's "recount provision." However, other Republicans already accepted the outcome. In a tweet, President Trump congratulated Jones on his "hard fought victory." Still, Jones' apparent victory over Moore will soon narrow the GOP's lead in the Senate to a slim 51-49 majority and pose potential complications for Trump's agenda.
TELLTALE TEXTS: Text messages referring to then-candidate Donald Trump as an "idiot" and "loathsome human being" raised questions about two FBI officials who were assigned to Special Counsel Robert Mueller's team investigating Russian interference in the 2016 presidential election ... The Justice Department is reviewing more than 10,000 text messages between FBI officials Peter Strzok and Lisa Page sent during the 2016 campaign. The text messages were obtained by Fox News on Tuesday. Strzok was removed from Mueller's Russia probe over the summer after his anti-Trump texts were discovered. The messages contain discussions about various candidates, but they have renewed scrutiny over the objectivity of Mueller's Russia investigation.
DEPUTY AG ON HOT SEAT: Deputy Attorney General Rod Rosenstein is scheduled to testify today before the House Judiciary Committee about special counsel Robert Mueller's Russia investigation ... Rosenstein's testimony comes amid questions about alleged political bias in Mueller's team. In addition, President Trump's outside legal team has called for the appointment of a separate special prosecutor to look into potential conflicts of interest involving Justice Department and FBI officials. Trump attorney Jay Sekulow made the demand following a Fox News report that revealed the wife of a demoted DOJ official worked for Fusion GPS, the firm behind the anti-Trump "dossier."
TIME TO TALK: U.S. Secretary of State Rex Tillerson said the U.S. would be willing to hold talks with North Korea even if the rogue nation does not do away with its nuclear weapons program ... Although Tillerson said the goal of U.S. policy remained denuclearization of the Korean Peninsula, he added it was "not realistic to say we're only going to talk if you come to the table ready to give up your program. They've too much invested in it. The president is very realistic about that as well." Tillerson's remarks came two weeks after North Korea conducted a test with a missile that could potentially carry a nuclear warhead to the U.S. Eastern Seaboard.
AS SEEN ON FOX NEWS
ALABAMA ELECTION FALLOUT: "He really did go all in for Roy Moore ... It remains to be seen how this will affect the standing of Steve Bannon." – Brit Hume, on "The Ingraham Angle," reflecting on possible ramifications of Democrat Doug Jones' Senate victory on the political standing of Breitbart executive and former Trump White House chief strategist Steve Bannon. WATCH
OPEN TO INTERPRETATION?: "Only if your mind is in the gutter would you have read it that way." - White House Press Secretary Sarah Sanders, in response to a question asking whether President Trump's controversial tweet blasting Sen. Kirsten Gillibrand was sexist and suggestive. WATCH
ACROSS THE NATION
California wildfire fire in Bel-Air traced to illegal cooking at homeless camp, officials say.
Trump's Gillibrand tweet quickly labeled sexist by mainstream media.
Kaepernick's visit to meet New York prison inmates irks correction officers.
MINDING YOUR BUSINESS
Dow, S&P add to record highs on eve of Fed decision | Yellen's checklist
Amazon could be first $2 trillion company: Former Apple CEO John Sculley.
Twitter to make 'tweetstorms' easier to post.
NEW IN FOX NEWS OPINION
Keaton Jones and the question we refuse to confront -- 'Why do they bully?'

John Stossel: Free the food trucks!
Why hiring people with criminal records benefits all of us.
HOLLYWOOD SQUARED
LAPD probe claim Roman Polanski molested girl in 1975.
Sylvester Stallone steps down from directing 'Creed 2.'
Mike Love talks new music, Beach Boys tour.
DID YOU HEAR ABOUT THIS?
Merriam-Webster's word of the year for 2017 ...
Get set for the Geminid meteor shower.
'Man flu' is real? Researcher says men take longer to recover from viruses, colds.
STAY TUNED
On Fox News:
Fox & Friends, 6 a.m. ET: The latest fallout and analysis of Doug Jones' victory over Roy Moore with Corey Lewandowski and David Bossie; Michelle Malkin takes on the revelations from the anti-Trump tweets sent by former members of Robert Mueller's team; Brett Velicovich on why experts are worried about a drone terror attack; and a celebration of the 381st anniversary of U.S. National Guard.
Your World with Neil Cavuto, 4 p.m. ET: U.S. Sen. Luther Strange, R-Ala., will discuss the fallout from Doug Jones' victory over Roy Moore in Tuesday's special election in an exclusive interview!
Fox News @ Night, 11 p.m. ET: Highlights from Deputy Attorney General Rod Rosenstein's testimony before the House Judiciary Committee.
On Fox Business:
Mornings with Maria, 6 a.m. ET: Senate Judiciary Chairman Chuck Grassley on the NYC attempted suicide bombing, tax reform and why he is calling on President Trump pull back two judicial nominations; Bob Nardelli, former Home Depot CEO, on Trump's economy; Marc Short, White House director of legislative affairs, on the state of tax reform talks.
Varney & Co., 9 a.m. ET: Former Trump campaign manager Corey Lewandowski talks Alabama special election fallout.
Lou Dobbs Tonight, 7 p.m. ET: House Budget Committee Chair Diane Black talks tax reform.
On Fox News Radio:
The Fox News Rundown podcast: Fox News' Jon Decker and Democratic strategist Jehmu Greene weigh in on President Trump's controversial tweet about Sen. Kirsten Gillibrand; Ali Noorani, executive director of the National Immigration Forum, on the debate over chain migration and the visa lottery sparked by the latest terror attacks in NYC; and commentary from "The Five" co-host Juan Williams.
Want the Fox News Rundown sent straight to your mobile device? Subscribe through Apple Podcasts, Google Play, and Stitcher.
#OnThisDay
2003: Iraqi President Saddam Hussein is captured near his home town of Tikrit, during Operation Red Dawn, by U.S. forces.
2000: Vice President Al Gore reluctantly concedes defeat to Texas Gov. George W. Bush in his bid for the presidency, following weeks of legal battles.
1636: The Massachusetts Bay Colony organizes three militia regiments to defend the colony against the Pequot Indians. This is recognized today as the founding of the United States National Guard.
Thank you for joining us on Fox News First! Enjoy your day, and we'll see you in your inbox first thing Thursday morning.