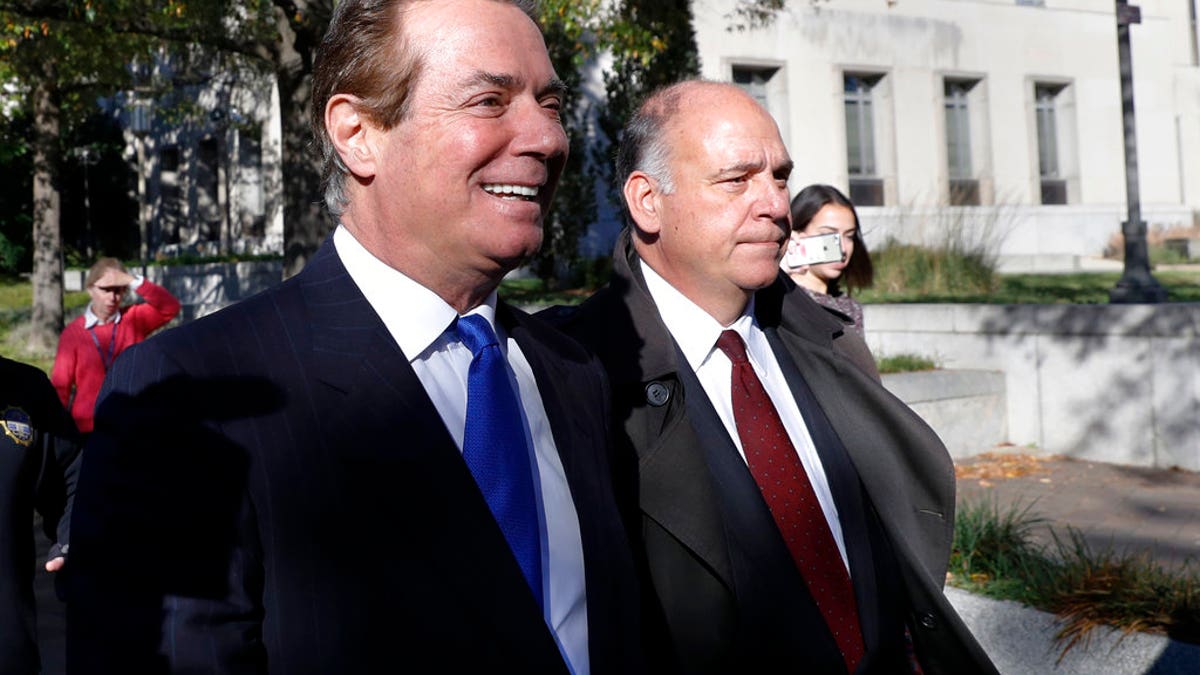 TOP OF THE MORNING
Welcome to Fox News First. Not signed up yet? Click here.
Happy Halloween … Developing now, Tuesday, Oct. 31, 2017:
No mention of Russian collusion by special counsel Mueller, but are more charges coming?
Ingraham Angle Exclusive: White House Chief of Staff John Kelly talks Mueller, Gold Star families and more
Analysis: Hillary Clinton should be worried
Facebook, Google and Twitter face grilling on Capitol Hill
PROGRAMMING NOTE: Don't miss Shannon Bream's exclusive interview with Vice President Mike Pence on "Fox News @ Night" tonight at 11 p.m ET!
THE LEAD STORY: Former Trump campaign chairman Paul Manafort and his associate Rick Gates have pleaded not guilty after being indicted on 12 counts as part of special counsel Robert Mueller's investigation into Russian meddling and potential collusion with Trump campaign officials in the 2016 presidential election. But perhaps most noteworthy is that the 31-page indictment makes no mention of Trump or Russia or "collusion" ... The charges brought against Manafort and Gates focus on alleged actions before the two had any association with the Trump campaign. According to the indictment, between at least 2006 and 2015, Manafort and Gates acted as unregistered agents of the Government of Ukraine and laundered the money through scores of the United States and foreign corporations, partnerships and bank accounts in order to hide Ukraine payments from U.S. authorities.
Perhaps the closest Mueller's investigators come to a collusion case is the guilty plea by former campaign adviser George Papadopoulos. However, Papadopoulos, who has been described by Trump campaign officials as a low-level volunteer, was not charged with having improper communications with Russians but rather with lying to FBI agents. Are more charges coming from Mueller's team? Judge Andrew Napolitano says Manafort indictment is the "first of many dominoes to fall". Legal scholar Alan Dershowitz says charges are part of an effort to gather evidence on higher-level members of the Trump campaign and administration, including President Donald Trump himself.
INGRAHAM ANGLE EXCLUSIVE: In a wide-ranging interview on Fox News' "The Ingraham Angle," White House chief of staff John Kelly said the administration believes the law should run its course in special counsel Robert Mueller's investigation before jumping to conclusions ... Kelly also made no apologies for his defense of Trump against Rep. Frederica Wilson.
MAYBE HILLARY AND COMPANY SHOULD BRACE FOR RUSSIA COLLUSION CHARGES: Fox News legal analyst Gregg Jarrett believes that while a case against President Trump is weak, there may be evidence of Russian collusion facing Hillary Clinton and her campaign ... "It is against the law for the Clinton campaign and the Democratic National Committee to funnel millions of dollars to a British spy and to Russian sources in order to obtain the infamous and discredited Trump 'dossier,'" he writes in his latest column. "Damning new evidence appears to show that Clinton used her office as Secretary of State to confer benefits to Russia in exchange for millions of dollars in donations to her foundation and cash to her husband," Jarrett continues. "Secret recordings, intercepted emails, financial records, and eyewitness accounts allegedly show that Russian nuclear officials enriched the Clintons at the very time Hillary presided over a governing body which unanimously approved the sale of one-fifth of America's uranium supply to Russia. If this proves to be a corrupt "pay-to-play" scheme, it would constitute a myriad of crimes ..."
TECH COMPANIES ON THE HOT SEAT: Major tech companies will face the first of two days of grilling on Capitol Hill today when they testify before Congress on Russian activity on their platforms during the 2016 election ... Facebook General Counsel Colin Stretch is scheduled to testify in front of the Senate judiciary subcommittee on crime and terrorism this afternoon, alongside the general counsels for Twitter Inc. and Alphabet Inc.'s Google. Twitter and Google also have found evidence of Russian activity on their platforms during the 2016 U.S. presidential election period. Facebook Inc. estimates that about 126 million people may have seen content posted by Russian-backed accounts over more than two years that sought to disrupt American society, the social-media giant plans to tell congressional investigators, according to a prepared copy of the remarks obtained by The Wall Street Journal.
ABOUT LAST NIGHT
WHAT IS AMERICA? "The people took their power back on Election Day, and the establishment is mad as hell. Let's face it, they don't really like the American people, not very much at least. This show is going to be about all of this and certainly the political, the legal and the cultural battles of the day, but something more: how all of that affects your life and that of your families." – Laura Ingraham, in her opening monologue during the premiere of "The Ingraham Angle," explaining to viewers what her show will be about. WATCH
GETTING TO THE BOTTOM OF RUSSIA: "I think they're getting to the bottom of some of these facts. I don't think all of these facts are leading where the Democrats wanted. But that's part of the reason why we have investigations and that's why we follow the facts." – Sen. Mike Lee, on "Fox News @ Night," discussing the pace of the various congressional investigations on alleged Russian interference in the 2016 presidential election. WATCH
MINDING YOUR BUSINESS
Are Amazon, Facebook, Google too big for current regulatory rules?
Mnuchin, Cohn field New York GOP concerns in late night call ahead of tax reform final plan.
Obama Foundation summit: Prince Harry, Chobani founder among attendees.
NEW IN FOX NEWS OPINION
Hey, Trump fans: Manafort indictment means your hero isn't perfect (and that's OK).
JFK files release -- The dangerous threat behind the documents we still can't see.
Democratic women in the Senate were all for these tax reform principles until Trump proposed them.
HOLLYWOOD SQUARED
House of Cards ending amid Kevin Spacey sexual harassment claim.
Bryan Cranston: 'F--- you' to anyone who wants Trump to fail.
Harvey Weinstein reportedly sees himself as a martyr for social change.
DID YOU HEAR ABOUT THIS?
Spooky Halloween cocktails that are perfect for parties.
Pre-Halloween warning: FDA warns about too much black licorice.
Mysterious rock art uncovered in caves on uninhabited Caribbean island.
STAY TUNED
On Fox News:
Fox & Friends, 6 a.m. ET: Former Trump campaign manager Corey Lewandowski gives his perspective on Paul Manafort's indictment in the Mueller investigation; Republican candidate for governor Ed Gillespie talks about the Virginia race; a look at how the creator of "Dilbert" predicted President Trump's historic win; plus, our annual Halloween costume parade.
Your World with Neil Cavuto, 4 p.m. ET: Home Depot co-founder Ken Langone gives his take on whether the GOP will get tax reform done before the end of the year.
Hannity, 9 p.m. ET: Radio host and author Mark Levin joins Sean for a deep look into Washington and the media's attempts to take down President Trump.
Fox News @ Night, 11 p.m. ET: Vice President Mike Pence sits down with Shannon Bream for an exclusive interview on the Mueller indictment, tax reform and more!
On Fox Business:
Mornings with Maria, 6 a.m. ET: Former congressman Jason Chaffetz and Alan Dershowitz take on the fallout from special counsel Mueller's indictments; Rep. Peter Roskam, chairman of the House Ways and Means Subcommittee on Tax Policy, sounds off on the latest in the quest for tax reform.
Varney & Co., 9 a.m. ET: Senate Judiciary Chair Chuck Grassley sounds off on the Mueller Russia investigation.
Lou Dobbs Tonight, 7 p.m. ET: Rep. Jim Jordan weighs in on what could be next in the Mueller Russia investigation.
On Fox News Radio:
The Brian Kilmeade Show, 9 a.m. ET to Noon ET: The Mueller indictment will be the main hot topic of the day with the following guests: former congressman Allen West, former federal prosecutor Sidney Powell, and Judicial Watch President Tom Fitton.
#OnThisDay
1999: EgyptAir Flight 990, bound from New York to Cairo, crashes off the Massachusetts coast, killing all 217 people aboard.
1984: Indian Prime Minister Indira Gandhi is assassinated by two Sikh security guards.
1975: The Queen single "Bohemian Rhapsody" is released in the United Kingdom by EMI Records.
Thank you for joining us on Fox News First! Enjoy your Tuesday and we'll see you in your inbox first thing Wednesday morning.