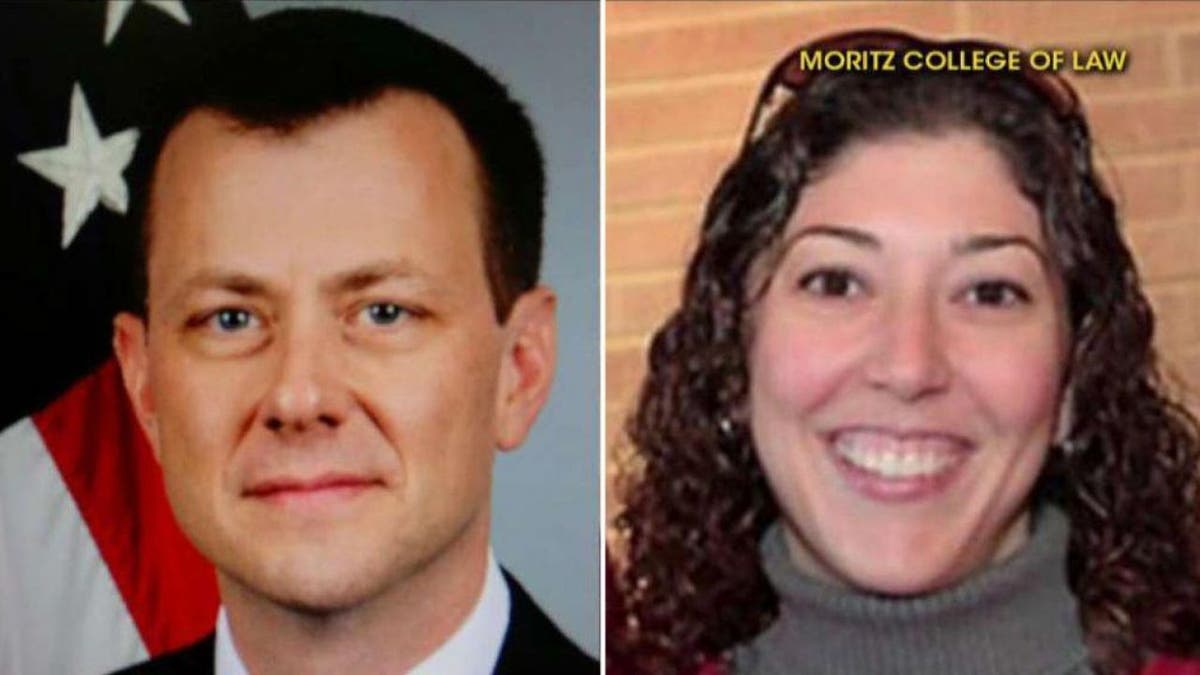 Welcome to Fox News First. Not signed up yet? Click here.
Developing now, Wednesday, Feb. 7, 2018
Newly uncovered texts between alleged anti-Trump FBI agents raise more questions about the bureau's integrity and the Hillary Clinton email investigation
Fox News Exclusive: Rep. Trey Gowdy suggests Clinton confidant Sidney Blumenthal leaked info to the author of the Trump-Russia dossier
President Trump orders the establishment of a National Vetting Center for immigrants, others
The House approves a bill to avert another shutdown and fund the government into March
Steve Wynn resigns as CEO of Wynn Resorts amid sexual misconduct allegations
Wall Street may be in for another day of volatility Wednesday after stocks rallied on Tuesday, ending the day in positive territory and recovering some of the losses from the market's two-day plunge
THE LEAD STORY - NEWLY UNCOVERED TEXTS RAISE NEW QUESTIONS ABOUT FBI, CLINTON INVESTIGATION: Thousands of newly uncovered text messages between two alleged anti-Trump FBI agents reviewed by Fox News raise new questions about political bias and conflicts of interest within the bureau and about the Hillary Clinton email investigation ... FBI officials Peter Strzok and Lisa Page have been under the microscope after it was revealed that the two former members of Robert Mueller's team exchanged a series of anti-Trump texts during the presidential campaign.
The newly disclosed texts between Strzok and Page were exchanged on November 4, 2015, the day after Jill McCabe, wife of FBI Deputy Director Andrew McCabe, lost a hotly contested Virginia state senate election. Strzok calls Virginians who ostensibly voted against Jill McCabe, "ignorant hillbillys." (sic) He calls the election outcome "disappointing."
Sen. Ron Johnson, along with the Senate Homeland Security and Governmental Affairs Committee, is releasing the texts, along with a report entitled, "The Clinton Email Scandal and the FBI's Investigation of It." In another text exchange, Page writes to Strzok on September 2, 2016 about preparing talking points for FBI Director Comey because, "potus wants to know everything we're doing." Senate investigators tell Fox News this text raises questions about President Obama's personal involvement in the Clinton email investigation.
FOX NEWS EXCLUSIVE - MISSING LINK IN DOSSIER SCANDAL UNCOVERED?: Rep. Trey Gowdy, R-S.C., strongly implied to Fox News Tuesday night that Clinton family confidant Sidney Blumenthal was a key link in a chain of information that helped create the controversial Trump-Russia dossier ... Gowdy told Fox News' "The Story" that "when you hear who ... one of the sources of that information is, you're going to think, 'Oh my gosh, I've heard that name somewhere before.'" When host Martha MacCallum asked if he was referring to Blumenthal, Gowdy answered, "That'd be really warm. You're warm, yeah." Gowdy, who is among a host of Republican lawmakers not running for re-election is November, played a key role in the drafting of a recently declassified memo detailing alleged surveillance abuses by the federal government.
A NATIONAL VETTING CENTER TO IDENTIFY THREATS TO THE U.S.: President Trump on Tuesday ordered the establishment of a new National Vetting Center to focus on screening people who wish to come to the United States, like immigrants, refugees and other visitors ... White House press secretary Sarah Sanders said the center would work to identify people "who present a threat to national security, border security, homeland security, or public safety." The National Vetting Center will be housed within the Department of Homeland Security, the White House said.
A FIRST STEP TO AVERTING ANOTHER SHUTDOWN: The House of Representatives on Tuesday night approved a stopgap spending bill to run the government through March 23 and bolster defense funding, sending the bill to the Senate for consideration ... The vote was 245 to 182. Eight Republicans voted no, while 17 Democrats voted yes. This is the first step in averting a possible government shutdown before 11:59:59 p.m. ET Thursday. It's unclear how the bill may fare in the Senate, although lawmakers there could strike the defense spending plan and zap the package back to the House.
MOGUL STEPS DOWN UNDER A DARK CLOUD: Las Vegas business mogul and Wynn Resorts founder and CEO Steve Wynn resigned from his position Tuesday, according to a statement from the company, more than a week after he resigned as the Republican National Committee's finance chairman ... The decision came amid allegations of sexual misconduct leveled at Wynn, detailed in a January report from The Wall Street Journal. Dozens of women accused the 74-year-old businessman of engaging in inappropriate behavior and more than 150 others spoke out against him, the report said. Wynn has denied all of the allegations against him.
WILL THE STOCK MARKET REBOUND CONTINUE?: Equity market investors watching U.S. stock index futures overnight were less certain that a rally on the heels of a historic sell-off would extend for another day on Wednesday ... S&P 500 futures fell 27.30 points or 0.93 percent, while those on the Dow Jones industrial average declined 230 points or 1.01 percent. In Asia, Japan's Nikkei closed up 0.2% to 21,645.37, paring earlier gains. Chinese blue chips fell more than 1 percent. South Korea's KOSPI index also declined. U.S. crude oil prices added 56 cents to $63.96. Stocks in the U.S. bounced back Tuesday in another day of volatility on Wall Street as the Dow swung through triple-digit gains and losses on the heels of a historic sell-off. The Dow soared 567 points, or 2.3%, to 24,912. The S&P 500 advanced 46 points, or 1.8%, to 2,695. The Nasdaq Composite added 148 points, or 2.13%, to 7,115.
AS SEEN ON FOX NEWS
DEM HYPOCRISY ON RUSSIA:"The Russian conspiracy is so subtle, so crafty, such a bewildering Slavic hall of mirrors, that the people warning us about Russia are in fact key players. The leaders of the witch hunt are witches."" – Tucker Carlson, on "Tucker Carlson Tonight," blasting Rep. Adam Schiff, the top Democrat on the House Intelligence Committee who has issued a drumbeat of warnings against making contact or facilitating possible collusion between Russian actors and the United States. Carlson says Schiff appears to have engaged in similar conduct himself. WATCH
FIRE THEM ALL: "Everyone on the board should be fired immediately. If I were a shareholder, I would sell hard." – Melissa Francis, on "Outnumbered," calling Congress "appalling" and "the least efficient corporation of all time" for constantly facing threats of government shutdown. WATCH

ACROSS THE NATION
The world's most powerful rocket launches successfully.
Black Lives Matter leader shot, killed in New Orleans.
Avid hunter gets both feet, 9 fingers amputated after flu complications.
CAMPUS CRAZINESS
Cornell University frat disciplined for sex contest dubbed 'Pig Roast.'
High school cancels musical after white student lands lead role.
Faculty at Pennsylvania college pushing trustees to rescind Trump's honorary degree.
MINDING YOUR BUSINESS
Boeing nabs a nearly $1 billion order, signaling a strong global economy.
Google buys New York City shopping emporium for $2 billion: Report.
Uber's fought hard against a gender pay gap: Here's why it still exists.
NEW IN FOX NEWS OPINION
Sen. Orrin Hatch: America needs a merit-based immigration system.
Physician: We need a universal flu vaccine -- No more excuses.
John Stossel: The war on drugs is just like Prohibition. And it won't work either.
HOLLYWOOD SQUARED
Scott Baio's molestation accuser Nicole Eggert files police report against him, report says.
Quentin Tarantino says 13-year-old girl 'wanted' sex with Roman Polanski in resurfaced interview.
Chris Hemsworth says he'd be open to playing the next James Bond.
DID YOU HEAR ABOUT THIS?
North Korea launches beer using 'exclusive' brewing technique, reports say.
Scary surprise: Video shows super deadly snake caught lurking inside garden hose reel.
Hot tea tied to higher cancer risk for smokers and drinkers.
STAY TUNED
On Fox News:
Fox & Friends, 6 a.m. ET: Journalist Sharyl Attkisson reveals how the government has been illegally spying on Americans; Rep. Todd Rokita doubles down on a call for a border wall and immigration reform after the death of an NFL player by an alleged drunken driving illegal immigrant; According to a report, 300 Americans have tried to join ISIS. 12 have returned home. Who are they? We take a closer look. Tim Tebow reveals his bracket picks for the Westminster Kennel Club Dog Show. And is it possible to get the flu twice in one season? Dr. Marc Siegel weighs in.
Tucker Carlson Tonight, 8 p.m. ET: Rep. Matt Gaetz on the latest developments in the battle over the Republican and Democratic memos on alleged FISA abuses.
Fox News @ Night, 11 p.m. ET: Commentator Ben Shapiro on the latest in the quest to avoid another government shutdown and battle of the FISA memos.
On Fox Business:
Mornings with Maria, 6 a.m. ET: Guests include: Rep. Thomas Suozzi; Rep. Claudia Tenney; and La. Sen. John Kennedy.
Varney & Company, 9 a.m. ET: Sen. Chuck Grassley; John Hofmeister, former Shell Oil president; Rep. John Garamendi.
Cavuto: Coast to Coast, Noon ET: Sen. John Thune; David Stockman, former budget director under President Reagan.
On Fox News Radio:
The Fox News Rundown podcast: Some top Democrats are urging President Trump to declassify their memo on alleged government surveillance abuses in an effort to refute the GOP memo released last Friday. James Freeman, assistant editor of The Wall Street Journal's editorial page, discusses the memo controversy. SpaceX was successful in sending a Tesla car into orbit on the Falcon Heavy on Tuesday. Fox News' Eben Brown discusses what this means for the future of space exploration. Plus, commentary by Juan Williams.
Want the Fox News Rundown sent straight to your mobile device? Subscribe through Apple Podcasts, Google Play, and Stitcher.
The Brian Kilmeade Show, 9 a.m. ET: Sen. Bill Cassidy on the latest in the battle over DACA and Trump's border wall; former governor John Sununu sounds off on the battle of the Democratic and Republican memos on alleged surveillance abuses; Martha MaacCallum reflects on her interview with retiring Rep. Trey Gowdy; Rep. Mark Meadows sizes up the possibility of another government shutdown.
#OnThisDay
1984: Space shuttle Challenger astronauts Bruce McCandless II and Robert L. Stewart go on the first untethered spacewalk, which lasts nearly six hours.
1962: President John F. Kennedy imposes a full trade embargo on Cuba.
1497: "The Bonfire of the Vanities" takes place in Florence, Italy, as followers of Dominican friar Girolama Savonarola burn a huge pile of items considered to be sinful distractions, such as books, artwork, fine clothing and cosmetics.
Fox News First is compiled by Fox News' Bryan Robinson. Thank you for joining us! Enjoy your day, and we'll see you in your inbox first thing Thursday morning.