FOX NEWS FIRST: 'Monster' Florence could bring historic flooding; McConnell warns GOP faces midterm 'knife fight'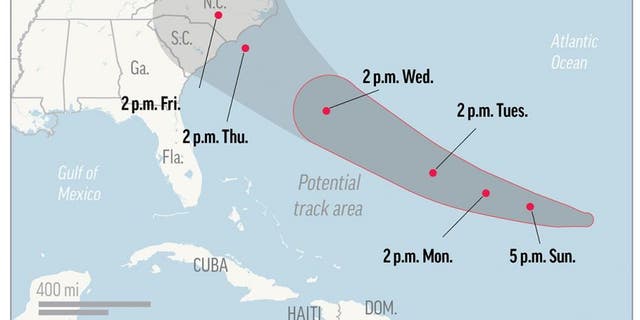 NEWYou can now listen to Fox News articles!
Welcome to FOX News First. Not signed up yet? Click here.
Developing now, Wednesday, Sept. 12, 2018
Hurricane Florence could become a 'once in a lifetime' storm and cause historic flooding, some meteorologists warn, as officials in Virginia and North and South Carolina have ordered mass evacuations of more than a million people
A Rudy Giuliani-backed former police officer seeking to become New Hampshire's first black congressman won the state's GOP primary while Sen. Bernie Sanders' son was defeated decisively in the Democratic contest
Majority Leader Mitch McConnell has warned that Republican lawmakers in hotly contested races will be in a 'knife fight' to hold on to their Senate seats in the midterm elections
A war of words between fired FBI official Peter Strzok and a top Republican lawmaker has erupted after newly-surfaced emails showed Strzok discussing a 'media leak' strategy against President Trump
Pope Francis will meet with a delegation of U.S. cardinals and bishops at the Vatican on Thursday to discuss new sex scandal revelations that have rocked the Catholic Church 
THE LEAD STORY – 'THIS STORM IS A MONSTER': As Hurricane Florence, a Category 4 storm, drove toward the East Coast, lawmakers from three states in the "monster" storm's path ordered mass evacuations for more than a million people Tuesday ... North Carolina Gov. Roy Cooper, whose state – alongside South Carolina and Virginia – is forecast to see "life-threatening storm surge" and "damaging winds," warned residents of the potential extreme conditions. Forecasters said Florence was expected to blow ashore late Thursday or early Friday, then slow down and dump 1 to 2½ feet of rain that could cause flooding well inland and wreak environmental havoc by washing over industrial waste sites and hog farms.
President Trump on Tuesday was given an update on Florence by the head of the Federal Emergency Management Agency (FEMA) and vowed that the government was prepared to respond to the impending hurricane, adding that the public's safety was his "absolute highest priority." Trump has declared states of emergency for the Carolinas, as well as Virginia, and canceled campaign events Thursday and Friday in anticipation of the storm.
WILL A BLUE NEW HAMPSHIRE SEAT TURN RED? - A Rudy Giuliani-backed congressional candidate seeking to make history as New Hampshire's first black congressman emerged from a crowded field to win the state's GOP primary on Tuesday, as Sen. Bernie Sanders' son was trounced by a large margin in the Democratic contest ... Eddie Edwards, a Navy veteran, won convincingly over state Sen. Andy Sanborn, who had the endorsement of Kentucky Republican Sen. Rand Paul. Giuliani called Edwards a "strong conservative who believes in low taxes and is a supporter of the 'America First' agenda of President Trump."
Democratic Rep. Carol Shea-Porter's retirement has made the New Hampshire seat much-coveted among Republicans. There had not been an open seat in New Hampshire's 1st Congressional District in more than 16 years, and fittingly, 16 candidates vied on Tuesday to fill it, including 11 Democrats and 5 Republicans.
The district, which Fox News ranks as leaning Democratic in November, is considered a key potential battleground in November and a rare opportunity for the GOP to snatch a blue seat. On the Democratic side, Chris Pappas, a former state lawmaker who is serving his third term on the governor's Executive Council, won the party nod. Pappas, who is openly gay, topped Maura Sullivan, a U.S. Marine and Iraq War veteran who served in the Department of Veterans Affairs and at the Pentagon during the Obama administration. Both finished well ahead of Sanders' son, 49 -year-old Levi, who did not pick up his father's endorsement.
MCCONNELL ADMITS SENATE MIDTERM 'BRAWL': Majority leader Mitch McConnell on Tuesday said Republican candidates in the most competitive races across the country are in "a knife fight" to hold the Senate ... McConnell, speaking to reporters in Louisville, Ky., said it's "just a brawl in every one of those places." The Kentucky Republican said he hopes "when the smoke clears we'll still have a majority in the Senate." He named nine states, including Tennessee and Indiana, as places where Senate races are "dead even."
Not long ago, 2018 was expected to be an easier year for Senate Republicans: Democrats were supposed to be playing defense as Senate candidates ran in conservative states that President Trump handily won two years ago. But Real Clear Politics lists eight Senate races as toss-ups: Texas, Arizona, Indiana, Montana, Missouri, Florida, Tennessee, Nevada and North Dakota. Some involve red state incumbent Democrats: Joe Donnelly in Indiana, Claire McCaskill in Missouri and Heidi Heitkamp in North Dakota.
MARK MEADOWS VS. PETER STRZOK: A top Republican congressman and fired FBI agent Peter Strzok's lawyer traded scathing, no-holds-barred accusations of deliberate dishonesty on Tuesday, one day after newly unearthed text messages showed Strzok discussing a "media leak strategy" with the Justice Department in April 2017 ... The texts were first outlined in a letter sent by Rep. Mark Meadows, R-N.C., to Deputy Attorney General Rod Rosenstein on Monday. In one of the messages, dated April 10, Strzok tells former FBI attorney Lisa Page, "I had literally just gone to find this phone to tell you I want to talk to you about media leak strategy with DOJ before you go."
According to Strzok's lawyer, Meadows wildly misinterpreted those texts when he told Rosenstein that they "should lead a reasonable person to question whether there was a sincere desire to investigate wrongdoing or to place derogatory information in the media to justify a continued probe."
"The term 'media leak strategy' in Mr. Strzok's text refers to a Department-wide initiative to detect and stop leaks to the media," Aitan Goelman, Strzok's attorney, said Tuesday. "The president and his enablers are once again peddling unfounded conspiracy theories to mislead the American people."
CATHOLIC CHURCH FACING ITS SINS: A delegation of U.S. cardinals and bishops is going to the Vatican Thursday to meet with Pope Francis over a sex abuse and cover-up scandal in America roiling the Catholic Church ... In addition, embattled Washington Cardinal Donald Wuerl, who is facing calls to step down over his handling of sex-abuse cases, revealed he will travel to Rome to meet with the pope "very soon" to discuss his possible resignation -- which the cardinal had proposed two years ago. Vatican spokesman Greg Burke said Cardinal Daniel DiNardo, head of the U.S. Conference of Catholic Bishops, would meet with Francis on Thursday in the Apostolic Palace, along with Cardinal Sean O'Malley, Francis' top sex abuse adviser. Also involved are two officials from the U.S. conference, Los Angeles Archbishop Jose Gomez and Monsignor Brian Bransfield, according to a Vatican statement.
DiNardo has said he wants Francis to authorize a full-fledged Vatican investigation into ex-Cardinal Theodore McCarrick, who was removed as cardinal in July after a credible accusation he groped a teenager. DiNardo also has said recent accusations that top Vatican officials — including the pope — covered up for McCarrick deserve answers.
AS SEEN ON FOX NEWS
JOE'S NEW LOW: "He has the Trump Derangement Syndrome now so bad that he's willing to embarrass himself so severely by writing something so insane. You don't like Trump? Fine. You don't like questions about his character? Fine. You're equating him now with potentially being worse than terrorists? You've completely lost your mind." – Jedediah Bila, on "The Five," blasting MSNBC's Joe Scarborough for his commentary on President Trump on a day reflecting on the 17 years since the 9/11 attacks. WATCH
DEEP STATE TRAP: "The set-up narrative is very credible if you look at the evidence." – Former Secret Service agent Dan Bongino, on "The Story with Martha MacCallum," arguing that it is increasingly apparent that former Trump associate George Papadopoulos is not a conspirator in alleged collusion activity but instead "part of a set-up" to hurt President Trump. WATCH
TRENDING
'Nothing criminal' about suspects in Novichok poisoning, Putin says.
Apple's newest iPhone could have big screen and big price.
Inside the FBI's secret bomb lab: Unprecedented access to elite forensic team and the IEDs that shaped global security.
Leaked Google employee's email reveals effort to boost Latino vote, surprise that some voted for Trump.
Eagle perches on Minnesota 9/11 flag display: See the photo.
THE SWAMP
Activists raise $1M to pressure Sen. Collins to vote against Kavanaugh, report says.
Four impeached West Virginia justices to face trials.
Judicial Watch sues Justice Dept. for records from Anthony Weiner laptop.
Chicago sets up universal income task force as city seeks ways to tackle poverty.
ACROSS THE NATION
Elizabeth Smart blasts kidnapper's pending release: 'It is incomprehensible.
Founder of GoFundMe account for homeless man is arrested on traffic warrant: report.
Washington state in legal battle with six states after it refuses to build coal export terminal.
Border Patrol in Texas nabs more than 130 illegals in just over 24 hours.
MINDING YOUR BUSINESS
U.S. businesses to lobby against Trump's tariffs.
Tesla is 'no longer investable' due to Elon Musk's antics, firm says.
TV ratings company Nielsen to explore sale.
Home prices rising fastest in these states.
Wilson Sporting Goods maker gets $5.3B offer from Chinese firm.
Americans are making this big financial mistake.
FOX NEWS OPINION
John Stossel: Hey, San Francisco and New York – Don't kill scooters. Let's see where they take us.
Dr. Marc Siegel: Free tuition at medical schools can improve health care.
Sen. Ted Cruz: Will Texas prevent us from recognizing the heroes of the Alamo?
HOLLYWOOD SQUARED
CBS anchor Gayle King calls on network to release findings of Les Moonves sex misconduct probe.
Louis C.K. called Roseanne Barr after her firing, says close friend Norm Macdonald.
Mike Rowe says Nike should have honored 9/11 victim Tom Burnett.
DID YOU HEAR ABOUT THIS?
Future Mars colonies? Scientists sketch out research bases that could take root on the Red Planet.
'Mysterious radio bursts' in outer space detected by alien-hunting artificial intelligence.
Second monkeypox case recorded in England: report.
STAY TUNED
FOX Nation is coming! - Sign up now and find out about its exciting launch!
On Facebook:
Check out 'FOX News Update,' our new Facebook-exclusive news program!
On FOX News:
FOX & Friends, 6 a.m. ET: North Carolina Gov. Roy Cooper and FEMA Director Brock Long on preparations for Hurricane Florence; a preview of Apple's unveiling of its new iPhone. Other special guests include: Tomi Lahren; Ken Starr; Eric Trump.
The Daily Briefing with Dana Perino, 2 p.m. ET: Special guests: Bob Woodward and former Secretary of State John Kerry.
On FOX Business:
Mornings with Maria, 6 a.m. ET: Special guests include: House Majority Whip Steve Scalise; Jonathan McNamara, red Cross spokesman; Rep. Joe Wilson.
Varney & Co., 9 a.m. ET: Rep. Jim Jordan; Rep. Cathy McMorris Rodgers; Leo Gerard, United Steelworkers president.
Cavuto: Coast to Coast, Noon ET: Sen. Chuck Grassley.
The Intelligence Report, 2 p.m. ET: Capri Cafaro, executive in residence at American University School of Public Affairs.
On FOX News Radio:
The FOX News Rundown podcast: President Trump's attorney Rudy Giuliani joins the podcast to discuss the anonymous New York Times op-ed and Bob Woodward's new book, "Fear." Hurricane Florence looms off the coast of the Carolinas. FOX News' Eben Brown and FOX News meteorologist Adam Klotz discuss the extremely dangerous potential impact of this "monster" storm. Plus, commentary by "Media Buzz" host Howard Kurtz.
Want the FOX News Rundown sent straight to your mobile device? Subscribe through Apple Podcasts, Google Play, and Stitcher.
The Brian Kilmeade Show, 9 a.m. ET: Martha MacCallum and Harris Faulkner on the top headlines of the day. New York Post columnist Michael Goodwin on Obama vs. Trump. Brad Meltzer on his new book on Neil Armstrong.
The Tom Shillue Show, 3 p.m. ET: Podcast star Hitha Herzog and comedian Ryan Reiss join Tom Shillue's nighty panel to discuss Norm Macdonald's recent comments about the #MeToo movement and the latest news of the day!
#OnThisDay
1987: Reports surface that Democratic presidential candidate Joe Biden had borrowed, without attribution, passages of a speech by British Labour Party leader Neil Kinnock for one of his own campaign speeches. (The Kinnock report, along with other damaging revelations, would prompted Biden to drop his White House bid.)
1977: South African black student leader and anti-apartheid activist Steve Biko, 30, dies while in police custody, triggering an international outcry.
1959: The TV Western series "Bonanza" premieres on NBC.
FOX News First is compiled by FOX News' Bryan Robinson. Thank you for joining us! Enjoy your day! We'll see you in your inbox first thing Thursday morning.