FOX NEWS FIRST: Investigators blocked from Syrian chemical attack scene; Comey slammed as book hits stores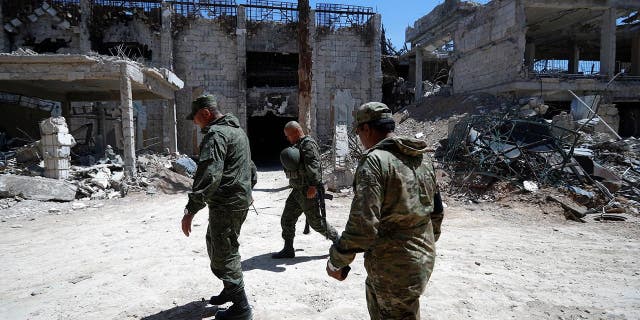 Welcome to Fox News First. Not signed up yet? Click here.
Developing now, Tuesday, April 17, 2018
A federal judge denies a request from President Trump's personal attorney to review documents seized in a raid last week before feds, will consider allowing a third party to ensure attorney-client confidentiality is preserved
Sean Hannity responds to revelation that he is a 'client' of Trump's embattled attorney, saying he had no personal interest in last week's raid of Michael Cohen
A former assistant FBI director blasts James Comey's book as it hits stores on Tuesday, calling the fired FBI director's actions 'unworthy' of the bureau
Russian and Syrian officials blocked investigators from the scene of the suspected chemical attack, a watchdog group says
Orange County city council votes again to opt out of California's sanctuary state law
THE LEAD STORY - HIGH DRAMA IN COHEN HEARING: A federal judge on Monday denied a request from President Trump's personal attorney Michael Cohen to review the documents seized from the lawyer's home and office last week before prosecutors see them, dealing a setback to Trump's legal team ... U.S. District Judge Kimbra Wood said that she had faith in the Justice Department's so-called "taint team" to isolate materials protected by attorney-client privilege, but added that she would consider allowing a neutral third party requested by Cohen to weigh in. However, that was only part of the developments at the hearing.
Also Monday, attorneys confirmed that Fox News host Sean Hannity was the third individual who received Cohen's legal help. Hannity addressed the controversy via Twitter and on "Hannity" Monday night, telling his audience that Cohen never represented him in any legal matter and that he never "retained [Cohen's] services." He said he has asked Cohen for "input and perspective" in matters mostly relating to real estate. He said he has no personal interest in the Cohen investigation.
FORMER DEPUTY FBI DIRECTOR - COMEY'S HAS 'HIGHER LOYALTY' TO COMEY: Chris Swecker, a 24-year veteran FBI agent and former deputy director, has blasted James Comey as his book, "A Higher Loyalty" is released on Tuesday ... "Through his actions during his relatively brief tenure as FBI Director and now in penning and promoting a salacious "tell all" book, it is now quite evident that James Comey's higher loyalty is to James Comey, and James Comey alone," Swecker writes in an op-ed on FoxNews.com. "It is not, by any stretch of the imagination, to the FBI, where I served for 24 years, or to the selfless men and women who work there – all of whom he has tossed, once again, into the middle of a political firestorm." "His actions are unworthy of the storied law enforcement agency I served for close to a quarter of a century," Swecker continues.
SOMETHING TO HIDE?: Officials in Syria and Russia allegedly blocked investigators from entering the scene of the suspected chemical attack that prompted U.S. military action is Syria, a watchdog group said ... The Organization for the Prohibition of Chemical Weapons (OPCW) said that officials from both countries have cited "pending security issues" for preventing the independent watchdog from entering Douma, the Syrian city where U.S. and French authorities believe a poison gas attack occurred on April 7.
SANCTUARY SETBACK: A Southern California city council voted Monday for the second time to cement its opposition to the state's sanctuary law following a tense 5-hour debate and clashes between anti-sanctuary measure supporters and protesters ... Los Alamitos Council members voted 4-1 to opt out of a state law that prohibited state and local police agencies from informing federal authorities in cases when illegal immigrants facing deportation are released from detention. It is the second time the council voted in favor of the ordinance as the city's laws required the council to have a second reading of the measure before officially approving it.
AS SEEN ON FOX NEWS
OBSTRUCTION PROBE OF TRUMP D.O.A.?: "The idea that [Trump] obstructed justice by firing [former FBI director James] Comey to protect [former national security adviser Michael] Flynn or whatever ... if Comey's the key witness, boy, what a joke of a prosecution that would be."– Tom Fitton, president of Judicial Watch, on "Outnumbered Overtime," arguing that the Department of Justice inspector general's report on former deputy FBI director Andrew McCabe shows that "the obstruction investigation against President Trump is dead." WATCH
'JUNK FOOD FOR THE SOUL': "Professing your family's love for Hillary is like a tornado praising a trailer park it just destroyed." – Greg Gutfeld, on "The Five," sizing up ABC News' George Stephanopoulos' interview with James Comey. WATCH
TAX DAY
Tax time: Five smart and dumb things to do with your refund.
Divorce and taxes: The main considerations.
How to survive an IRS audit.
Bitcoin and taxes: What you need to know.
MAINSTREAM MEDIA MADNESS
NBC humiliated when Ronan Farrow wins Pulitzer for Weinstein expose after Peacock passed.
ABC News slammed for aggressively editing James Comey's sit-down with George Stephanopoulos.
ABC's 'American Idol' suffers all-time ratings low.
THE SWAMP
California rejects proposed border duties for troops.
Pruitt's chief of staff approved controversial raises for aides, EPA watchdog finds | Zinke charter flight 'could have been avoided'
Justice Department Inspector General Horowitz predicts Clinton email report will be out in May.
ACROSS THE NATION
Disgraced ex-governor Blagojevich's wife asks Trump for pardon.
Sacramento police release dozens more videos from Stephon Clark shooting.
Billionaire banking heir Matthew Mellon dies in rehab facility.
CAMPUS CRAZINESS
Frat brothers plead guilty, receive jail time in Florida State hazing death.
Binghamton University student charged in the 'targeted' stabbing death of freshman.
Boston College professor offers extra credit for students to go on dates.
Anti-Trump American history textbook 'blatantly biased,' critics say.
MINDING YOUR BUSINESS
Tesla temporarily halts Model 3 production.
Dow gains 213 points on earnings optimism.
Walmart goes after Amazon with website revamp | Amazon hits pause on plan to sell drugs as challenges mount: Report
FOX NEWS OPINION
Cal Thomas: With everyone focused on Comey, Trump reformed welfare.
Lauren Appell: Let's make the Trump tax cuts permanent -- and force the Democrats into a do-over.
Patrick Dunleavy: Your taxes are funding terrorists -- Demand that this stops.
HOLLYWOOD SQUARED
Bill Cosby's main accuser denies intentionally framing him, knowing key witness.
'Night Court' star Harry Anderson dead at 65.
Kendrick Lamar is the first rapper to win the Pulitzer Prize.
DID YOU HEAR ABOUT THIS?
Asteroid the size of a football field makes 'surprise' flyby close to Earth.
Trump's steel tariffs could impact price of a can of beer.
Fishermen reel in 'rare' 10-foot shark off Florida coast.
STAY TUNED
On Fox News:
Fox & Friends, 6 a.m. ET: Judge Andrew Napolitano on whether James Comey's media blitz could end up complicating Robert Mueller's Russia probe; Larry Kudlow, director of the National Economic Council, will talk trade and tax cuts; Rep. Jim Jordan will address speculation that he wants to be the next House speaker. Meet the Syrian refugee who survived a chemical attack and has a heartfelt message for President Trump; and country music stars the Bellamy Brothers stop by the studio to perform.
Your World with Neil Cavuto, 4 p.m. ET: Neil will be live from Capitol Hill on Tax Day with an exclusive interview with Senate Majority Leader Mitch McConnell!
Tucker Carlson Tonight, 8 p.m. ET: Tentative guests include: Brit Hume and Lanny Davis, former White House special counsel to Bill Clinton.
On Fox Business:
Mornings with Maria, 6 a.m. ET: Guests include: Marc Lotter, former special assistant to President and former press secretary to Vice President Pence; Kevin Hassett, chairman of the Council of Economic Advisers for the White House; Rep. Jeb Hensarling; Sen. Orrin Hatch.
Varney & Co., 9 a.m. ET: John Cox, California gubernatorial candidate.
Cavuto: Coast to Coast, Noon ET: Sens. Rob Portman and John Thune; Reps. Emanuel Cleaver and Doug Collins.
Risk & Reward, 5 p.m. ET: Reps. Andy Biggs and Ron DeSantis.
On Fox News Radio:
The Fox News Rundown podcast: Former FBI Director James Comey gave his first interview since being fired by President Trump. "MediaBuzz" host Howard Kurtz breaks down the interview and discusses Comey's new book. The Supreme Court will hear oral arguments on a case that will decide the future of sales tax for online purchases. Fox Business Network's Gerri Willis and Judge Andrew Napolitano preview the case. Plus, commentary by Fox News Radio talk host Tom Shillue.
Want the Fox News Rundown sent straight to your mobile device? Subscribe through Apple Podcasts, Google Play, and Stitcher.
The Brian Kilmeade Show, 9 a.m. ET: Former U.S Attorney General Alberto Gonzales on James Comey's new book and its implications; Peter Navarro on the potential impact of China tariffs on the U.S. economy; Allen West on the fallout from U.S. military strikes in Syria; American historian Amy Knight on sanctions and Russian oligarchs.
The Tom Shillue Show, 3 p.m. ET: Frank Abagnale, security consultant and the subject of the film "Catch Me If You Can," offers tips on how to keep your identity safe. Plus, singer, comedian, ventriloquist and celebrity impressionist Terry Fator discusses his incredible career and latest characters, "Paul McCartney" and "Michael Jackson."
#OnThisDay
1993: A federal jury in Los Angeles convicts two former police officers of violating the civil rights of beaten motorist Rodney King; two other officers are acquitted.
1961: Some 1,500 CIA-trained Cuban exiles launch the disastrous Bay of Pigs invasion of Cuba in an attempt to topple Fidel Castro.
1937: Daffy Duck makes his debut in the Warner Bros. animated short "Porky's Duck Hunt," directed by Tex Avery.
Fox News First is compiled by Fox News' Bryan Robinson. Thank you for joining us! Enjoy your day! We'll see you in your inbox first thing Wednesday morning.