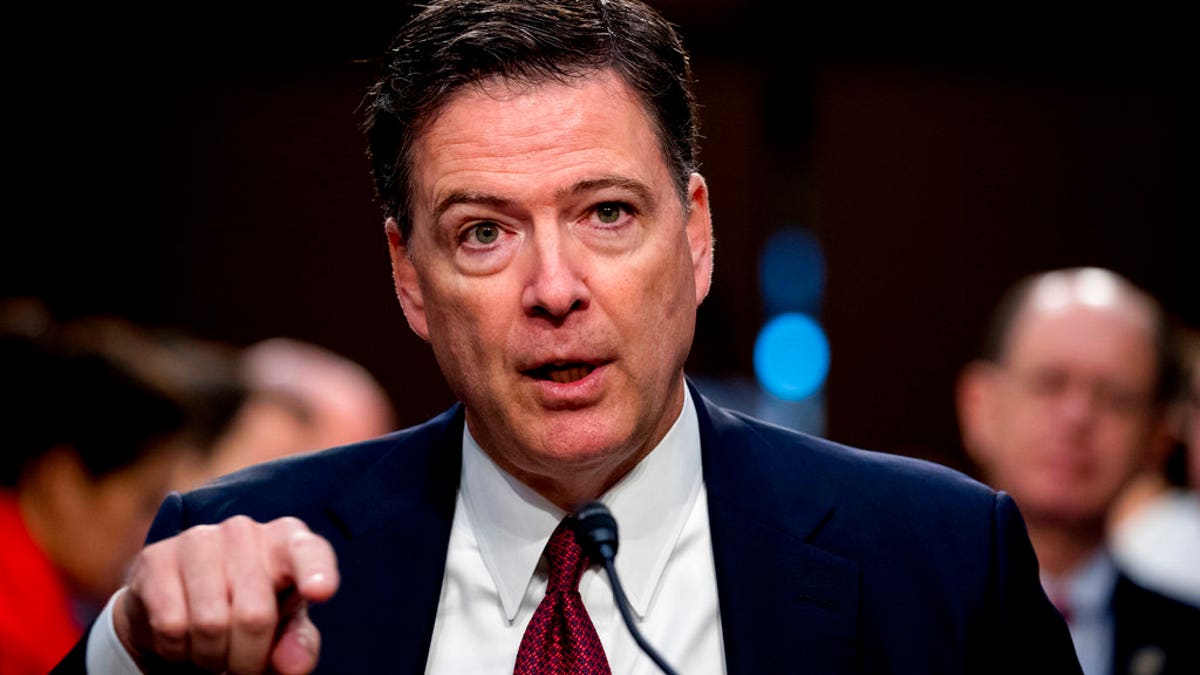 Welcome to Fox News First. Not signed up yet? Click here.
Developing now, Friday, April 13, 2018
Fired FBI Director James Comey fires personal attacks against President Trump in a forthcoming book, according to excerpts obtained by several news outlets
Comey worried that feds would dither over whether to prosecute Hillary Clinton in her private email server scandal, according to an FBI transcript reviewed by Fox News
Trump's Syria response has not yet been decided following last week's suspected poison gas attack; options will be discussed with U.S. allies, the White House says
A hearing linked to the FBI raid on Michael Cohen, President Trump's lawyer, is scheduled to take place in New York federal court Friday, Fox News has learned
Backpage.com, an alleged online brothel, and its CEO pleaded guilty to money laundering, human trafficking and other charges in three states
THE LEAD STORY - COMEY'S 'MOB' MENTALITY: Fired FBI Director James Comey compares President Trump to a mob boss "untethered to truth" and "ego-driven" in his forthcoming book "A Higher Loyalty," according to excerpts obtained by the Associated Press and other news outlets Thursday ... In the book, which hits shelves Tuesday, Comey questions the strength of Trump's marriage to first lady Melania Trump, after revealing that Trump asked him to investigate salacious allegations involving Russian prostitutes. According to the Washington Post, Comey described Trump's presidency as a "forest fire" and wrote that his interactions with the administration recalled "my earlier career as a prosecutor against the Mob. "The silent circle of assent. The boss in complete control. The loyalty oaths. The us-versus-them worldview," Comey reportedly wrote. "The lying about all things, large and small, in service to some code of loyalty that put the organization above morality and above the truth."
The excerpts from Comey's book were released as he prepares for a media blitz and tour supporting his book and before ABC News airs a "20/20" interview with Comey on Sunday.
INSIDE COMEY'S CLINTON DECISION: Defending his July 2016 public statement about the Hillary Clinton email case, then-FBI Director James Comey told senior agents later that year he worried the Justice Department would "screw around" with a decision on whether to prosecute her, according to an FBI transcript reviewed by Fox News ... In October 2016, Michael Kortan, who was serving as the FBI's public affairs chief, shared the transcript of Comey's comments on the Clinton case delivered behind closed doors to special agents in charge. Based on the email date and time stamps, it appears the comments were made three weeks before the presidential election. With Comey now launching a media tour to promote his book, "A Higher Loyalty," the transcript provides a window into his thinking and decisions during a critical period before the election.
According to the transcript, Comey told agents he went back and forth on how to handle the recommendation against criminal charges, after then-Attorney General Loretta Lynch met with Bill Clinton on an Arizona airport tarmac in June 2016. He said that regardless of what happened, "We knew it was going to suck in a huge way."
SYRIA STRATEGY SESSION: President Trump emerged from a meeting Thursday with his national security team without a "final decision" on how to respond to a suspected chemical weapons attack in Syria, the White House said ... White House press secretary Sarah Sanders said Trump held a meeting Thursday afternoon with his team to discuss the situation, saying, "No final decision has been made." Sanders added that U.S. officials are "continuing to assess intelligence" and are "engaged in conversations with our partners and allies." Meanwhile, the Kremlin's spokesman warned the U.S. and its allies against any steps that could destabilize the situation in Syria. Earlier Thursday, Trump denied saying when - or even if - the U.S. would strike the Assad regime. "Never said when an attack on Syria would take place," the president tweeted. "Could be very soon or not so soon at all!"
HEARING ON COHEN RAID: A hearing on the FBI's raid on President Trump's personal attorney Michael Cohen will take place in federal court in New York City on Friday ... The hearing, set for 10:30 a.m., will relate to the search warrant executed Monday to obtain various documents in Cohen's possession. A court spokesman reached by the AP did not elaborate further on the subject of the court proceeding. To obtain a search warrant like the one executed against Cohen, agents must convince a judge they have probable cause of criminal activity and believe they'll find evidence of wrongdoing.
'ONLINE BROTHEL' GOES OFFLINE: The chief executive of Backpage.com, a website investigators have described as an "online brothel," pleaded guilty to California money-laundering charges, while the company itself pleaded guilty to human trafficking in Texas ... In addition to those pleas, federal prosecutors in Arizona announced Thursday Backpage.com and CEO Carl Ferrer had pleaded guilty to conspiracy charges on April 5. Under the California plea agreement, Ferrer will cooperate in prosecuting Backpage.com's creators and will serve no more than five years in state prison. He pleaded guilty to one count of conspiracy and three counts of money laundering in California. In the Arizona plea, Ferrer acknowledged knowing that a great majority of Backpage.com's ads were for sex services.
AS SEEN ON FOX NEWS
COLLUSION FAILURE: "They want to prove to the world that Donald Trump collaborated with Russians to fix the election [and] that's why he won. So far, they have singularly failed to establish that."– Piers Morgan, on "Hannity," arguing that the Left has been unable to find solid evidence of collusion between the Trump campaign and Russia, so Democrats are "moving the goalposts" and going after President Trump's personal life. WATCH
TRUMP'S 'REAL' PROBLEM: "[Deputy Attorney General Rod] Rosenstein has allowed the thing to get out of control. He's allowed the team to leak. He's allowed Mueller to hire a clearly partisan bunch of prosecutors. And frankly, he probably should have been fired months ago. He's been a real problem." – Former Justice Department attorney J. Christian Adams, on "The Story with Martha MacCallum," saying Trump should have fired Deputy Attorney General Rod Rosenstein months ago. WATCH
TRENDING
Colin Kaepernick snubbed by Seahawks after refusing to stop national anthem protests: report.
Break up California into three states, billionaire urges.
Khloe Kardashian gives birth, forgives baby daddy Tristan Thompson for cheating, report says.
THE SWAMP
Missouri Gov. Greitens claims prosecutor hid evidence until after 'sexy workout' allegations.
Trump creates task force to fix US Postal Service amid war on Amazon.
House fails to pass constitutional balanced budget amendment.
MAINSTREAM MEDIA MADNESS
Harsh scrutiny of NBC's handling of 'Access Hollywood' tape after raid of Trump lawyer's office.
Joy Behar says Kim Jong Un, Putin have more 'sanity' than Trump.
Whoopi Goldberg: Riots over Trump firing Mueller 'would be fun to watch.'
ACROSS THE NATION
SUV that plunged into river belonged to missing family, officials determine, report says.
North Carolina incest couple and infant child all killed in murder-suicide, officials say.
Cancun murder surge fueled by alleged drug queen's turf war.
FOX NEWS OPINION
Marc Thiessen: Why North Korea will be watching what Trump does in Syria.
Newt Gingrich: Dispatch from Dubai -- Camel racing with robot jockeys.
Andrew Tisch, Mary Skafidas: America needs immigrants to be great.
MINDING YOUR BUSINESS
Trump will take 'fresh look' at Trans-Pacific Partnership: Larry Kudlow.
Earnings season: Will Wells Fargo, Citigroup, JPMorgan Chase meet upgraded expectations?
New York Yankees are Major League Baseball's most valuable team, worth $4 billion.
HOLLYWOOD SQUARED
Bill Cosby faces accusers in court, including supermodel Janice Dickinson.
Heather Locklear pleads not guilty to battery on an officer after domestic violence call.
Susan Lucci, 70, says she's 'too shy' to wear a bikini.
DID YOU HEAR ABOUT THIS?
Retro ride: Firebird Trans Am Super Duty 455 returns with 1,100 hp.
Post-WWII military shell reeled in by surprised Massachusetts fishermen.
Jockey mistakes 15-foot python for 'big crack' on horse racetrack.
STAY TUNED
On Fox News:
Fox & Friends, 6 a.m. ET: Sen. John Barrasso discusses Mike Pompeo's confirmation hearing for secretary of state; Kellyanne Conway takes on Comey's book, the Mueller investigation, Syria and all the hotbed issues facing the Trump administration; Ventriloquist Terry Fator debuts a brand new character.
On Fox Business:
Mornings with Maria, 6 a.m. ET: Guests include: Rep. David Kustoff; Ayham Kamel, Eurasia Group; Rep. Roger Williams.
Varney & Co., 9 a.m. ET: Rep. Claudia Tenney; David Bossie, Citizens United president; Rep. Jim Jordan; Tim Donnelly, California congressional candidate; Herschel Walker, former NFL star.
Cavuto: Coast to Coast, Noon ET: Rep. Andy Biggs
The Intelligence Report, 2 p.m. Grover Norquist, founder and president of Americans for Tax Reform.
Risk & Reward, 5 p.m. ET: Rep. and U.S. Senate candidate Marsha Blackburn
On Fox News Radio:
The Fox News Rundown podcast: As Facebook CEO Mark Zuckerberg battles with the U.S. government over privacy concerns, users who have had their pages taken down question whether Facebook is truly an independent forum. Fox News' Jessica Rosenthal does some digging. Last year, Americans spent approximately $14 billion online for groceries and that number could rise to $100 billion by 2025. "The Supermarket Guru" Phil Lempert discusses how online competitors are changing the landscape of grocery stores. Plus, commentary from "Fox News Sunday" host Chris Wallace.
Want the Fox News Rundown sent straight to your mobile device? Subscribe through Apple Podcasts, Google Play, and Stitcher.
The Brian Kilmeade Show, 9 a.m. ET: Geraldo Rivera on the latest in the Mueller investigation, the possibility of a U.S.-led military action on Syria; Mark McKinnon on House Speaker Paul Ryan's retirement announcement, the latest on migrant caravan headed to the U.S.-Mexico border; Herschel Walker on his efforts to help out the military; Carley Shimkus on what's trending.
On Fox News Weekend:
Cavuto Live, Saturday, 10 a.m. ET: House Foreign Affairs Committee member Rep. Lee Zeldin, R-N.Y., on the possible U.S. response to the suspected chemical attack in Syria; Alan Dershowitz weighs in on the FBI raiding Trump attorney Michael Cohen and the latest from the Russia investigation; Senate Judiciary Committee member Sen. John Kennedy, R-La., on telling Facebook CEO Mark Zuckerberg his user agreement "sucks"; Texas Lt. Gov. Dan Patrick on states sending National Guard troops to the southern border.
Fox News Sunday, Sunday, 2 p.m. and 7 p.m. ET: An exclusive interview with Rep. Trey Gowdy.
Legends & Lies: The Civil War, Sunday, 8 p.m. ET: "Frederick Douglass: The Dawn of a New Day" - In this episode, former slave Frederick Douglass pushes Lincoln to free his people, and gets his wish when Lincoln issues the Emancipation Proclamation after the bloody Battle of Antietam.
The Next Revolution Special: The Trial of James Comey, Sunday, 9 p.m. ET: Steve Hilton welcomes an expert legal panel that includes Kimberly Guilfoyle, Gregg Jarrett, Alan Dershowitz. The panelists will put Comey on trial for his actions as FBI director … just before his new book hits stores on Tuesday.
Life, Liberty & Levin, Sunday, 10 p.m. ET: Host Mark Levin will have a conversation with up-and-coming conservatives, Charlie Kirk and Daniel Horowitz, about the current state of politics and future of the GOP.
#OnThisDay
1970: Apollo 13, four-fifths of the way to the moon, is crippled when a tank containing liquid oxygen burst. (The astronauts would manage to return safely.).
1953: "Casino Royale," Ian Fleming's first book as well as the first James Bond novel, is published in London by Jonathan Cape Ltd.
1613: Pocahontas, daughter of Chief Powhatan, is captured by English Capt. Samuel Argall in the Virginia Colony. (During a yearlong captivity, Pocahontas converts to Christianity and ultimately opts to stay with the English.)
Fox News First is compiled by Fox News' Bryan Robinson. Thank you for joining us! Enjoy your day and weekend! We'll see you in your inbox first thing Monday morning.