FOX NEWS FIRST: Clinton campaign may have invaded Facebook users' privacy; U.S.-Russia in new Cold War tit-for-tat?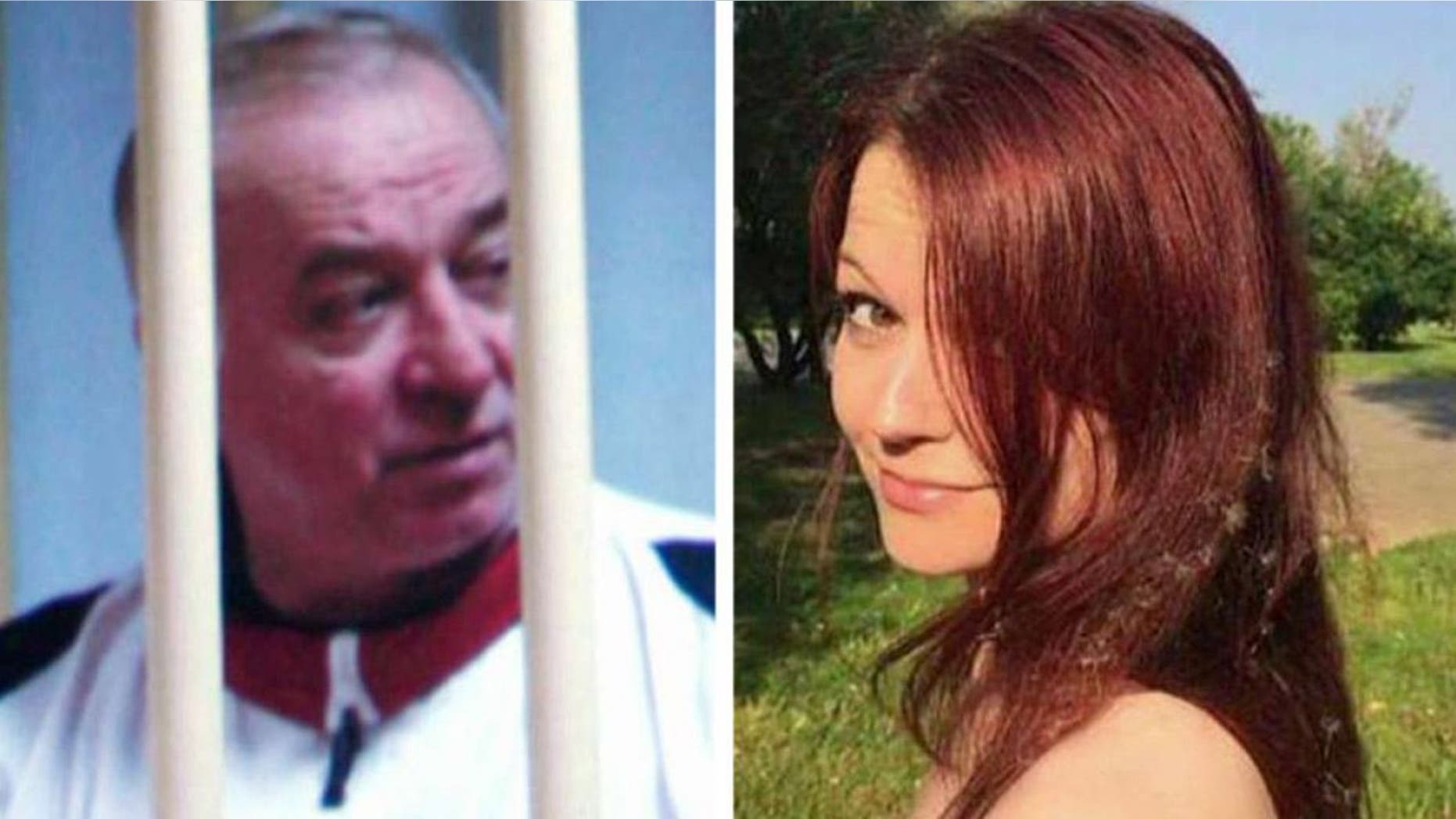 Welcome to Fox News First. Not signed up yet? Click here.
Developing now, Friday, March 30, 2018
Russia expels 150 diplomats - including 60 Americans - and announces the closure of a U.S. embassy after the U.S. and other Western countries expel Russian diplomats
Attorney General Jeff Sessions reveals a federal prosecutor is evaluating allegations of surveillance abuse by the Justice Department and FBI and concerns about the Obama-era Uranium One deal and that a second special counsel will not be appointed - for now
A Hillary Clinton presidential campaign app may have gathered the Facebook data of millions of people
Fired Deputy FBI Director Andrew McCabe is soliciting online donations for a legal defense fund
Coffee companies must post cancer warnings on their products in California, a judge rules
COLD WAR TIT-FOR-TAT?: Tension between the United States and Russia is continuing to escalate after the Kremlin announced it will expel 60 U.S. diplomats and close the U.S. consulate in St. Petersburg in retaliation for U.S. measures taken following the poisoning of an ex-Russian spy and his daughter in Britain ...  Two dozen countries, including the U.S., many EU nations and NATO, ordered more than 150 Russian diplomats out this week in a show of solidarity with Britain — a massive action unseen even at the height of the Cold War. Russian Foreign Minister Sergey Lavrov said U.S. Ambassador Jon Huntsman had been summoned to the Foreign Ministry on Thursday, where he was given notice Russia was responding quid pro quo to the U.S. decision to order 60 Russian diplomats out and close the Russian consulate in Seattle. Huntsman later Thursday said there was "no justification" for Russia's move, arguing it showed Moscow wasn't interested in dialogue with the United States about important matters.  The White House said Russia's move "was not unanticipated" and vowed to "deal with it." A senior administration official told Fox News all of the 60 Russians expelled by the United States this week were "persona non grata" and considered undeclared "spies" pretending to be diplomats.
NO SECOND SPECIAL COUNSEL … YET:  Attorney General Jeff Sessions revealed  a federal prosecutor was evaluating certain issues involving the FBI, the Clinton Foundation and the Uranium One deal, but said he would not appoint a second special counsel at this point ... In a letter directed to Senate Judiciary Chairman Chuck Grassley, House Judiciary Committee Chairman Bob Goodlatte and House Oversight Committee Chairman Trey Gowdy, Sessions revealed that he asked U.S. Attorney John Huber to lead the evaluation into issues raised by the committees in recent months involving alleged surveillance abuse by the FBI and Justice Department and lingering concerns about the Obama-era Uranium One deal brokered with Russia with Hillary Clinton was still secretary of state . "I write in response to recent letters requesting the appointment of a Special Counsel to review certain prosecutorial and investigative determinations made by the Department of Justice in 2016 and 2017. I take the concerns you raise seriously," Sessions wrote, noting how important it was that the American people and Congress had "confidence" in the Justice Department.
CLINTON CAMPAIGN TOO INVASIVE?: Hillary Clinton's 2016 presidential campaign may have harvested the Facebook data of millions of people using an app that asked them to pair their Facebook friends list with their smartphone's contacts list – in a bid to reach those people and persuade them to vote for Clinton ... In the midst of the election, the Clinton campaign launched a mobile application called "Hillary 2016" that worked its way around the banned practice of gathering information from users' friends without their consent. The Clinton campaign's use of big data raises concerns amid controversy surrounding Cambridge Analytica, a data-driven company with ties to the Trump campaign that was accused of mining Facebook data and using it to target potential voters.
McCABE SOLICITS DONATIONS: Andrew McCabe, fired as FBI deputy director by Attorney General Jeff Sessions hours before his planned retirement, is now soliciting donations online for his legal defense fund ... "The support for Andrew #McCabe has been overwhelming, humbling & deeply appreciated," Melissa Schwartz, a spokesperson for McCabe, tweeted Thursday. "Unfortunately, the need for a legal defense fund is a growing reality." Schwartz linked to a GoFundMe account sponsored by "Friends of Andrew McCabe" that displays a photo of McCabe and his family. It originally wanted to raise $150,000, but that was later changed to $250,000 after the goal was reached Thursday evening. As of early Friday morning, nearly $355,000 had been raised.
CALIFORNIA'S COFFEE WARNINGS: A Los Angeles judge has ruled that coffee companies need to carry a cancer warning label in California ... Superior Court Judge Elihu Berle said in a proposed decision that Starbucks and other coffee companies failed to prove the threat from a chemical compound produced during coffee roasting was insignificant. The chemical, acrylamide, is a carcinogen created when coffee beans are roasted. The carcinogen is one in a list of chemicals the state of California considers possible causes of cancer. Alcoholic beverages are also on the list.
__________________________
Consider yourself an Influencer? Become a trusted adviser in our FOX News community and help guide our brand's future. Click here to find out how.
Members of FOX News Influencers:
Have the opportunity to be heard
Be part of a special network of peers
Get to influence new ideas and initiatives 
Receive updates on what we've learned and how your input has made impact 
Fill out our qualification survey and join us. Thank you for your continued support in our company's growth.
_________________________
AS SEEN ON FOX NEWS
'KLEPTOCRAT CLINTONS': "The Clintons are in it for themselves. They're opportunists. They're running this rotten charity that is basically there to provide them with a head of state lifestyle when the public declines to make them heads of state."  – Mark Steyn, on "Tucker Carlson Tonight," saying the Democratic Party has veered to the left is because its centrist wing was represented for so long by Bill and Hillary Clinton. WATCH
'BLUEPRINT OF INACTION': "Enough is enough. And the sheriffs are speaking up and joining together with our constituents in our communities and saying, 'You need to now act, Congress. And let's stop with this whole blueprint of inaction.'" – Bristol County, Mass., Sheriff Thomas Hodgson, on "Your World with Neil Cavuto," arguing that Congress' inaction on illegal immigration is impacting law enforcement's ability to keep their communities safe. WATCH
TRENDING
Vatican tamps down report that Pope Francis denies existence of hell.
Howard Kurtz: VA chief's firing portrayed as chaotic, but Trump had some good reasons.
Big tech companies offer gilded safe space for Obama officials.
Marines' ultra-powerful heavily-armed mega-drone will devastate enemies of the U.S.
West Virginia bill requires food stamp recipients to work for benefits.
THE SWAMP
Some visa applicants may have to fork over social media information to State Dept..
Corey Lewandowski suggests New York magazine reporter stole from him during alleged home invasion.
John Brennan: Trump's nomination for VA secretary is 'terribly misguided.'
ACROSS THE NATION
Family killed in California cliff crash had recent visit from Child Protective Services, police say.
Austin bombing suspect labeled 'domestic terrorist' by interim police chief.
Spring breaker, 17, vanishes in Gulf of Mexico.
MINDING YOUR BUSINESS
Good Friday: Which markets are closed?
Trump touts infrastructure, economy as construction stocks surge.
Under Armour data breach exposes 150 million MyFitnessPal users.
Walmart in early-stage acquisition talks with Humana: report.
FOX NEWS OPINION
Newt Gingrich: Easter shows the wondrous love of God.
A parent's love on Good Friday.
Passover is for Christians as well as Jews -- Here's why.
HOLLYWOOD SQUARED
'Roseanne' ratings put pressure on networks to revive conservative show 'Last Man Standing.'
Bill Cosby to face Janice Dickinson, four other accusers at sexual assault retrial.
'Ren & Stimpy' creator accused of harassment, child porn, sex with teen girl 'intern.'
DID YOU HEAR ABOUT THIS?
Beachgoers discover 'holy grail of shipwrecks' after remains of 18th century ship wash ashore.
Bob Dylan's 'going electric' guitar headed to auction block.
Stunning dinosaur discovery: Experts may have unearthed a baby Tyrannosaur fossil in Montana.
STAY TUNED
On Fox News: 
Fox & Friends, 6 a.m. ET: Kellyanne Conway on Trump's infrastructure plan, the latest White House shakeup and more; Sebastian Gorka on the growing tension between the U.S. and Russia; Father Jonathan Morris on Easter Sunday and Pope Francis's alleged comments about hell; Bob Massi sounds off on a woman who is refusing to sell a house to Trump supporters; and this week's edition of "Cooking with Friends" features Lawrence Jones.
Tucker Carlson Tonight, 8 p.m. ET: A former speechwriter for President Trump tells Tucker how he suffered a trial by the media at the hands of the Washington Post.
On Fox Business:
Mornings with Maria, 6 a.m. ET: Guests include: Chris Swecker, former assistant FBI director; Bud Cummins, former U.S. attorney; David Yale, Just Born president and chief operating officer.
Varney & Co., 9 am, ET: Brad Blakeman: former deputy assistant to President George W. Bush; Iowa Attorney General Tom Miller; Betsy McCaughey' author of "Beating ObamaCare."
Countdown to the Closing Bell, 3 p.m. ET: Alan Blinder, Princeton University professor of economics.
After the Bell, 4 p.m. ET: Steve Forbes
Lou Dobbs Tonight, 7 p.m. ET: Rep. Paul Gosar
On Fox News Radio:
The Fox News Rundown podcast: Amazon has been a frequent target of President Trump, who says the company is hurting U.S. retailers. But the president isn't the only one criticizing the e-commerce giant. Seton Motley, president of Less Government, who took out a full page ad in the New York Post criticizing a possible deal between Amazon and the Defense Department, sounds off. The revival of "Roseanne" has people talking and President Trump and millions watching. "Media Buzz" host Howard Kurtz and Fox News entertainment reporter Michelle Pollino talk about the surprise success of the rebooted sitcom. Plus, commentary from "FOX News @ Night" host Shannon Bream.
Want the Fox News Rundown sent straight to your mobile device? Subscribe through Apple Podcasts, Google Play, and Stitcher.
The Tom Shillue Show, 3 p.m. ET: Father Jonathan Morris and best-selling author Eric Metaxas discuss Easter traditions, the growing success of Christian movies and the controversy surrounding Pope Francis's alleged remarks about the existence of hell!
Fox News Weekend:
Cavuto Live, Saturday, 10 a.m. ET: Orange County Fourth District Supervisor Shawn Nelson weighs on how he's leading a fight against California's sanctuary law; Freedom Caucus Member, Rep. Dave Brat on some Republicans calling for a balanced budget bill after passing the massive $1.3 trillion spending bill; Looking ahead to the midterm elections, Democrats are slamming the tax cuts, while Republicans are touting them. Rep. John Yarmuth weighs in. And Andrew Pollack, father of Parkland shooting victim Meadow Pollack, joins us from the "Ride for Meadow." Motorcycle riders will take to the streets on Saturday morning to raise money to build a playground in honor of Meadow.
Fox News Sunday, Sunday, 2 p.m. and 7 p.m. ET: Sen. Lindsey Graham sits down for a wide-ranging, exclusive interview.
Legends & Lies: The Civil War, Sunday, 8 p.m. ET: "Abraham Lincoln: The War Begins" - In this week's episode, Lincoln is frustrated by his cautious commanders as the Union army is routed at Manassas, where Confederate general "Stonewall" Jackson earns his nickname.
#OnThisDay
1991: Patricia Bowman of Jupiter, Fla., tells authorities she was raped by William Kennedy Smith, the nephew of Sen. Edward Kennedy, at the family's Palm Beach estate. (Smith would be acquitted at trial later that year.)
1981: President Ronald Reagan is shot and seriously injured outside a Washington, D.C., hotel by John W. Hinckley Jr.; White House press secretary James Brady, Secret Service agent Timothy McCarthy and a District of Columbia police officer, Thomas Delahanty, are also wounded.
1964: The original version of "Jeopardy!," hosted by Art Fleming, premieres on NBC.
Fox News First is compiled by Fox News' Bryan Robinson. Thank you for joining us! Enjoy your day and weekend! We'll see you in your inbox first thing Monday morning.