FOX NEWS FIRST: Bannon faces grilling on Russia; Alleged house of horrors in California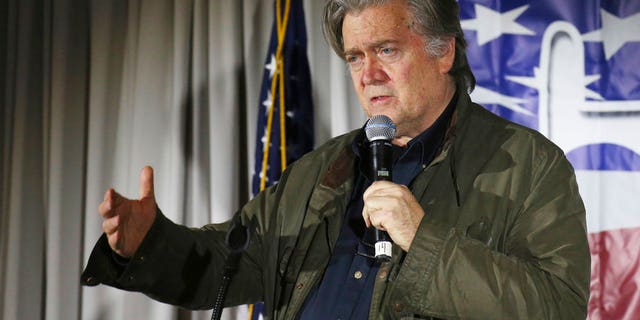 Welcome to Fox News First. Not signed up yet? Click here.
Developing now, Tuesday, Jan. 16, 2018:
Steve Bannon to testify Tuesday before the House Intel Committee as part of its Russia investigation; Corey Lewandowski faces grilling later this week
A California couple has been arrested on the suspicion of child endangerment and torture after 12 of their children were allegedly found shackled in their home 
The controversy over President Trump's alleged 's---hole countries' comment turns into a war of words between the president and Senate Minority Whip Dick Durbin with the possibility of a government shutdown looming
Exclusive: Syrian opposition leaders to meet with White House officials Tuesday to garner more support from the Trump administration
THE LEAD STORY: Former White House chief strategist Steve Bannon will testify before the House Intelligence Committee Tuesday as part of its Russia probe, in what will be his first appearance on Capitol Hill since his fall from grace following his comments in Michael Wolff's Trump White House tell-all book ... Bannon, who stepped down as executive chairman of Breitbart News last week following a dramatic falling out with President Trump over "Fire and Fury: Inside the Trump White House," will be interviewed behind closed doors by congressional investigators. A source close to the committee told Fox News that Bannon would likely be questioned over information in Wolff's book. Former Trump campaign manager Corey Lewandowski also is expected to testify this week before the House Intelligence Committee.
HOUSE OF HORRORS: A Southern California couple is in custody on suspicion of torture and child endangerment after 12 of their children allegedly were found captive in the couple's home, with some of them shackled to beds ... David Turpin, 57, and Louise Turpin, 49, were each being held on $9 million bail, the Riverside County Sheriff's Office said in a statement Monday. Authorities said the investigation began after a 17-year-old girl "escaped" from the home and called 911 early Sunday to report that her 12 brothers and sisters were being held by their parents. The sheriff's office said investigators initially believed the "slightly emaciated" girl was just 10 years old when they first saw her.
IS 'DICKY DURBIN' FULL OF IT ON TRUMP?: In the face of ongoing backlash against his reported "s---hole" comments during a bipartisan meeting on immigration last week, President Trump has blasted his lead accuser in the controversy, Senate Minority Whip Dick Durbin ... "Senator Dicky Durbin totally misrepresented what was said at the DACA meeting," Trump tweeted. "Deals can't get made when there is no trust! Durbin blew DACA and is hurting our Military." Durbin insists Trump made the "vile and racist" comments, telling reporters over the weekend, "He said these hate-filled things, and he said them repeatedly." Sources said Trump made the comments while Durbin was reading a list of temporary protected status countries. But Trump has fought back against the reports of the meeting, arguing on Jan. 12 that "the language used by me at the DACA meeting was tough, but this was not the language used. What was really tough was the outlandish proposal made - a big setback for DACA!"
FOX NEWS EXCLUSIVE: Leaders of the Free Syrian Army (FSA) are in Washington, D.C. where they will meet with White House officials Tuesday. Their goal is to increase cooperation between FSA and the Trump administration, and at the same time warn of the consequences of ceding control to Russia and Iran ... Last week they made their case to Congress. The Free Syrian Army was described to Fox News as the military wing of the Syrian opposition, and it has a small number of members who had been trained and armed by the Pentagon through the train and equip program that ended in 2015. The FSA says it successfully fought against ISIS and Iranian militias and claim to have approximately 60,000 troops. Its leaders say it has been reformed, and now employs rules of engagement similar to that of the U.S. military.
AS SEEN ON FOX NEWS
A PLEA TO CIVIL RIGHTS LEGEND JOHN LEWIS: "Don't throw hatred at the president. Come to the table and let's work together as Americans." – Bruce LeVell, member of President Trump's 2020 advisory council, on "Outnumbered Overtime," urging Rep. John Lewis on Martin Luther King Jr. Day to put aside his differences with Trump and unite the country. WATCH
STATE OF DISUNION: "People are really upset with their government. [They're] not confident their government is able to work together." – Law professor Jonathan Turley, on "The Story," criticizing four lawmakers who announced they're boycotting President Trump's state of the union address. WATCH
ACROSS THE NATION
Christian group's lawsuit against University of Iowa pits freedom of religion against gay rights.
Boeing's 'Son of Blackbird' hypersonic strike aircraft could go five times the speed of sound.
Gillibrand faces liberal backlash for cheering judge recall effort in high-profile rape case.
North American International Auto Show #NAIAS2018
Detroit auto show: New pickups from Ram, Chevy heat up big-truck competition.
Ford won't be giving one-time tax related bonuses.
Which car stock has spiked the most in 2018?
MAINSTREAM MEDIA MADNESS
Embarrassment at NBC over Megyn Kelly not traveling to the Olympics.
White House mocks CNN's Chris Cuomo for referring to Raj Shah as 'Raj whatever-his-name-is.'
Feminism reporter resigns after being accused of plagiarizing conservative Weekly Standard.
MINDING YOUR BUSINESS
Dow charging toward 26,000 in record time | U.S. oil industry set to break record
US military members receive biggest pay bump since 2010.
Tax season: Top tips for 2018.
NEW IN FOX NEWS OPINION
Starnes: Comic book convention bans Kevin Sorbo over friendship with Sean Hannity.
North Korea might be able to nuke the U.S. homeland right now.
I received the Hawaii missile alert: Here's what I told my kids when I thought I had minutes to live.
HOLLYWOOD SQUARED
Kevin Spacey accused of racism: report.
Eliza Dushku's alleged molester accused of misconduct by two more women.
Does the Aziz Ansari sexual misconduct story signal the end of the #MeToo movement?
DID YOU HEAR ABOUT THIS?
Eyes on the sky: When and where will China's rogue space station fall to Earth?
99-year-old Vikings superfan gets free tickets to Super Bowl.
Traveler arrested at airport for wearing too many clothes.
STAY TUNED
On Fox News:
Fox & Friends, 6 a.m. ET: A "deplorable" NYU professor explains why he is suing his colleagues for defamation; author Bryan Garner offers a fascinating look inside Justice Scalia's life; White House press secretary Sarah Sanders takes on the hot topics facing the Trump administration; A grand jury indicts a Maryland executive in the Uranium One deal - attorney Victoria Toensing reacts.
The Story with Martha MacCallum, 7 p.m. ET: "12 Strong" author Doug D[Stanton tells the real-life story behind the upcoming film
Tucker Carlson Tonight, 8 p.m. ET: Rep. Martha McSally sounds off on her Senate campaign and the immigration battle between Congress and President Trump.
Hannity, 9 p.m. ET: Eric Trump and Anthony Scaramucci take on obstacles facing Trump's agenda.
Fox News @ Night, 11 p.m. ET: Rep. Dave Brat on the latest immigration talks in Congress with the threat of a government shutdown on Friday.
On Fox Business:
Mornings with Maria, 6 a.m. ET: Guests include: Dick Bove, Vertical Group research analyst and Bob Wright, former chairman and CEO of NBC Universal and co-Founder of Autism Speaks.
Varney & Company, 9 a.m. ET: Fred Smith, FedEx CEO; Kelli Ward, U.S. Senate candidate for Arizona
The Intelligence Report, 2 p.m ET: David Tafuri, former Obama foreign policy adviser.
On Fox News Radio:
The Fox News Rundown podcast: Saturday's ballistic missile false alarm had some Hawaiian residents saying their last goodbyes. Fox News' Will Carr explains how the state is searching for answers to prevent this mishap from happening again. The economy continues to pick up steam and President Trump is taking credit for the big gains since his election. Fox Business host Charles Payne discusses the record-setting year of 2017 and what this could mean for the stock market moving forward. Plus, commentary by Fox Business' Trish Regan.
Want the Fox News Rundown sent straight to your mobile device? Subscribe through Apple Podcasts, Google Play, and Stitcher.
The Brian Kilmeade Show, 9 a.m. ET: Allen West takes on the latest news from Afghanistan, North Korea and Iran. Author Brad Meltzer discusses his new project.
#OnThisDay
1991: The White House announces the start of Operation Desert Storm to drive Iraqi forces out of Kuwait. (Allied forces prevailed on Feb. 28, 1991.)
1978: NASA names 35 candidates to fly on the space shuttle, including Sally K. Ride, who became America's first woman in space, and Guion S. Bluford Jr., who became America's first black astronaut in space.
1920: Prohibition begins in the United States as the 18th Amendment to the U.S. Constitution goes into effect, one year to the day after its ratification. (It was later repealed by the 21st Amendment.)
Thank you for joining us on Fox News First! Enjoy your day! We'll see you in your inbox first thing Wednesday morning.