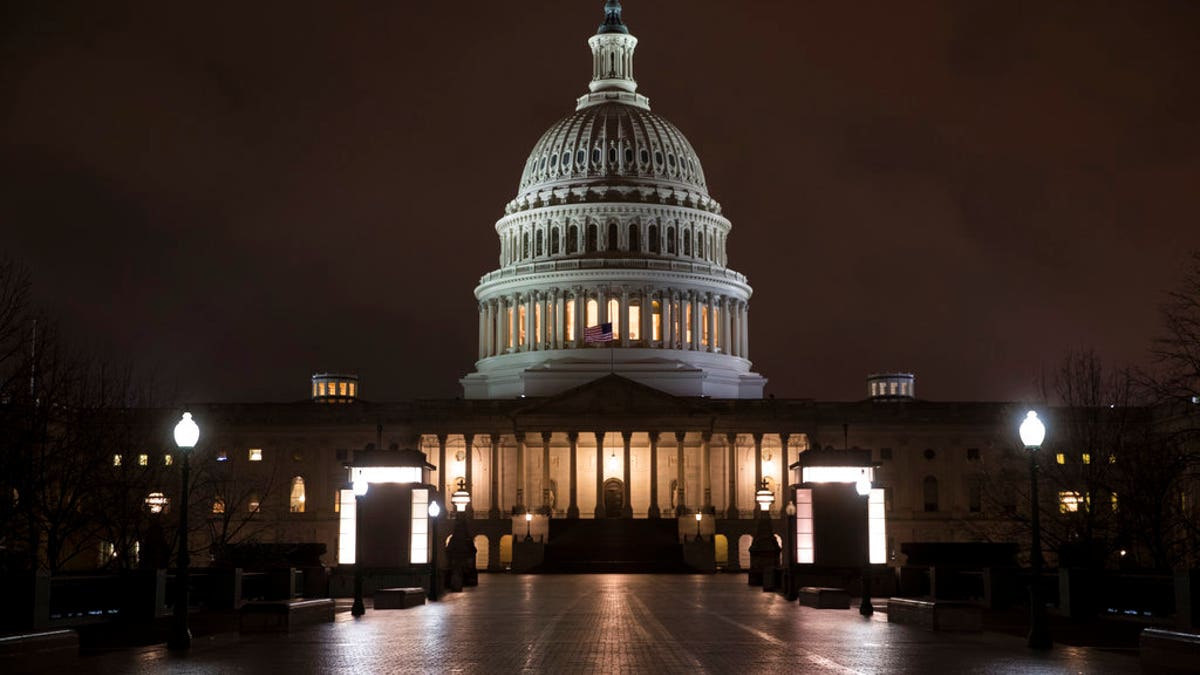 Welcome to Fox News First. Not signed up yet? Click here.
Developing now, Thursday, March 22, 2018
Republicans pitch a $1.3 trillion, 2,232-page 'omnibus' spending bill as a potential government shutdown looms Friday
The Austin, Texas, bomber recorded a 25-minute 'confession' to his crimes, police said. But his motive for the attacks remained unclear.
Facebook boss Mark Zuckerberg apologizes for the social network's user data scandal, calling it 'a major breach of trust'
Uber's 'safety driver' had her head down just before the company's 'driverless' car struck a pedestrian, dashcam video shows
Attorney General Jeff Sessions is not facing a perjury investigation, his lawyer says
THE LEAD STORY - A RUSH TO PASS ONE HUGE SPENDING BILL: Congressional Republican leaders released the final version of a proposed $1.3 trillion spending bill Wednesday evening, just two days before the deadline to avoid a partial government shutdown ... The 2,232-page "omnibus" bill was made public hours after House Speaker Paul Ryan, R-Wis., dashed through a Washington snowstorm to meet with President Trump at the White House amid concerns that Trump's support for the package was wavering. The White House later said the president backed the legislation, even as some conservative Republicans balked at the size of the spending increases and the rush to pass the bill. The House Rules Committee was scheduled to meet later Wednesday to prepare the bill for debate in the full House. Leaders have said they hoped to start voting as soon as Thursday, but a stopgap measure may be needed to ensure federal offices remain open at midnight Friday when funding for the government expires.
Both sides of the aisle want to avoid a repeat of the shutdown in January, which came after lawmakers clashed over the state of the Obama-era DACA program that gave protection to illegal immigrants brought to the country as children. The omnibus bill does not include a DACA provision and also gives limited funding to border security measures that Trump had pushed for.
'OUTCRY' FROM AUSTIN BOMBER: Mark Anthony Conditt, the man linked to this month's deadly bombings in the Austin, Texas, area, recorded a 25-minute "confession" to his crimes, police said. However, Conditt's motive for the attacks remained unclear ... Authorities said the recording was made on a phone, which was found in Conditt's possession following his fateful confrontation with police Wednesday. Conditt, 23, described creating seven devices, including one he blew up during the conflict with police, Austin Police Chief Brian Manley said at a news conference. In the recording, the suspect did not mention "anything about terrorism, nor does he mention anything about hate," the police chief said. The message is rather "the outcry of a very challenged young man talking about challenges in his personal life." Police said all seven devices have been found, suggesting there was no further threat from Conditt to people in the Austin, Texas area. However, Manley said, the community should still "remain vigilant."
FACEBOOK'S 'BREACH OF TRUST': Facebook CEO and co-founder Mark Zuckerberg apologized on Wednesday for the social media giant's role in a research's firm's questionable access to user data ... Zuckerberg had previously referred to the scandal as the "Cambridge Analytica situation," wherein the research firm was accused of accessing 50 million Facebook user profiles improperly. In an interview with CNN Wednesday night, the Facebook co-founder called the controversy "a major breach of trust," saying, "I'm really sorry this happened. We have a basic responsibility to protect people's data." In an earlier Facebook post, Zuckerberg wrote the social media platform has "a responsibility to protect your data, and if we can't then we don't deserve to serve you." Claiming that the company is working to "make sure this doesn't happen again," Zuckerberg gave a brief timeline of Facebook's relationship with Cambridge Analytica.
DISTURBING UBER VIDEO: Dashcam video was released Wednesday night showing the deadly crash of a self-driving Uber SUV in Arizona — as the "safety driver" in the vehicle had her head down ... Two angles — interior and exterior camera footage — were released by the Tempe Police Department. Officials did not release the moment the pedestrian, identified as 49-year-old Elaine Herzberg, was hit, "due to the graphic nature of the impact." The interior video shows the car's safety driver, Rafaela Vasquez, 44, buckled in behind the wheel of the vehicle, which police said was moving around 40 miles per hour in the Phoenix suburb at 10 p.m. Sunday. While the Volvo XC90 SUV was in self-driving mode, Vasquez was in the car as a backup driver, who could take control of the vehicle in the event of a malfunction or other issue. In the moments before the car struck Herzberg, Vasquez is seen repeatedly looking down, seemingly toward the console area of the car. Just before the accident, she suddenly looks shocked as she realizes a pedestrian is in front of her.
SESSIONS PERJURY PROBE DENIED: Attorney General Jeff Sessions' longtime personal lawyer said that Sessions is not the subject of a federal criminal investigation for allegedly perjuring himself during his confirmation hearing ... "The Special Counsel's Office has informed me that after interviewing the Attorney General and conducting additional investigation, the Attorney General is not under investigation for false statements or perjury in his confirmation hearing testimony and related written submissions to Congress," attorney Chuck Cooper said in a statement. ABC News reported that former FBI Deputy Director Andrew McCabe had overseen the investigation into whether Sessions "lacked candor" when he testified before Congress about contacts with Russian operatives during the 2016 presidential campaign. Sources close to Sessions told Fox News that the attorney general had no idea he may have been under investigation for perjury when he fired McCabe last week.
AS SEEN ON FOX NEWS
TRUMP'S RIGHT TO TALK TO PUTIN: "Presidents talk to kings and emperors and tyrants regardless of whether or not they were elected with any kind of democratic process or not. I think the president has a right to talk to Putin and to obviously see if there are areas that they can agree with." – Former Defense Secretary Leon Panetta, on "Your World with Neil Cavuto," saying that President Trump is within his rights to negotiate and converse with Russian President Vladimir Putin. WATCH
'LUNCHBUCKET JOE': "Joe Biden [is] the man who got every issue wrong for 30 years." – Sebastian Gorka, on "Hannity," responding to video of former Vice President Joe Biden blasting President Trump in a Miami speech. WATCH
THE SWAMP
Obama's EPA appointees spent as much, or more, on travel than Trump's Pruitt, data show.
President Trump to level new round of tariffs, investment restrictions against China.
GOP's Saccone concedes to Democrat Lamb in Pennsylvania special House race.
Chicago police chief fired by Rahm Emanuel will run against him for mayor.
ACROSS THE NATION
Outcry from gun advocates after YouTube blocks videos on firearms assembly, sale.
Stoneman Douglas forcing students to wear only clear backpacks.
Employee fired after local NBC newscast gets interrupted by vulgar audio clip.
MINDING YOUR BUSINESS
Stocks decline as Fed signals faster pace of rate hikes.
Toys 'R' Us liquidation sales to begin Thursday.
Sports Illustrated, other magazines up for sale as Meredith lays off hundreds.
FOX NEWS OPINION
Judge Andrew Napolitano: Trump, McCabe and the FBI -- It's March Madness Washington-style.
Newt Gingrich: Good news to some is bad news to others.
World Water Day: We can solve the global water crisis -- Here's how.
HOLLYWOOD SQUARED
Charlotte Pence reveals she bought a copy of John Oliver's spoof Marlon Bundo book.
Katy Perry's disastrous 'American Idol' kiss was 'unfortunate,' blown out of proportion, Luke Bryan says.
William Shatner slams Facebook for promoting false story about his death.
DID YOU HEAR ABOUT THIS?
$2 million Ford custom is the 'King' of SUVs.
Yellowstone supervolcano may have underwater magma 'anomaly,' researchers suggest.
Exoplanet search turns up 15 new alien worlds, and one may have water.
STAY TUNED
On Fox News:
Fox & Friends, 6 a.m. ET: Insight from House Freedom Caucus co-founder Rep. Jim Jordan on the "omnibus" spending bill; Ainsley Earhardt attends a town hall on the opioid epidemic and gets first-hand accounts of how the crisis has affected Long Island, N.Y.; NRA spokeswoman Dana Loesch on the scheduled weekend marches on gun violence; and we'll go inside the mind of the suspected Austin, Texas, serial bomber.
Tucker Carlson Tonight, 8 p.m. ET: Reporter Sharyl Attkisson tells Tucker how the Justice Department stole information from her.
On Fox Business:
Mornings with Maria, 6 a.m. ET: Guests include: Rep. Steve Womack, chairman of House Budget Committee ; Sen. Orrin Hatch; Peter Navarro, director of the White House National Trade Council; Patrick Byrne, Overstock.com CEO.
Varney & Co., 9 a.m. ET: La. Sen. John Kennedy; Andy Puzder, former CKE Restaurants CEO; Calif. State Assemblyman Rocky Chavez.
Cavuto: Coast to Coast, Noon ET: Texas Attorney General Ken Paxton.
On Fox News Radio:
The Fox News Rundown podcast: President Trump's tweets created a stir Wednesday, after he quoted famed legal scholar Alan Dershowitz speaking about the Russia probe on Fox News. Dershowitz joins the podcast to discuss. The biggest antitrust trial in history is underway as the Justice Department looks to block AT&T's merger with Time Warner. Fox News' Connell McShane explains why. Plus, commentary from Judge Andrew Napolitano.
Want the Fox News Rundown sent straight to your mobile device? Subscribe through Apple Podcasts, Google Play, and Stitcher.
#OnThisDay
1991: High school instructor Pamela Smart, accused of recruiting her teenage lover and his friends to kill her husband, is convicted in Exeter, N.H., of murder-conspiracy and being an accomplice to murder and is sentenced to life in prison without parole.
1968: The first Red Lobster restaurant opens in Lakeland, Fla.
1894: Hockey's first Stanley Cup championship game is played as home team Montreal defeats Ottawa, 3-1.
Fox News First is compiled by Fox News' Bryan Robinson. Thank you for joining us! Enjoy your day, and we'll see you in your inbox first thing Friday morning.