Four teens arrested in murder of beloved World War II veteran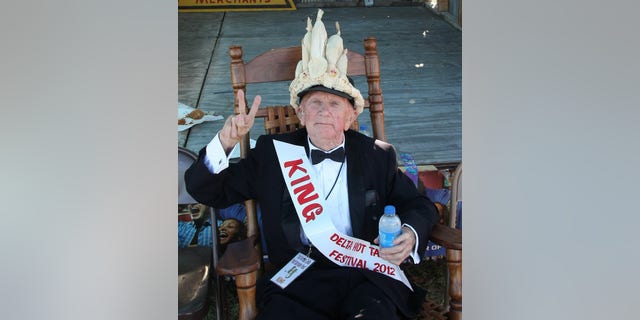 Four Mississippi teenagers have been charged with murder in the killing of a beloved World War II veteran who gained local fame for his home-cooked hot tamales.
The long and lustrous life of Lawrence "Shine" Thornton, 87, was celebrated last week during a ceremony at St. Joseph Catholic Church. Following the ceremony, Thornton was buried with military honors at Greenlawn Memorial Gardens.
Thornton died Oct. 20, succumbing to the injuries he sustained after four teenagers "pushed him down and stole his wallet," during an apparent mugging that occurred in the late-afternoon two days earlier in the driveway of his long-time Greenville home.
Meanwhile, Greenville Assistant Police Chief Andrew Kaho told the Delta Democrat Times that Terrance Morgan, 19; Edward Johnson, 19; Leslie Litt, 18; and Geblonski Murray, 18; were all arrested Monday, and charged with capital murder, robbery and conspiracy to commit robbery.
And although little is known about the specifics of the run-in that cost Thornton his life, much has reportedly been said about the apparently momentous loss to the delta community.
[pullquote]
The Southern Foodways Alliance writes it was 1984 when Thornton -- after losing his job as a Delta Electric electrician of 37 years -- lucked into the prosperous second profession of selling hot tamales.
"With a jerry-rigged recipe he got from a friend, Shine figured out the rest through trial and error," according to the organization. "When he had a product he could stand by, he named his business after his Sicilian wife Mary, calling his new venture Maria's Famous Hot Tamales.
"Over the years, Shine became well-known for his quality product, never cutting corners on time or ingredients.
"Even after his beloved Mary passed away, Shine continued to make his meticulously crafted beef tamales out of the custom kitchen behind their house, welcoming any and all who stopped in to buy a dozen or sit and listen to the new tune he'd just learned on his fiddle."
Thornton went on to serve as the "Hot Tamale King," at his adopted hometown's inaugural Delta Hot Tamale Festival in 2012. And Southern Foodways Alliance's Amy Cameron Evans writes of the moment at this year's edition -- held from Oct. 17-20 -- she learned of the assault.
"On Saturday morning, I sat in a bank lobby in downtown Greenville awaiting instructions," reports Evans.
"Anne Martin, festival co-chair, welcomed all of us and then shared the morning's news: Shine Thornton, who was crowned Hot Tamale King at last year's festival, was assaulted at his home the night before and was airlifted to the Jackson Medical Center. We all caught our breath, held our hearts, and said a prayer for our dear friend Shine."
Thornton earned his enigmatic nickname in high school for a penchant for whistling "You are My Sunshine." Initially, cohorts called him, "Sunshine," before making the more practical adjustment.
The Shaw, Miss., native was reportedly honored at the Mighty Mississippi Music Festival for lifetime contributions to Delta music, having played in bands that included the Hot Biscuit Boys, the Burt Taggert Band and the Retreads.
Thornton also served in World War II in the Pacific as a Fireman First Class aboard the minesweeper USS Herald, according to Mortimer Funeral Home.