Founder of GoFundMe account for homeless man is arrested on traffic warrant: report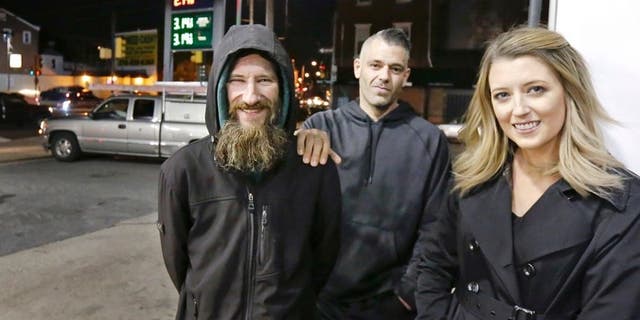 The man who-- along with his girlfriend-- stands accused of spending $400,000 they raised for a homeless veteran was arrested Monday in New Jersey on an unrelated outstanding warrant, authorities said.
Mark D'Amico, 39, was taken into custody at his home and brought to the Burlington County Jail, the Florence Township Police Department wrote on Facebook. D'Amico was released Tuesday after posting $500 bail, WPIX-TV in New York City reported.
Police confirmed the outstanding warrant was unrelated to the GoFundMe investigation.
The warrant originated from an October 2017 traffic stop, where police say he allegedly drove with a suspended license, failed to turn his license over while suspended and drove a vehicle with a broken taillight, Philadelphia news station WPVI-TV reported.
D'Amico failed to appear in court for the citation and was arrested in May 2018, the station reported. He posted bail, but again reportedly failed to go to court in July. Police said they reissued the warrant and arrested him Monday.
D'Amico and his girlfriend, Katelyn McClure, 28, are under investigation for allegedly mismanaging donations raised through GoFundMe for homeless veteran Johnny Bobbitt, who used his last $20 to buy McClure gas when she was stranded on Interstate 95 in Philadelphia last year.
D'Amico and McClure have earlier denied wrongdoing or misusing the cash, saying they're wary of giving Bobbitt large sums because they feared he'd buy drugs.
Ernest Badway, the couple's lawyer, said earlier on Monday that they could be charged in the case.
"(Since) it is expected that one or both of the defendants will likely be indicted, my firm and I will no longer be able to continue our representation of them in this matter," Badway wrote.
Chris Fallon, Bobbitt's attorney, earlier said he had gotten about $75,000 of the cash. But Badway has said Bobbitt got about $200,000.
GoFundMe announced last week that it will ensure Bobbitt gets the full amount he is owed, whether or not the civil suit recovers any money, NJ.com reported.
No charges have been brought in the GoFundMe dispute.
Fox News' Amy Lieu contributed to this report.