Fort Bragg soldier charged in cold case brutal rape, kidnapping of Texas teen girl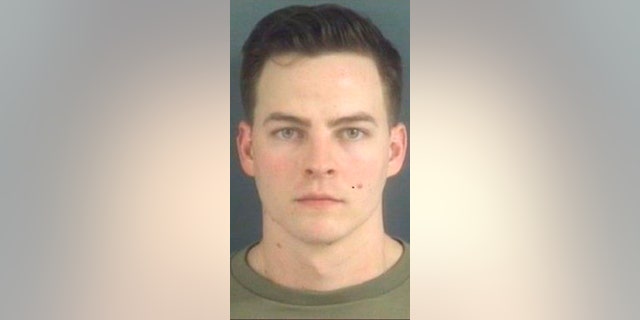 NEWYou can now listen to Fox News articles!
A Fort Bragg solider was charged Friday in the brutal kidnapping and rape of a teenager in Texas in a 2013 case whose trail had gone cold, officials said.
Levi Goss, 24, was arrested in North Carolina last week on a DUI charge and was linked to the Texas case from 2013 by a DNA test, KHOU reported.
Authorities said the assault happened Feb. 5, 2013 when the 16-year-old girl was ambushed while walking near a school and hit over the head with an axe by an attacker wearing a mask.
The girl said she was dragged into a field where her clothes were ripped off and she was sexually assaulted.
The masked man then hit her with the axe again and the girl played dead until she was able to run -- naked and bleeding -- to a nearby movie theater to get help, according to the Harris County Sheriff's Office. Authorities in Houston plan to hold a press conference on the arrest around 2:30 p.m. local time Tuesday.
The girl told police her attacker was a man in his 20's, but could only otherwise describe him as having green eyes because of the mask he was wearing, KHOU reported.
POLICE: AIRMAN CHARGED WITH RAPE OF 14-YEAR-OLD RUNAWAY
After the attack, DNA was collected from the victim and submitted into a database, but the case went cold until earlier late last year.
In December, the Harris County Institute of Forensic Science received a database match from the U.S. Army Criminal Investigation Laboratory for a military offender listed as Goss, according to court documents obtained by KPRC-TV.
A witness who spotted the suspect at a nearby gas station in the 2013 attack was shown a picture of Goss when questioned again by police. The witness told them the man entered with a gray shirt, went into the restroom, then left wearing a different shirt.
The gray shirt was found in a trash can covered in blood the next day, according to the court documents obtained by KPRC. That witness was able to identify Goss as the man seen in the gray shirt the night of the attack.
Goss is charged with aggravated sexual assault of a child and aggravated kidnapping, and Monday in court said he will not contest being extradited to Texas, the Fayetteville Observer reported.