Florida woman, 93, reaches end of the road after 576,000 miles in her 1964 Mercury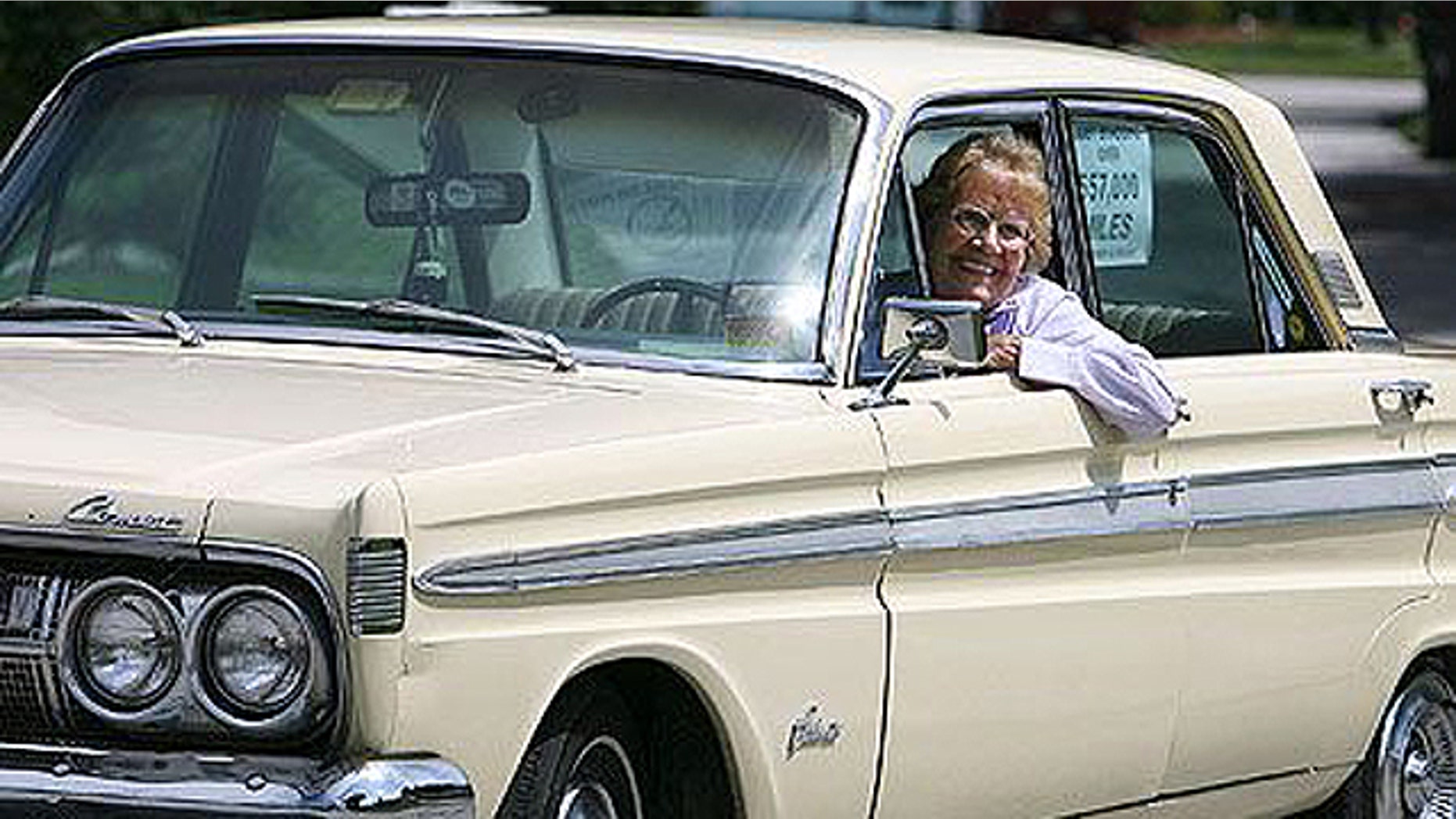 The end of the road is here for Rachel Veitch's beloved "Chariot."
After 576,000 miles -- or more than a trip to the moon and back -- in the same 1964 Mercury Comet Caliente, the 93-year-old Orlando grandmother is stepping on the brakes due to age-related macular degeneration in both eyes. She realized her vision had completely failed her in early March after running a "bald-faced red light," Veitch told FoxNews.com.
"I am legally blind, so I can no longer drive my lovely Chariot," she said by phone. "They don't have to take it away, I would not dream of driving that car again."
Veitch, a retired nurse who told FoxNews.com in July 2009 that the car had outlasted three marriages and three sets of shocks, said she last drove on March 9. The following day, her worst fears were confirmed when she couldn't read large headlines in the newspaper, the result of years of deteriorating vision for the near-obsessive car fanatic.
"I know I'm not safe enough to drive," she continued. "But I have taken it in stride."
Veitch bought her beloved ride for $3,289 in February 1964 from a dealer in Sanford, Fla. The car, which has been appraised at $12,000, has gone through 18 batteries, eight mufflers and countless oil changes. She credits her near-obsessive dedication to the car as the main reason why it's spent nearly half a century in her care.
"When I buy gas, I write down the mileage, the date and how many miles per gallon I got," she told FoxNews.com in 2009. "I've never been a destructive person and I've just taken care of everything, except my husbands."
In July, Veitch's classic car will travel to Wisconsin to appear in an antique car show, but it's unclear what will happen to it after that trip. Veitch, who appeared on "The Tonight Show" in August 2010, said she might consider selling it to host and classic car aficionado Jay Leno if he's interested.
"I haven't talked to Jay Leno yet, but I'm wondering if he's interested," Veitch said early Thursday. "But I don't think I should start talking about it now."
Asked if any of her 4 children, 9 grandchildren or 11 great-grandchildren have expressed interest in the car, Veitch responded: "It wouldn't matter if they did, they're not going to get it. They couldn't take care of it like I did."
The car saw its lone wreck in 1980, when it endured a rear-end collision while Veitch, who was not injured, drove along I-95 in Georgia.
With nearly 600,000 miles behind her, Veitch, who will turn 94 in August, said she's taking the end of her time with "Chariot" in stride. After all, she's had a good run: The last time she bought a car, gas cost 39 cents a gallon, Lyndon B. Johnson was in the White House and "The Little Old Lady From Pasadena" was ruling the radio.
"A lot of people are worse off than I am," she said. "I don't have cancer, I don't have Lou Gehrig's disease. I am lucky."