Florida teen killed by neighborhood watch captain talked to girlfriend before shooting, lawyer says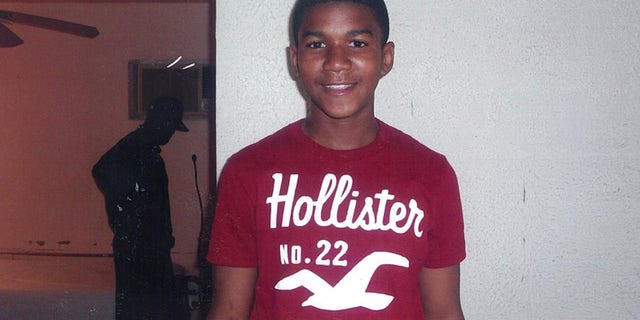 NEWYou can now listen to Fox News articles!
SANFORD, Fla. – The attorney for the family of a black teenager fatally shot by a neighborhood watch captain said Tuesday that the boy was talking to his girlfriend on his cellphone when the confrontation began. She did not hear the shooting.
Their phone call was discussed at a news conference that followed announcements that the U.S. Justice Department would probe the death of 17-year-old Trayvon Martin and that a local grand jury will also consider evidence in the case.
George Zimmerman, 28, claims he shot Martin in self-defense during a confrontation last month in a gated community in Sanford, Fla. Zimmerman spotted Martin as he was patrolling his neighborhood on a rainy evening and called 911 to report a suspicious person. Against the advice of the 911 dispatcher, Zimmerman then followed Martin, who was walking home from a convenience store with a bag of Skittles in his pocket.
Police have described Zimmerman as white; his family says he is Hispanic and not racist.
Attorney Benjamin Crump, who represents Martin's parents, said the teenager was on the phone with his girlfriend back home in Miami when he told her he was being followed. She said Martin told her someone was following him and that he was going to try to lose him. He thought he had lost Zimmerman but hadn't.
"He says, 'Oh he's right behind me, he's right behind me again,'" Crump says the girl told him. "She says run. He says I'm not going to run I'm just going to walk fast. She hears Trayvon say, 'Why are you following me?' Other voice says, 'What are you doing around here?'"
She told Crump they both repeated themselves and then she heard a scuffle begin "because (Martin's) voice changes like something interrupted his speech." She heard an altercation and then the phone call was cut off.
Within moments, according to Crump's timeline, Martin was shot. She didn't hear the gunfire.
Crump is not releasing the girl's name to protect her privacy.
Crump said he plans to turn over information about the call to federal investigators who are looking into the case. The Justice Department announced their involvement late Monday.
"The department will conduct a thorough and independent review of all the evidence and take appropriate action at the conclusion of the investigation," the agency said in an emailed statement.
The federal agency said it is sending its community relations service this week to Sanford to meet with authorities, community officials and civil rights leaders "to address tension in the community."
On Tuesday, a central Florida prosecutor also said that a grand jury will meet April 10 to consider evidence in the case. Seminole County State Attorney Norm Wolfinger urged the public to be patient as the investigation unfolds.
An online petition urging local authorities to prosecute Zimmerman has drawn more than 500,000 signatures at website Change.org
Later Tuesday, civil rights activist Al Sharpton is expected to join Sanford city leaders in an evening town hall meeting to discuss with residents how the investigation is being handled. On Monday, students held rallies on the campus of Florida A&M University in Tallahassee and outside the Seminole County Criminal Justice Center, where prosecutors are reviewing the case to determine if charges should be filed.