Florida school shooting survivors return to class for first time since massacre
The students of Marjory Stoneman Douglas High School described an emotional return to class Wednesday, two weeks after a gunman burst onto campus and killed 17 people on Valentine's Day.
The students, some of whom already went to the school Sunday for a voluntary orientation, attended classes on a schedule revised for a half day. Classes ran for 24 minutes, with only the first period running for 30 minutes. Students were dismissed at 11:40 a.m., with some saying they felt better after seeing their classmates and teachers.
"(I feel) a lot better. At first, a lot nervous. I was calling on my family and telling them I didn't want to go back, but coming back it feels amazing, it's a lot better," freshman Braden Freidkes told Fox News after school was dismissed.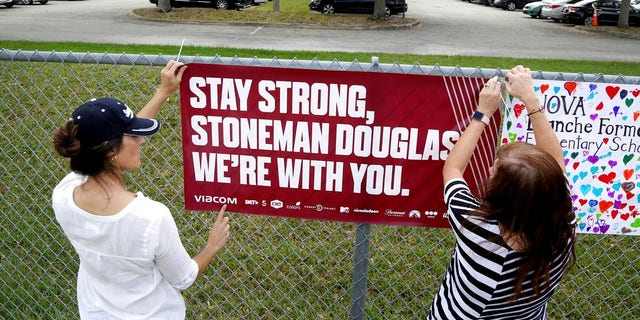 Junior Adam Buchwald also said, "It was OK. It was very emotional. I was very happy to see my friends and teachers and that's all that matters right now to be with everyone."
Joining the students were about 50 uniformed officers who marched into the schools' campus — part of the heavy security after the massacre. Backpacks were also not allowed. A "Welcome Eagles" banner and a walkway lined with flowers, photographs and other memorials were also seen on campus. Before the emotional day began, Broward School Superintendent Robert Runcie tweeted some words of encouragement.
"I pray that today is the beginning of our long and difficult journey from grief, sorrow and anger to a new consciousness of hope, compassion and love. Thank you to our young people for leading the way. Welcome Back!" he tweeted.
Runcie said counseling and therapy dogs were available at the campus for students on Wednesday "to provide a lot of love, a lot of understanding."  Teachers who arrived back on Monday also had one-on-one grief counseling and therapy dogs available to help them cope with the painful memory of the shooting.
At the start of the day students heading back to classes showed mixed emotions stepping back on campus, where 14 of their fellow classmates and three members of the faculty and staff were gunned down. School officials had initially planned for a Tuesday return, but pushed it to Wednesday.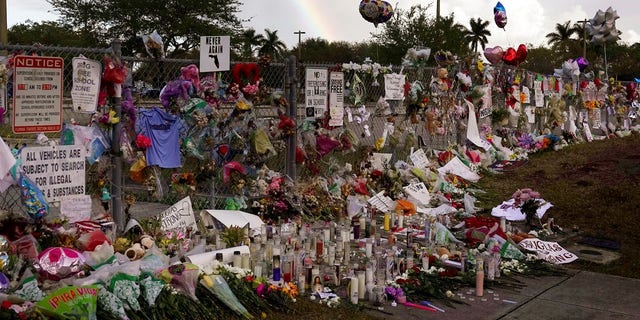 "It's just a bit weird, I guess, to go back to school after an incident like this. It's always going to be weird because it's not natural that this happens, I guess," Giovanni Williams, 14, told Fox News. "I'm happy to see the friends but I'm sad that I lost three of my good friends."
Still, some people felt the return two weeks after Valentine's Day was still too soon in the wake of the tragedy. Parents also expressed fear about their children's safety.
"I'm nervous as a parent, nothing has changed. There is no security for these kids. The gun laws haven't been addressed. My heart is racing as I drop him off today. He's nervous," Tessa Thomas, a parent of a student, said. "We need some form of security moving forward."
Angelyse Perex, a senior at Stoneman Douglas, also said: "How we going to get through this...being together what we will be doing for the rest of the year. I am graduating. I want to graduate and get out of here."
"I still think I am in a nightmare. I still think I will wake up one day and everything will be normal. My friends will still be here. I will just go to class and chill and hang out with my friends and not worry about anything. Just looking at my prom dresses and not thinking of 20 million cops in my school," she added.
Building 12 at the high school — where Cruz opened fire Feb. 14 — will most likely remain closed as the rest of the campus reopens. Runcie previously told the Sun-Sentinel there have been "numerous" requests to have the building torn down.
"We've received numerous requests from parents, students, community members and local elected officials that they would like the building demolished and some memorial resurrected on the site," Runcie said.
Fox News' Shira Bush and The Associated Press contributed to this report.