Florida police officer in critical condition after being shot at gas station; suspect in custody, officials say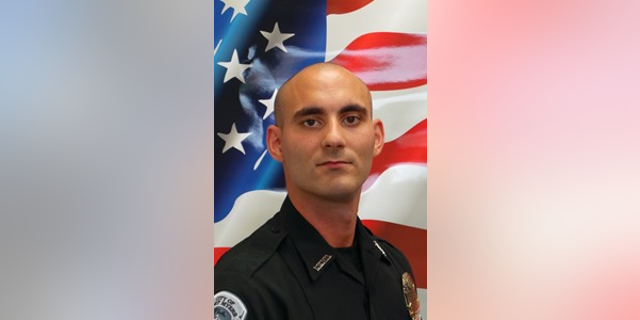 A Florida police officer is fighting for his life Sunday after he was shot while answering a call at a gas station in Fort Myers, police said.
Fort Myers Police Officer Adam Jobbers-Miller, 29, was said to be in critical but stable condition Sunday after undergoing emergency surgery to treat a gunshot wound. Jobbers-Miller was responding to a call at Marathon Gas station around 7:30 p.m. Saturday when a shooter opened fire.
The suspect, who was also injured, was taken into custody.
"Words cannot express the emotions running through the Fort Myers Police family at this time," Police Chief Derrick Diggs said in a Sunday news release. "Our department spent the night in anxious anticipation as our comrade and co-worker underwent lifesaving surgery."
"We are grateful to the many people and agencies who have expressed their support, to the medical professionals who rushed to save him and to the Lee County Sheriff's Office, the Florida Department of Law Enforcement (FDLE) and the Florida Highway Patrol (FHP) for their immediate assistance with this situation," the statement continued.
Another officer immediately drove Jobbers-Miller to the hospital following the shooting. No one else was injured in the incident.
Jobbers-Miller has been a member of the Fort Myers Police Department since September 2015.
The circumstances surrounding the Saturday night shooting were not immediately available, but shouts of "officer down!" were heard via police scanner, the News-Press of Fort Myers reported.
Fort Myers Mayor Randall Henderson was in Asheville, N.C., on Saturday night. He told the News-Press that his thoughts were with the injured officer.
"We're holding our breath while he struggles for his life," the mayor told the newspaper.
Gov. Rick Scott tweeted that he would provide local law enforcement with any resources they needed, and praised the "unimaginable sacrifices" that the state's police officers make.
"Our law enforcement makes unimaginable sacrifices every day to keep our families and communities safe. We are praying for the brave officer shot tonight," Scott said.
Saturday's shooting coincided with the 10th anniversary of the fatal shooting of Officer Andrew Widman, which occurred July 18, 2008, the News-Press reported.
Fort Meyers is on Florida's Gulf coast, about 125 miles south of Tampa.