Florida man stabs girlfriend before driving wrong way down highway, causing multi-car crash: police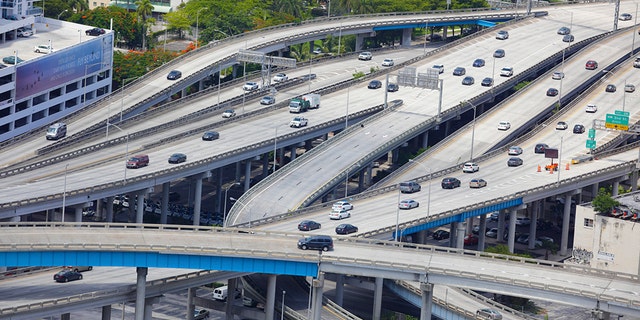 A man who authorities said drove the wrong way down a Miami highway and caused a multi-car crash allegedly stabbed his girlfriend before getting in his car.
Florida Highway Patrol spokesman Lt. Alex Camacho told CBS4 that the man, identified as William Ronald Ferguson, was possibly under the influence of drugs before he drove off in his Kia SUV and caused the crash, which resulted in the death of at least one person.
The 27-year-old got into an argument with his girlfriend shortly before the incident on the highway occurred. The woman, who has not yet been identified, told authorities she and Ferguson were at home when he became paranoid and told her that "people were watching him" and that they "needed to leave."
Shortly after, he allegedly pulled out a knife and stabbed her twice, once on the left side of her neck and again on her upper left arm, according to the news station.
The woman then ran into a different room and locked the door, which Ferguson proceeded to kick down, she claimed. When she began to scream, he left, getting into his car.
The couple's one-year-old daughter was at home during the argument, although ABC10 reported that a witness who was also present during the incident kept the baby safe in a separate room until police arrived.
Ferguson's girlfriend was taken to a local medical center where she was treated for her injuries.
After the argument, Ferguson began to drive northbound in a southbound express lane on I-95 in Miami, Camacho told CBS4.
"Several of our troopers patrolling the area observed the vehicle driving at a high rate of speed in a reckless manner," he said. "Troopers also radioed it into our dispatch center and attempted to overtake that vehicle to stop him."
Before coming to a stop, the man allegedly collided with four other drivers, hitting one male driver head-on, Camacho said. That driver, who has not yet been identified, died at the scene.
Authorities then took Ferguson to a local trauma center where he was treated for a broken arm. None of the other drivers involved required medical attention.
"This is a tragic scene," Camacho said. "Somebody lost their life, and they were just commuting the right way when they were struck by somebody that was going the wrong way."
So far, Ferguson has been charged with with aggravated battery with a deadly weapon. He is expected to face additional charges in relation to the crash.