Florida man shot, paralyzed by deputy awarded $23.1M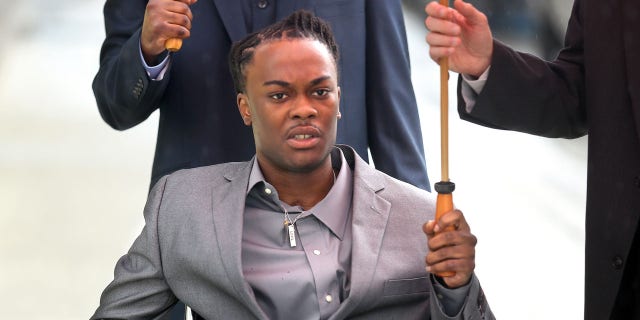 NEWYou can now listen to Fox News articles!
A black man who was shot and paralyzed by a Florida sheriff's deputy in 2013 was awarded $23.1 million by a civil jury Wednesday.
The six-woman, two-man jury ruled after 3½ hours of deliberation that Palm Beach County Sheriff's Sgt. Adams Lin violated Dontrell Stephens' civil rights when he shot him.
Lin, who had stopped Stephens, now 22, for riding his bicycle into traffic, testified that he shot Stephens four times because he reached for his waistband with his left hand and then flashed a dark object that he thought was a small handgun. Stephens testified that he was raising his hands when Lin opened fire for no reason. Video from the dashboard camera in Lin's patrol car showed Stephens' left hand was empty and a cellphone was in his right hand.

An appeal is expected and Lin's attorneys could ask Magistrate Judge Barry S. Seltzer to reduce the damages. The jury apparently rejected Lin's claim that he had made an "objectively reasonable mistake" when he shot Stephens. The jurors declined comment as they left the courthouse as did Lin and his attorneys. Lin sat stoically as the verdict was read, while Stephens wept as he was wheeled into the courtroom minutes later. He declined comment.
Jack Scarola, Stephens' lead attorney, said the verdict is a victory not only for his client but for law enforcement officers who have been unfairly stigmatized by unjustified violence against young black men by a small minority of their colleagues. He said the verdict will help restore faith in the justice system among the African-American community.
"This will help good police officers do their duty and be far more effective in their communities," Scarola said.
The sheriff's office released a statement later Wednesday night calling the verdict both shocking and disappointing.
"Based upon Mr. Stephens' actions, Sgt. Lin reasonably mistook a cell phone that Mr. Stephens held in his hand for a firearm, and fearing for his life, he shot Mr. Stephens," the statement said. "Sgt. Lin then saved Mr. Stephens life due to the fact that he had extensive medical training as a result of serving his country as a member of the U.S. Army while on deployment in Afghanistan in 2008. He did so by rendering first aid to Mr. Stephens until EMS arrived."
Under Florida law, the Legislature has to approve any lawsuit payment against a government agency that exceeds $200,000. In the past, legislators have been reluctant to do that, even in non-controversial cases. For example, it took about three years for the Legislature to approve a $3.5 million settlement for a Jacksonville teenager who was paralyzed when a large branch from a city-owned tree broke off and hit him in the head, paralyzing him. The city, admitting fault, had asked for him to be paid.
In another case, it took more than four years for the Legislature to approve a $10.7 million settlement for a teenager who was permanently disabled when a speeding sheriff's deputy plowed into her car. A jury had awarded her $30 million.
Stephens' attorneys had said from the beginning that they would seek more than $5 million to cover his medical treatment and future care, but they did not mention the amount they would seek for pain and suffering until closing arguments to the jury Wednesday. Attorney Darryl Lewis told jurors Stephens will have more than $6 million in medical and care expenses during his lifetime, and that he deserved at least $18 million for his pain and suffering. An expert testified that he could spend more than 50 years in his condition.
Lin, 38 and a 12-year veteran of the sheriff's office, testified that he stopped Stephens for riding his bicycle into traffic and because he didn't recognize him from the neighborhood. Stephens, who admitted smoking marijuana earlier that morning and once served 90 days in jail for a felony drug conviction, had been riding to a friend's house after a trip to a convenience store.
In the dashcam video, Lin speeds up his patrol car to catch Stephens as he pedals down a West Palm Beach residential street. Stephens sees Lin and turns into the parking lot of a duplex, hops off his bike and puts it down, his right hand holding his cellphone. Stephens moves behind a car and both men are now outside the camera's view. Stephens testified Lin already had his gun drawn and shot him after he raised his hands. Lin denied that, saying he only drew and fired after Stephens flashed his cellphone like it was a gun.
Scarola told the jury that Lin must have already had his gun pointed at Stephens because he couldn't have seen the cellphone, perceived it as a gun, drawn his own gun and fired in the two seconds Stephens was out of view of the dashcam video.
The Associated Press contributed to this report.