Florida man killed by FBI agent reportedly had link to Boston Marathon bomber, triple murder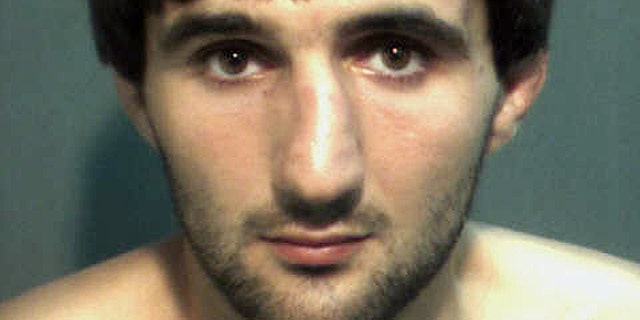 NEWYou can now listen to Fox News articles!
A former mixed martial arts fighter who was fatally shot by an FBI agent in Florida following a "violent confrontation" knew one of the Boston Marathon bombers and was being questioned about an unsolved triple homicide that may be linked to him, according to reports.
Ibragim Todashev, who was shot and killed early Wednesday during a shooting at an apartment complex near Universal Studios in Orlando, knew Tamerlan Tsarnaev, the older of the two brothers behind the April 15 bombing attack. Todashev was shot while being questioned about an unsolved 2011 triple homicide in Waltham, Mass., in which one victim was a onetime associate of Tsarnaev, two law enforcement officials with knowledge of the investigation and the FBI told the Boston Globe.
"The agent, along with other law enforcement personnel, were interviewing an individual in connection with the Boston Marathon bombing investigation when a violent confrontation was initiated by the subject," FBI Agent Dave Couvertier said in a statement obtained by FoxNews.com. "During the confrontation, the individual was killed and the agent sustained non-life threatening injuries. As this incident is under review, we have no further details at this time."
Three law enforcement officials told The Associated Press that Todashev lunged at the FBI agent with a knife before he was shot. However, two of those officials said later Wednesday it was no longer clear whether Todashev lunged at the agent with a knife.
In the aftermath of the bombing, questions were raised about a possible Tsarnaev connection to the triple murder, in which the throats of the victims in the 2011 incident were slashed and their bodies were covered with marijuana. According to the Globe, police were eyeing Todashev as a suspect in the triple murder. Two Massachusetts State Police troopers took part in the questioning that ended in Todashev's death, the FBI said. State Police spokesman David Procopio declined comment, the newspaper reported.
Khusen Taramov, who was at the scene and identified himself as the victim's friend, said Todashev, 27, knew Tamerlan Tsarnaev, the 26-year-old former amateur boxer suspected in the April 15 bombings that killed three and injured more than 260, MyFoxOrlando.com reports.
[pullquote]
Taramov said he and Todashev had no connection with the Boston Marathon bombings, but the FBI had been questioning them since the attacks.
"He used to talk on the phone with [Tsarnaev]," Taramov said of his friend. "They talked last time a month ago. After the bombing, I couldn't believe it. The FBI kept asking, 'What's the connection?' But there is no connection ... no connection."
Taramov said Todashev had planned to soon return to Chechnya, but recently canceled his plane tickets instead.
"Me and him and my friends, we knew this was going to happen. That's why he wanted to leave the country," Taramov said. "But he canceled the tickets. The FBI's been pushing him, 'Don't leave, don't leave.' So he decided to stay."
Taramov said he was questioned by the FBI earlier Tuesday but was allowed to leave, MyFoxOrlando.com reports. When he came back, he found out that Todashev had been shot dead, he said.
"The FBI knows what happened," Taramov said.
Police officials in Boston told FoxNews.com they had no information regarding the shooting.
An FBI post-shooting review team has been dispatched from Washington, D.C., and expected to arrive in Orlando within 24 hours, Couvertier said in a statement.
Todashev was arrested earlier this month on aggravated battery charges after getting into a fight with a 54-year-old man and his 35-year-old son over a parking spot at an Orlando shopping mall. The 35-year-old man was hospitalized with a split upper lip and several lost teeth, according to a report from the Orange County Sheriff's Office.
"Todashev said he was only fighting to protect his knee because he had surgery in March," an arrest affidavit reads. "Also by his own admission Todashev was recently a former mixed martial arts fighter. This skill puts his fighting ability way above that of a normal person."
Todashev was released on $3,500 bond after his May 4 arrest. His attorney, Alain Rivas, didn't immediately respond to a phone inquiry Wednesday.
Jared Morse, who lives near Todashev's apartment, said he had been watching an NBA game when he heard loud bangs that sounded like gunfire.
"It's crazy, especially in this neighborhood," Morse said as he walked his dog. "Nothing like this ever happens here."
Click for more from MyFoxOrlando.com
Click for more from The Boston Globe
FoxNews.com's Joshua Rhett Miller and The Associated Press contributed to this report.