Florida high school shooting' survivor gearing up to be first to sue Broward County officials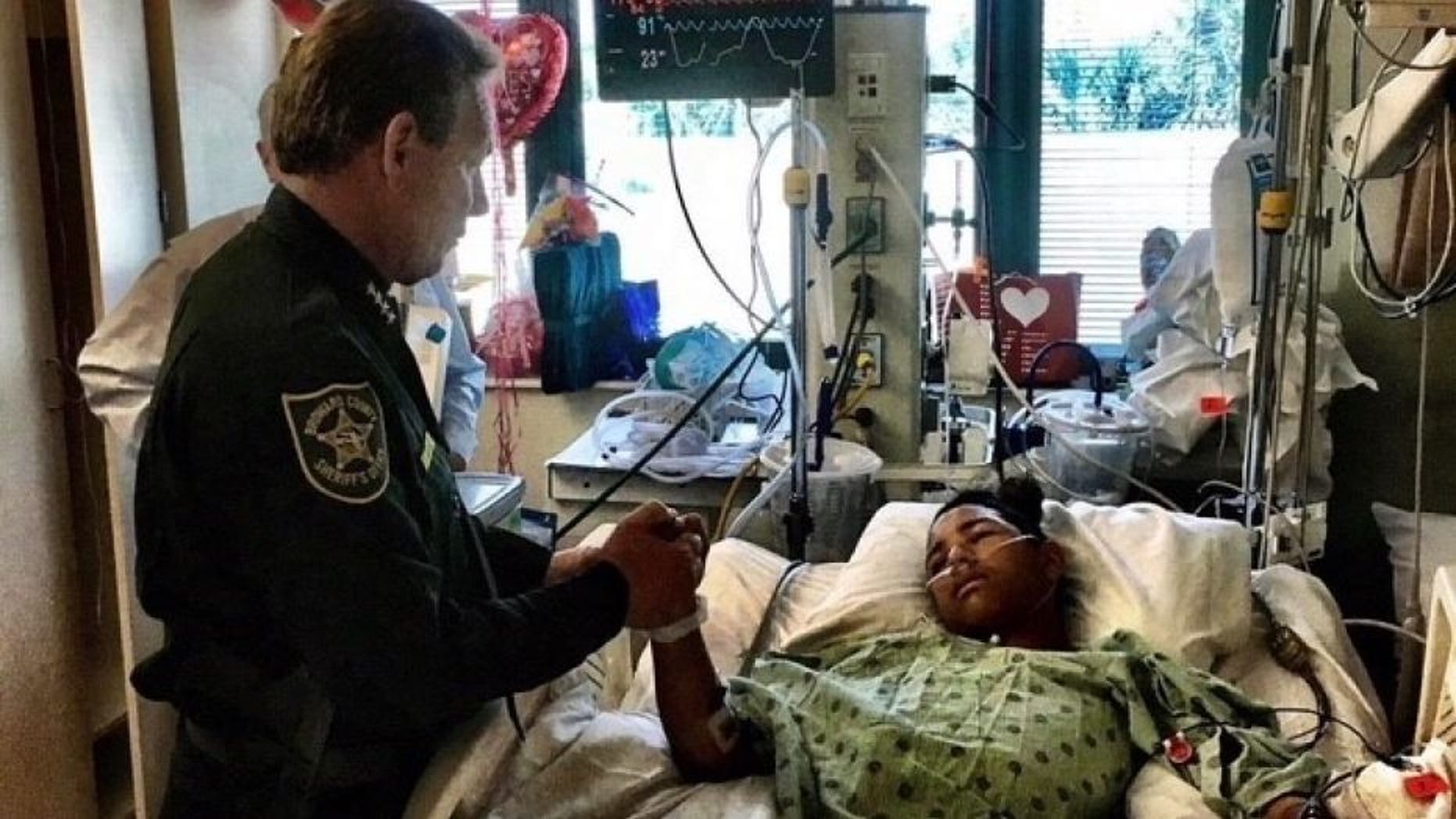 A Florida high school shooting survivor credited with saving the lives of 20 students while being struck five times with gunfire is now gearing up to sue Broward County officials for money to cover the costs of his recovery.
An attorney for 15-year-old Anthony Borges sent a letter on his behalf Monday to the officials notifying them of his intent to sue and says Borges survived his injuries "by the grace of God."
"These kids at this school were let down at just about every level," Alex Arreaza wrote in the letter.
"Due to his condition, Mr. Borges is currently unable to walk and has a great deal of difficulty performing rudimentary tasks for himself, requiring assistance constantly," he added.
The lawsuit, when it is filed, is expected to be one of the first related to the Marjory Stoneman Douglas High School shooting in Parkland, Fla., in which 17 people were killed.
One of the agencies named in the letter, according to the Miami Herald, is the Broward County Sheriff's Office, whose embattled sheriff visited Borges in the hospital after the attack.
"Please join us in praying for the swift recovery of Anthony and all others from #StonemanDouglas," the sheriff's office said in mid-February in a tweet with an image of Borges in his hospital bed.
Arreaza said Borges used a tourniquet he made to stop the bleeding in both of his legs, a technique he learned through Boy Scouts.
"The failure of Broward County Public Schools and of the Principal and School Resource officer to adequately protect students, and in particular our client, from life-threatening harm were unreasonable, callous and negligent," he said in the letter, according to the Miami Herald.
More than $600,000 has already been raised for Borges on a GoFundMe page that was confirmed as authentic by the sheriff's office.
"During this unspeakable tragedy, Anthony was able to save about 20 other students as he attempted to close and lock the door to a classroom," the page states.
Borges' friend Carlos Rodriguez told ABC's "Good Morning America" in February that the two rushed to hide in a nearby classroom when they first heard gunshots. He says no one knew what to do, but that Borges "took the initiative to just save his other classmates."
Borges' father Royer also said his son called him while lying on the ground after being shot. The father asked him to stay on the line, but at one point, he couldn't hear the teenager's voice anymore.
"He told me later 'I had to drop the phone because I thought he was coming in and I wanted to pretend I was asleep so he wouldn't continue shooting," Borges told CNN's Spanish language service.
Anthony Borges and his family are originally from Venezuela. His father said the boy is well-known among local sports clubs for his soccer skills, playing forward and training with Barcelona's youth academy near Fort Lauderdale.
White House spokeswoman Sarah Huckabee Sanders also thanked Borges for the "courage" shown during the shooting attack.
"We are all rooting for you," she said.
The Associated Press contributed to this report.