Florida fishermen catch 11-foot alligator, catch even bigger one days later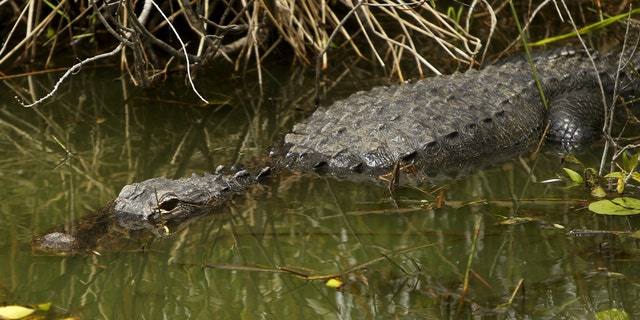 Four fishermen in Pensacola, Florida, had the hunt of a lifetime when they caught an 11-foot alligator on Tuesday -- and outdid themselves by catching a 12-footer two days later.
The men – Nick Naylor, John Booker, Casey Shields and Kenny Way – caught an 11-foot, 375-pound alligator in Blackwater Bay on Tuesday night into Wednesday morning, the Pensacola News Journal reported. It took them three hours to fully snag the reptile, which they killed and took to a nearby taxidermy.
FLORIDA POLICE OFFICER WRANGLES ALLIGATOR NEAR FRONT DOOR OF HOUSE
Then, on Thursday night, the group spent two hours wrangling an even bigger alligator – 12-feet, 6-inches, according to a Facebook post by Booker.
The longest alligator captured on record in the state of Florida is 14-feet, 3 1/2-inches, according to the Florida Fish and Wildlife Conservation Commission.
Florida's alligator hunting season began on Tuesday, the Miami Herald reported.