Florida deputies rescue 82-year-old woman after she crashes into pond
A deputy risked his life to save an 82-year-old woman who crashed her SUV into a Florida retention pond.
Leona Evans, who was seriously injured, wound up in the water after driving her Hyundai Santa Fe across four lanes of traffic and through a fence on Friday.
"When we arrived, there was just this red SUV floating, wasn't sitting, floating on the water in the middle of this retention pond," Hillsborough County deputy Benjamin Thompson told FOX 13 Tampa.
Thompson and deputy Trent Migues arrived on the scene as several people who had witnessed the crash were trying to pull Evans' car out of the water.
"They had actually gotten a rope," Thompson said. "They were trying to attach the car, thinking they could pull it back while it was floating."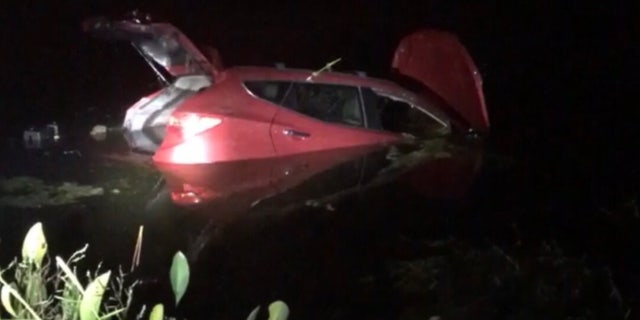 The station reported that Thompson dove into the pond and swam out to Evans. He then used his baton to smash the window of the SUV to get inside.
"I hit that window in the corner, and I hit it, and I hit it, and I hit it, and I hit it with all my life, then after about the 6th time it finally shattered," he said. "And I knew the water was going to come in at that point, but I didn't realize how fast, it was like a waterfall, that car began to sink."
Migues told reporters that "the scariest moment was when her screaming stopped, and the roofline started going underneath the water, and my partner here disappeared in the car with her."
Eventually, Thompson cut his face, arms and hands on jagged pieces of glass as he pulled Evans out of the vehicle.
They were then helped out of the water by Migues and the Good Samaritans.
"She was injured pretty bad, but she stuck out like a champ," Migues said. "I told her she was a tough old lady. She enjoyed hearing that."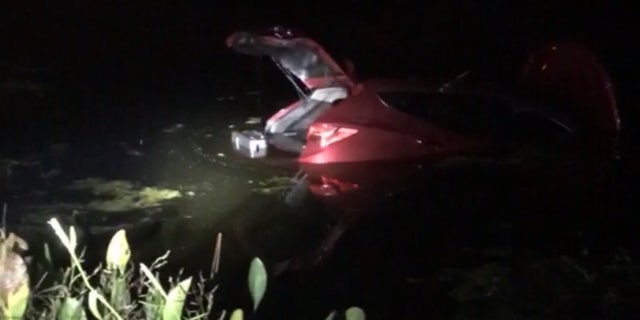 Evan's family told FOX 13 she was hospitalized at the ICU with broken bones, open wounds, head trauma and possible damage to her spinal cord.
The two deputies said they would like to find those who stopped to help to thank them for what they did.