Florida deputies charge man with Stolen Valor after receiving tip from website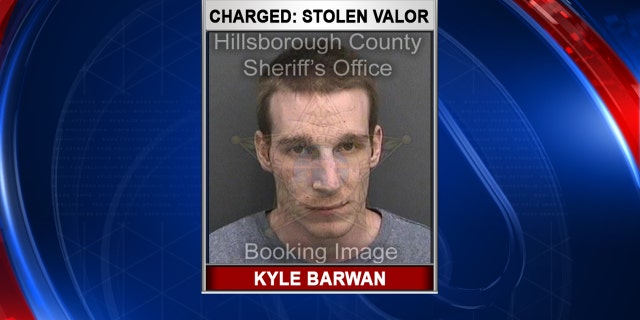 Polk County deputies arrested a man Wednesday for impersonating a member of the military for the purpose of material gain, a federal crime known as Stolen Valor.
27-year-old Kyle Christopher Barwan was taken into custody in Plant City Wednesday as a result of an investigation that began in December after Polk County Sheriff's Office received a tip.
The tip came from someone who read a blog about Barwan impersonating military officers.
During the investigation, deputies learned Barwan had previously been arrested and charged federally for impersonating an officer in the military, in two different states (Kentucky and Illinois).
Detectives say Barwan befriended a Polk County woman online, and told her many lies about his military service while also soliciting money from her "to benefit one of his fellow soldiers who was injured in the war."
According to the affidavit, records show that Barwan did at one time enlist in the National Guard, in 2007. However, he was discharged after fewer than 180 days of service for failure to meet medical procurement standards.
His first arrest for this kind of crime occurred in 2012 in Kentucky. After serving his time there, he later moved to Illinois where he was again arrested for impersonating an officer in the military in 2014.