Florida businessman failed to pay for portraits of Trump and first lady, charity alleges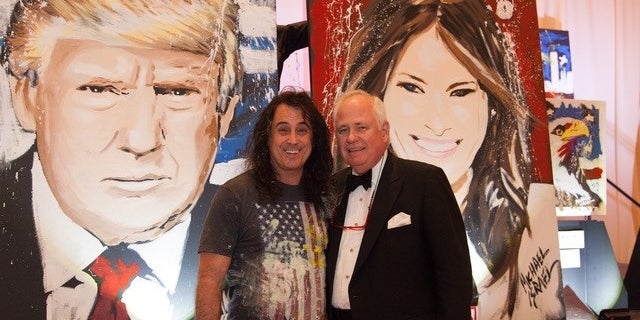 A charity sued a wealthy Florida businessman last week for allegedly failing to pay for the portraits of President Trump and first lady Melania Trump that he bid for at a Mar-a-Lago fundraiser in February.
Timothy Lane, 70, the CEO of Everest Advisors, is accused by The Truth About Israel, a nonprofit organization, for failing to pay $21,530 for the two paintings, the Palm Beach Post reported.
The nonprofit claims Lane "is in breach of his agreement with The Truth About Israel to allow it to charge his American Express credit card for the purchase of the two paintings," according to the group's attorney Jonathan Bloom. The suit was filed last week in Palm Beach County Circuit Court.
FLORIDA MAN ARRESTED FOR DUI HAD BLOOD ALCOHOL LEVEL OF .316, DEPUTIES SAY
Lane insisted he did not choose to not pay the nonprofit out of spite but because "he had second-thoughts about the artwork." He also became suspicious when the charity did not give him a federal identification number after the purchase so he could write it off on his tax report as a donation.
"I asked for the tax-exempt number for tax purposes," Lane told the Palm Beach Daily News. "They couldn't give it to me. Nobody seemed to know what it was or where it was, so I told them not to run the credit card until I had the number. I'm still waiting."
Businessman Steven Alembik, who set up the fundraiser for the charity on Feb. 25, said the nonprofit was legitimate despite Lane's assessment. Alembik also claimed Lane was sent a federal identification number.
"The tax ID has been provided to him," Alembik said. "He can come up with all the excuses he wants. At the end of the day, he's going to pay. He's going to court and he's going to lose."
FLORIDA BRIDGE COLLAPSE CAUGHT ON DASHCAM VIDEO FROM THE HIGHWAY
He also claimed Lane's failure to pay hurt the charity's effort to raise money. The nonprofit was founded by Daniel Ayalon, who was an Israel ambassador to the U.S.
Micahel Israel, the artist who painted the portraits, said this is the first time he can recall that a bidder has not paid for the paintings.
"It's extremely rare for this to happen," Israel said.