Florence strengthens into a hurricane, threatens to hit Southeast US
Florence regained hurricane strength Sunday and is expected to "rapidly intensify" into a major storm in the next few days as it continues its path toward the East Coast where residents are preparing for the worst.
Florence could hit the southeastern U.S. coast late this week as a Category 3 or higher and bring upon life-threatening impacts. The hurricane is expected to make landfall between late Thursday and Friday morning.
"There is an increasing risk of two life-threatening impacts from Florence: storm surge at the coast and freshwater flooding from a prolonged heavy rainfall event inland," the National Hurricane Center said in an update at 11 a.m.
"However, given the uncertainty in track and intensity forecasts at those time ranges, it's too soon to determine the exact timing, location and magnitude of those impacts," the center reported.
Florence continues to move west at 6 mph with maximum sustained winds at 75 mph. The storm is forecast to travel between Bermuda and the Bahamas on Tuesday and Wednesday. Large swells are expected in Bermuda and portions of the East Coast that could cause life-threatening surf and rip currents.
TROPICAL STORM FLORENCE PROMPTS NORTH AND SOUTH CAROLINA TO DECLARE STATES OF EMERGENCY AS IT APPROACHES EAST COAST
Florence's path shows it will most likely make landfall between Charleston, South Carolina and the Outer Banks of North Carolina.
Officials in the Carolinas, as well as Virginia, began preparing Friday for the storm's potential major impact.
A state of emergency was declared in South Carolina and Virginia to give officials and residents enough time to prepare for Florence if it hits the area. North Carolina Gov. Roy Cooper declared a state of emergency on Friday and urged residents to use the weekend to prepare.
"We are entering the peak of hurricane season and we know well the unpredictability and power of these storms," Cooper said.
South Carolina Gov. Henry McMaster emphasized Saturday that there's no way to know yet when and where the storm will hit land, or when evacuations might be called.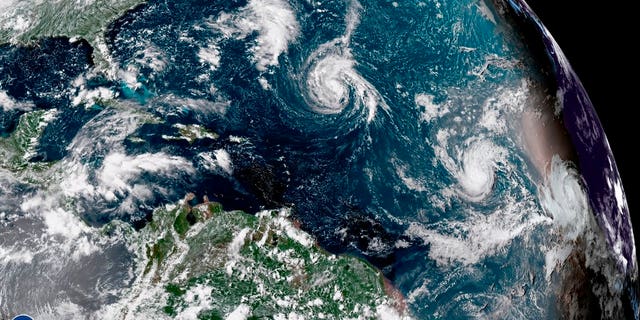 "We are preparing for the worst and of course hoping for the best. Being prepared is always the best strategy," McMaster said.
The U.S. Navy said in a news release Saturday officials are preparing this weekend for its ships in the Hampton Roads area to leave port to avoid storm damage. The plans could change if forecasts indicate a decrease in the strength or change in the track of the storm.
HURRICANE FLORENCE STRENGTHENS IN ATLANTIC: TIPS TO PREPARE FOR THE STORM
Along with the Carolinas and Virginia, Maryland and Pennsylvania could also see large amounts of rain from Florence.
Florence was a Category 4 hurricane last week, the first of the 2018 Atlantic season. It later weakened to a tropical storm after encountering strong wind shear and cooler waters.
Meanwhile, two other storms -- Helene and Isaac -- were following behind Florence in the Atlantic, but those storms were expected to be less of a threat to the U.S., forecasters said. Tropical Storm Helene is expected to become a hurricane in the next few days.
Fox News' Rick Reichmuth and Elizabeth Zwirz and The Associated Press contributed to this report.