Five Mexicans who died in Michigan house fire were in US illegally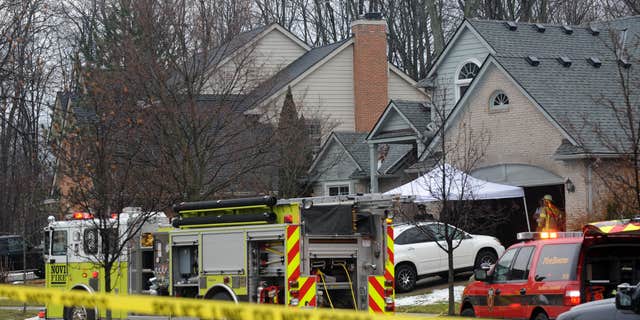 NEWYou can now listen to Fox News articles!
NOVI, Mich. – The five Mexican nationals who died in a weekend house fire in suburban Detroit were neither U.S. citizens nor in the country legally, authorities said Wednesday.
Novi police said that local and federal authorities also are trying to figure out how the five, who ranged in age from 16 to 23, came to live in the basement of the home owned by the same man who ran the restaurant where they worked. Public Safety Director David Molloy said at least two victims crossed into the U.S. through Texas, but he doesn't know by what means.
The five were found in the Sunday morning fire, which appeared to be accidental. The basement had stairs to the first floor but windows made of glass block, which would prevent any escape in an emergency.
Investigators aren't ruling out charges, which could include negligence, code violations or human trafficking.
"It's an upper-middle class neighborhood ... and multiple people are living in this home," Molloy said. "On the surface, there could be (violations of) multiple local ordinances and code violations."
The home was owned by a restaurateur Roger Tam, who police said called the emergency dispatcher on Sunday morning to report the fire. The Associated Press left messages Tuesday and Wednesday at Kim's Garden restaurant for Tam.
Tam's attorney, Robert Cassar, told the AP he is still doing his own investigation into the case but expects that his client will meet with police within the next week. He said he doesn't know the focus of the official investigation, but they have cooperated.
The Tam family is "grieving," Cassar said. "There are more tears than words," he added. "They are trying to process everything that's happened to them."
Cassar added he couldn't yet discuss why the five victims lived in Tam's house or the circumstances around their arrival in the U.S.
The treatment of immigrants who work in restaurants and live together has attracted attention nationwide, but most recently in the Chicago area, where Illinois' attorney general filed a lawsuit in November to stop alleged civil rights violations in housing and pay.
Molloy said his department hasn't dealt with Tam or his restaurant on such matters, and hadn't been aware of a broader problem in the suburb or surrounding area with the treatment of immigrant employees.
Police identified the fifth victim, 23-year-old Pablo Encino, and confirmed he also worked at the restaurant. The identities of the others, released Tuesday, are Leonel Rodriguez, 18; Miguel Diaz, 23; Brayan Contreras, 16; and Simeon Nunez, 18.
Detroit-area immigration attorney Carrie Pastor Cardinale, who is not involved in the case, said Wednesday that the news about their immigration status is a "strong indication" that the victims "were being exploited."
"It's absolutely happening here," she said. "The most egregious thing we see is people working without getting paid and threatened with deportation if they complain."