First Texas church shooting victims laid to rest
The small Texas town that is still reeling from the church massacre that left 26 people dead – including the pastor's teenage daughter – began to bury victims on Saturday.

Richard Rodriguez, 64, and his wife, Therese, 66, both cancer survivors, were buried in Sutherland Springs Cemetery as about 250 family members and friends attended the services, reports Reuters.
Gunman Devin Kelley opened fire on worshippers at the First Baptist Church last Sunday, killing 26 people and wounding 20 others before taking his own life.
Saturday's events were extra poignant, as they fell on Veterans Day. Half the victims had connections to the Air Force. Kelley himself also served in the Air Force, but he was kicked out after pleading guilty to assaulting his ex-wife and her young son.
"This has been a trying day — well, a trying week," Frank Pomeroy, the pastor at First Baptist Church, told the several dozen people gathered on a cemetery hill as he choked back tears, reports the New York Times. Pomeroy's 14-year-old daughter, Belle, was one of those murdered by Kelley.
TEXAS CHURCH GUNMAN 'SCARED ME,' EX-AIR FORCE COLLEAGUE SAYS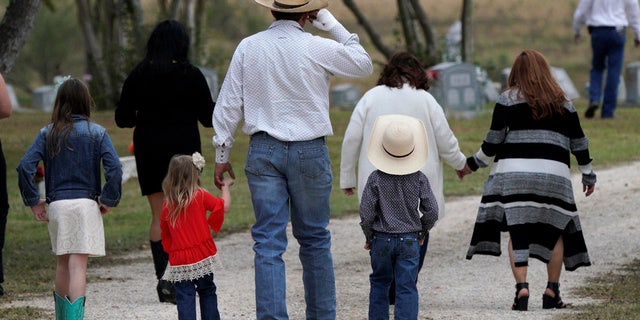 Rodriguez, a retired railroad worker, was fun-loving and a devoted family man, according to his younger brother Tony Rodriguez.
"He was happy, joyful, always joking around. He loved his family," Rodriguez said through tears, reports Reuters. "He was always there when we needed him."
At the Grace Bible Church in La Vernia, where the funeral service was held, about 500 people listened to tributes to the couple, who married in 2006. Rodriguez's first wife died 15 years ago.
Reuters reports that his only child, daughter Regina Rodriguez, 33, said it was a small comfort that her father and Therese died together, deeply in love and inside their church.
"What a perfect way to leave this world, not one of them going through mourning and burying each other, because I know that my dad couldn't do it again," she said, Reuters reports.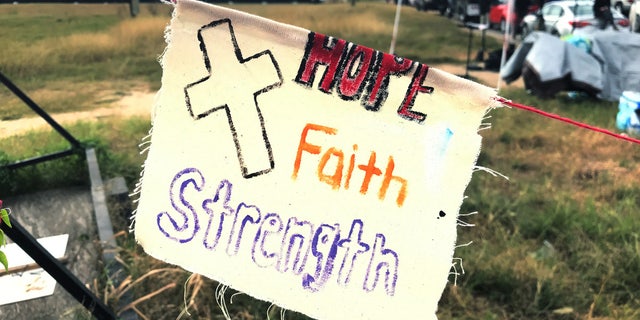 TEXAS CHURCH SHOOTER'S EX-WIFE SAYS HE ABUSED AND THREATENED TO KILL HER
The Rodriguez burial at the cemetery in Sutherland Springs is the first of a series of grim burials this week, including eight members of the same family.
That family included a mother who was 18 weeks pregnant and an 18-month-old girl. The unborn child was among the 26 killed by Kelley.
The First Baptist Church reportedly said it would open its sanctuary to the public on Sunday as a memorial to the dead.
"The scene of this unspeakable event has been transformed into a beautiful memorial that celebrates and pays tribute to the lives that were lost," the church said in a press release, according to Reuters.