Firefighters battled a massive 10-alarm blaze in Cambridge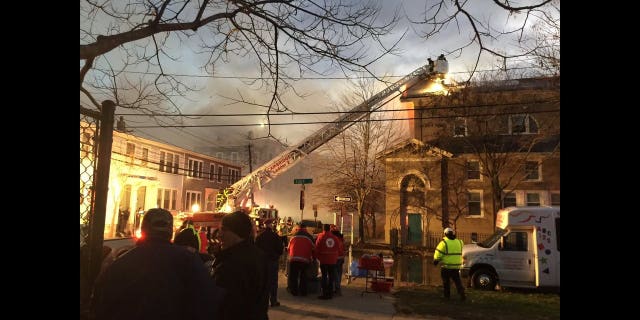 NEWYou can now listen to Fox News articles!
Firefighters battled a massive 10-alarm fire in Cambridge, Massachusetts, working late into the night on Saturday.
The fire began just around 2 p.m. Saturday afternoon on Berkshire Street and quickly spread -- prompting fire departments from several towns to respond. The blaze was contained about six hours later.
Authorities said two police officers and one firefighter were hurt. Their injuries were believed to be minor.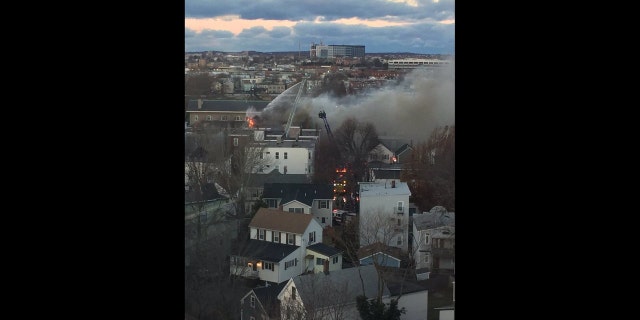 Officials announced that seven buildings were on fire. The flames engulfed several homes and at least one church. It's believed that the building where the fire began may have collapsed.
Dozens of families were displaced and moved to a temporary shelter.
Boston Globe employee Michael Workman, who lives across the street from the blaze, said that it erupted in a three-family residence that was undergoing renovations and that flames quickly jumped to another home as well as a former church building.
"It went up in a heartbeat. It was just raging ... It was just going so fast. I've never seen anything like that," Workman told the Globe.
Flames shot through the roof of multiple structures in the area.
Local residents on social media posted images and video that showed that the blaze could be seen from miles away, being fanned by high winds in the area.
Authorities said power has been shut off in the neighborhood and could remain out for most of the night. The city turned a recreation center into a shelter for displaced residents.

The Associated Press contributed to this report.