Fire in San Antonio shopping center leaves 1 firefighter dead, 2 hurt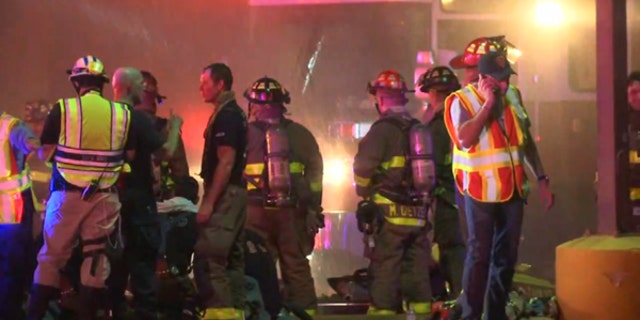 A firefighter died and two others were seriously injured battling a massive four-alarm shopping center fire in San Antonio, officials said Friday.
San Antonio firefighter Scott Deem and the other two firefighters were conducting a search inside the mall during Thursday night's fire when they were reported missing.
Deem, a six-year member of the department, was found dead among the debris.
The other two were rescued. One was released from the hospital; the other was reported in critical but stable condition.
"Last night we had our worst day," Fire Chief Charles Hood said at a press conference Friday, according to the San Antonio Express-News.
Intense flames forced fire crews to retreat as parts of the building collapsed, hindering the search for Deem.
"It was a very rough decision to leave a firefighter behind," Hood told reporters at the scene. "That is not what we do, but we had the risk of losing probably an additional 15 to 20 firefighters if we did not go defensive on this fire."
He said the firefighter who was released from the hospital had fought with paramedics at the scene because he wanted to go back and search for Deem, Fox 29 San Antonio reported.
An ambulance took Deem's body away as about 100 firefighters stood in formation and saluted.
The Express-News reported that Deem was 31. He leaves behind two children and a wife who is pregnant.
The Associated Press contributed to this report.