Fire crews in New Mexico brace for hot, dry weather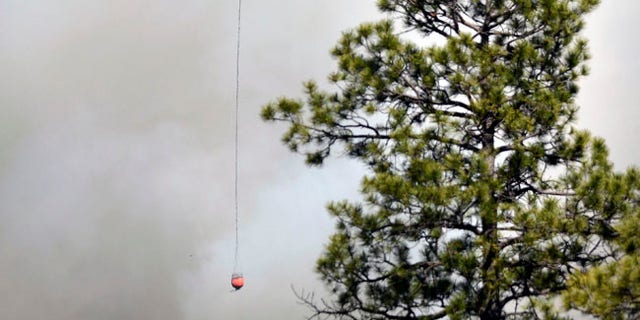 NEWYou can now listen to Fox News articles!
Smoke blanketed much of the Jemez Mountains on Friday as firefighters battled a blaze that forced evacuations and the closure of a highway through one of northern New Mexico's popular mountain ranges.
The flames were marching to the south and east, toward scars left behind by previous fires and away from the neighborhoods that cleared out the day before.
Crews have established a good anchor on the west side of the fire and work continued to protect homes and other structures with the help of air tankers, a helicopter, a bulldozer and several fire engines, Santa Fe National Forest spokeswoman Julie Ann Overton said.
"They're feeling pretty good about the neighborhoods that are at risk, but a lot depends on what the wind does today," Overton said.
Several other fires were burning around the Southwest, including one in Arizona that forced the evacuation of two subdivisions northeast of Payson on Thursday evening. That fire has charred more than 6.6 square miles (17.1 sq. kilometers) of forest, grass and brush since it was sparked June 10.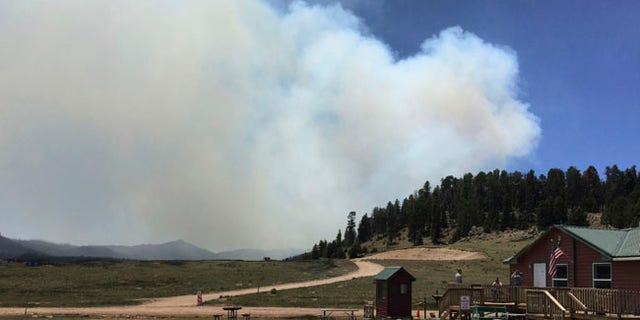 In New Mexico, as many as 200 residents had to leave their homes as the fire spread to more than a square mile near the boundary of the Santa Fe National Forest and Valles Caldera National Preserve.
The preserve remained closed Friday along with a stretch of New Mexico State Highway 4 between Los Alamos and the mountain village of La Cueva, where an evacuation center had been set up. Sandoval County sheriff's deputies were escorting residents into the evacuated area to collect pets and gather other belongings.
Volunteers were helping to relocate pets and livestock belonging to the residents.
Resident Jim Rightley told Albuquerque television station KRQE that it's never easy to leave his home behind.
"I was just trying to stay calm enough to pack everything without panicking. But when you're watching fire constantly and on the ground, I mean it's only a hundred of feet from you," Rightley said.
HAWAII SOLDIER ON SURFBOARD DEAD AFTER BOAT RUNS OVER HIM
Other residents were waiting and hoping that the weather would cooperate.
Forecasters called for afternoon temperatures near 90 while humidity levels were expected to remain in the single-digits through the weekend. There's a chance for thunderstorms Sunday, but Overton said that might not necessarily be a good thing if there's no rain associated with the storms.
A popular getaway, the Jemez Mountains are dotted with homes, summer cabins, numerous campgrounds, fishing spots and the Valles Caldera National Preserve. The mountain range also has had its share of fire, marking some of the largest and most costly blazes in the state's recorded history over the last several years.
One of those fires forced the evacuation of the town of Los Alamos and the temporary closure of Los Alamos National Laboratory, one of the nation's top nuclear research centers. More recently, fire threatened the historic cabins at Valles Caldera.
On Thursday, scientists with the U.S. Geological Survey witnessed the early stages of the Cajete Fire. They were in the area doing field work related to how ecosystems rebound from fire and noted the high-intensity fire that rolled through the same area in 2013.
Fire officials said Friday that one concern is Los Griegos Mountain, an area that has not seen any fire or fuel treatments and is overgrown.
There are roughly 300 homes and other structures in the evacuated area, Overton said.